Woman Raging at Husband Not Getting Gift in Time Dragged: 'Ungrateful'
A woman has been slammed online after she berated her husband for not getting her gifts she told him that she wanted.
In a viral post shared to Reddit's infamous Am I The A**hole page, which can be seen here, user bdaygiftaita explained it was her 39th birthday last week and that she had arranged to go on vacation with her mom and brother as they had never done that before.
She added her husband gave her several gifts for the vacation and that he had mentioned getting her a smartwatch and new luggage for the trip.
A study by Monique M. H. Pollmann and Ilja van Beest from Tilburg University, published in PLOS One, found women tended to place more importance on gift giving and provided male counterparts with better gifts as a result.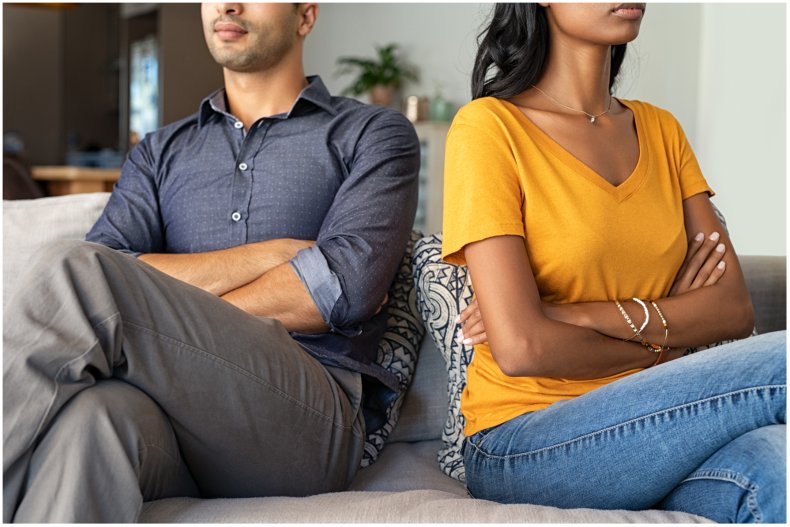 As part of the research 61 mixed pairings of men and women, which included family members, friends and those involved romantically, were asked to select gifts they wanted as well as the gifts they thought their test partner would like from a book of 30 items.
The researchers found women were more likely to select gifts the receiver wanted, regardless of whether they were choosing for a man or woman
The Reddit user continued to explain that he offered to go shopping with her to pick out the item, but that "life got busy" and, before she knew it, the date of the trip had arrived.
On the Tuesday, August 9, post, the woman said: "So the time comes for us to leave and part of me was expecting my husband to surprise me with a new watch or weekend bag, but he didn't. I admit I was pretty disappointed that he didn't take the initiative to just get me those things on his own. I tried not to let it bother me during the trip, but it was always kind of in the back of my mind.
"After we got back, I mentioned to him that I was disappointed that he didn't get me the watch and bag like he said he would. He told me that he thought we had agreed to do it together but I told him he knew how busy we were and it wouldn't have been much effort for him to just do it on his own."
The Reddit user added her husband got "offended."
She added: "I told him that he knew how much I was looking forward to having those items for my trip and I'm just disappointed that he didn't realize that and take the opportunity to do something special for me.
"He apologized for 'ruining my trip' but I know it wasn't sincere and he's just telling me what he thinks I want to hear. I offered to go shopping with him some time to pick them out and he told me to just go do it myself.
"Now I feel like crap and I know he's mad at me for being ungrateful for the things he did get me and for allowing me the opportunity to have a trip like that with my family."
Since being shared the post attracted more than 7,400 upvotes and at least 2,500 comments were left under the post.
The overwhelming majority of people who commented on the post blasted the woman with some believing she had put her husband in a difficult position.
One Reddit user, whose comment was upvoted more than 27,000 times, said: "YTA [You're the A***ole] because you set up a damned if you do and damned if you don't scenario for your husband. The two of you had agreed to go together to pick out exactly what you want.
"Life got in the way of that plan. If he had done it on his own there was just as high a likelihood you would have been upset it wasn't exactly the color/size/ kind of you wanted or that he had done it without you, despite your prior agreement.
"This was no win for your husband no matter what he did, so he chose the better option of not wasting a lot of money on something you may not like."
Another added: "Poor OP's (original poster's) husband, he accepted a deal, did everything he was told and still he was scaled and even when he apologized he was attacked too for apologizing in the wrong way. YTA (you're the a**hole for sure)."
While a third posted: "YTA for sure. How dare he fail me by not understanding what I wanted him to do when we agreed to do it together after I dropped the ball on that and I'm notoriously picky and hard to please and known to return stuff that doesn't satisfy me and he already got me other perfectly nice gifts and took care of everything while I went on a vacation without him."
Newsweek has contacted bdaygiftaita for comment.