Woman Ran Out of Gas, Forced to Leave Car With 229 Pounds of Marijuana
A Tennessee woman was arrested after police seized more than 200 pounds of marijuana from her abandoned vehicle after it ran out of gas, police said.
The Memphis Police Department announced Monday that Catherine Mardesich, 54, was arrested and charged with possession of a controlled substance, marijuana after allegedly abandoning her SUV on a Memphis bridge.
As of April 20 this year, 18 states have legalized the recreational use of marijuana. Yet, under the Controlled Substances Act of 1970, marijuana is classified as a Schedule I controlled substance– up there with heroin, ecstasy, peyote and LSD.
Crump Station Officers were dispatched Sunday afternoon to meet Arkansas State Police at a bridge that runs across the Mississippi River connecting Memphis, Tennessee to West Memphis, Arkansas.
Earlier on Sunday, Arkansas State Police and the Tennessee Department of Transportation were called to the bridge about a report of a vehicle abandoned in a lane of traffic that was struck by another driver.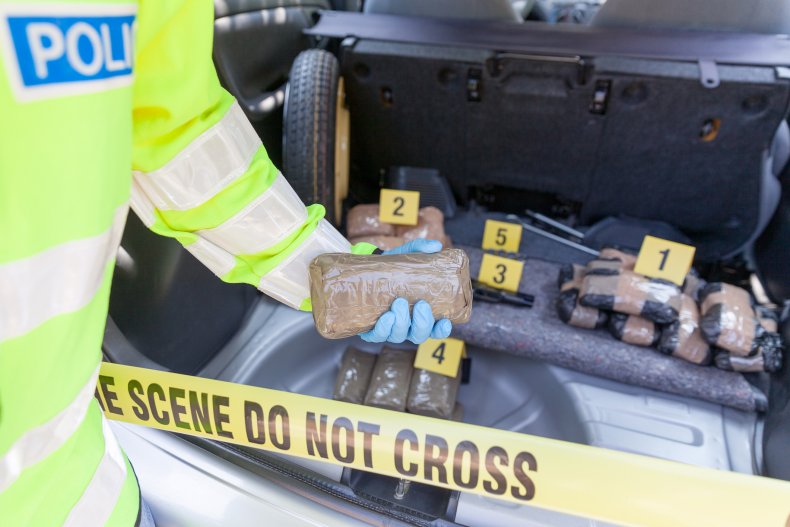 When TDOT and Arkansas police moved the vehicle off the bridge to file a crash report, Mardesich returned, according to police.
Police discovered she left the car because it ran out of gas and she was informed the vehicle would be towed and inventoried.
"She advised that officers could not go inside the car. As officers approached the vehicle, they smelled raw marijuana coming from the vehicle," police said in a statement.
Inside the Chevrolet Suburban, police discovered 229 pounds of marijuana placed in multiple boxes and a duffel bag, police said. Police also found a "large sum" of money inside the vehicle.
Mardesich was detained and transported to the Jail East in Shelby County, Tennessee. She was charged with possession of a controlled substance, marijuana, a Class B felony in Tennessee.
If convicted, Mardesich could face between eight to 30 years in prison plus fines up to $200,000.
Newsweek reached out to the Memphis Police Department for comment.
Marijuana laws differ depending on the state. In Kentucky, Newsweek reported on a man caught allegedly trafficking 120 pounds of marijuana after driving the wrong way on an exit ramp in early February. When police pulled him over, they said they smelled marijuana coming from the vehicle.
The driver, 47, was arrested and if found guilty of trafficking 5 or more pounds of marijuana, could face a fine of up to $10,000 or jail time ranging between five to 10 years.
In Texas, police discovered a car carrying an infant boy and 275 pounds of marijuana. After police pulled over the vehicle–which had a "Baby on Board" window hangar, they discovered the infant in his car seat next to several large packages.
Two women were taken into custody and charged with marijuana possession with intent to distribute and conspiracy to possess marijuana with the intent to distribute.