Woman Receives Pornographic Gift From Co-Worker, Asks Internet For Advice
A woman has taken to Mumsnet to lament her disgust at the crude Christmas gift she received from a co-worker, and the internet is divided as to how she should react.
In the post, shared to the discussion-based forum by an account called BewilderedPiskie, the 50-year-old woman revealed that she had been gifted an adult coloring book and some felt tip pens via an office "Secret Santa."
Secret Santa is when a group of people swap gifts anonymously so no one knows who gave them the present, and it is popular in many workplaces.
A recent study conducted by One Poll found that 79 percent of Americans surveyed hate being "roped into the exchange" because they never know what to buy for their "designated exchange-ee."
The woman admitted she initially found the gift "disappointing" but her "real issue is that it's the Go F*ck Yourself I'm Coloring 50 swear words to color your anger away, adult coloring book."
She states she does not mind swearing occasionally and her job can "cause stress." According to a survey by 9Round Kickbox Fitness, Americans swear often, on average uttering their first curse word by 10:54 a.m.
However, when she finally looked at it properly "a lot of the words to color are not swear words per se but really, really unpleasant misogynistic, sexual slurs and terms that I associate with pornography not swearing."
The woman continued: "I have actually found myself quite offended that someone thought this was an appropriate gift for a fifty year old female colleague in a professional environment. My quandary is whether I should say something to the group or just hide it in the recycling and forget about it?"
The post, which was shared on December 29, has garnered lots of comments online about how the woman should act.
Many people felt that she should not confront her co-workers, including Mumsnet user Hospedia who admitted: "Vom. I'd recycle it and then not participate next year."
Another person, WorraLiberty, typed: "I'd just bin it. They probably didn't go through every page and just thought it was a book of swear words."
2022newname agreed, writing: "If it didn't offend you when you thought it was swearing then I assume that you would have been ok with it? I doubt the person who bought it looked at every page. If it would have been inappropriate anyway—that's different."
Marcipex remarked: "I think it's massively inappropriate but I would just bin it.
I don't suppose the giver looked closely at it."
BiggerBoat1 shared: "If you don't find it funny bin it and move on. Don't be the t**t who makes a big deal of it after Christmas."
However some, such as Foxgoosefinch, felt that the woman should be taking action, commenting: "That's genuinely horrible. I'm going to go against the grain here and say if it was me I would be pushing to find out who it was, as I would feel this was a form of disguised sexual harassment and completely unacceptable.
"It's not funny and it's a way of hiding what would be otherwise unacceptable under the veneer of a joke. At the very least it's spiteful and inappropriate."
Juniper68 also thought it was intentional, sharing: "I don't believe for one minute they didn't know. It's some sick b****** imo [in my opinion]."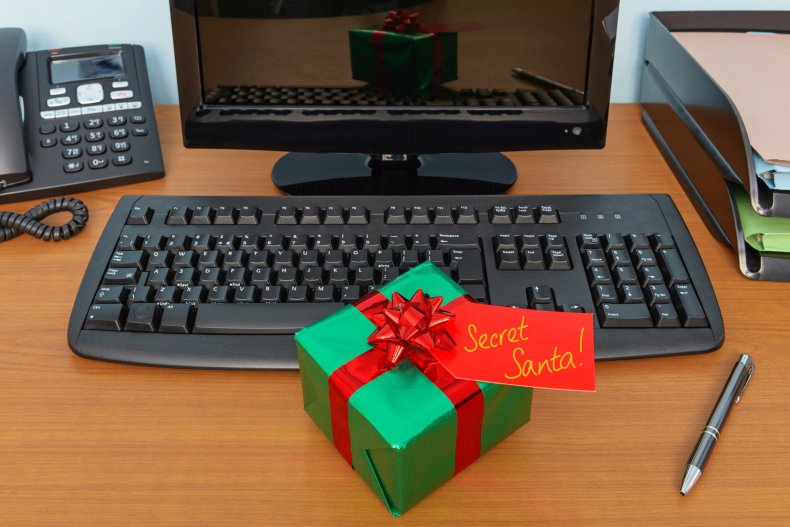 Update 12/31/12, 4:24 a.m. ET: This article was updated to include information from a One Poll study and 9Round Kickbox Fitness survey.