Woman Receives Mysterious Decades-Old Letters, Confusing Even Post Office
A New York woman was left puzzled after she received several mysterious postcards written by her late mother and dated back to 1960.
In early April, Carol Hover of Hornell, New York, received a postcard in the mail dated August 30, 1960.
"The first thing I noticed was my mother's handwriting," Hover told WETM. "She passed away back in 2014. I found that it was postmarked from Canada in August of 1960. So, they would have been on their honeymoon."
At first, Hover thought this card was a strange fluke in the system, but then she received more postcards.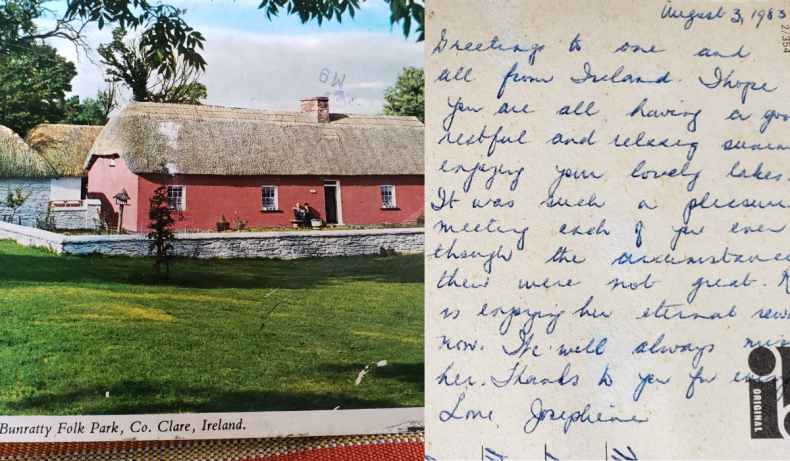 Although it's hard to measure, it is estimated that less than three percent of mail gets lost in the United States. If a package or letter is recovered after a search request is filed, the U.S. Postal Service will resend the mail.
For some packages, the shipping label might have fallen off during the shipment process or someone used an incorrect address so it was undeliverable. Other instances include bad weather rubbing off the recipient's name and address.
Hover decided to take the decades-old postcard down to the post office where she learned there were three more letters waiting in the back: one from France, England, and New York City.
"Do you know Jim and Peg, the people that sent it?' I'm like those were my parents. She goes, 'Oh my gosh! We have two more in the back,'" she told WETM of the interaction.
Some of the cards were addressed to Hover's grandparents from her parent's honeymoon in Ontario, Canada.
Hover's cousin Karen Kohnke also received a letter a few days later that was addressed to her former family home in Minnesota. Together, both women received a total of five letters sent to two states.
"Nobody seems to know, including the post office, how they are getting to us and why," Hover told WETM.
Both Hover and Kohnke said that although the mystery remains unsolved, they've both enjoyed the surprise letters.
"I think human connection is so precious these days, and though I absolutely believe there is an explanation to this mystery," Kohnke told Newsweek. "It is also such a gift from the universe (and USPS) to receive these postcards from the past, from our loved ones who have been gone for many years."
Newsweek reached out to Carol Hover for comment.
One man in New Jersey received several letters dating back to the 1940s. After reading the letters, he discovered that they were from a young couple writing home to the house their parents used to reside.
Another mysterious letter was written by a young girl who was aboard the 1912 Titanic voyage on the eve of its sinking. The letter was discovered after a family came across the letter in a bottle on a beach in Canada.
Researchers attempting to examine the letter said they may never know if it was actually from aboard the ship or if it's a fake.
Updated 5/18/2022, 11:15 a.m. ET: This story has been updated with a photo of the postcard and comment from Karen Kohnke.