Woman Receives Profane Note From Home Depot Delivery, Driver Claims They Merely Meant 'See You Next Time'
A Home Depot delivery driver is under fire for writing an allegedly profane message on a missed delivery slip.
The Seattle-area consumer who received the note on December 27, Lara Zarowsky, told KING News that she was "frightened" by the missive left posted to her front door. She also called it "incredibly offensive."
She called the company's customer service department. One of the people she spoke to claimed that they asked the driver what he meant, and he told the customer service person that he meant to say, "See you next time."
"I didn't accept that as an answer, which I think most people wouldn't," Zarowsky said.
Zarowsky says she didn't hear back from Home Depot with an apology until she cancelled her order with the company, then tweeted a copy of the receipt.
"Hi Lara, thank you for providing your order number," read a tweet from the official Home Depot Twitter to Zarowsky signed with the name 'Mike', "and we apologize again for this behavior. We're sending your order number to our logistics partners to help identify the driver, and we'll be looking into this for you. Is it OK if a member of our Care team contacts you once we are able to investigate further?"
"They had and they still have an obligation to make this right," said Zarowsky to KING. "I just really would want this person to understand that this is a frightening thing they did, that they actually invoked fear, for whatever reason they felt compelled to do that it's a scary response for a woman coming home, knowing that the person who just left that note knows exactly where she lives, and could be back at any time."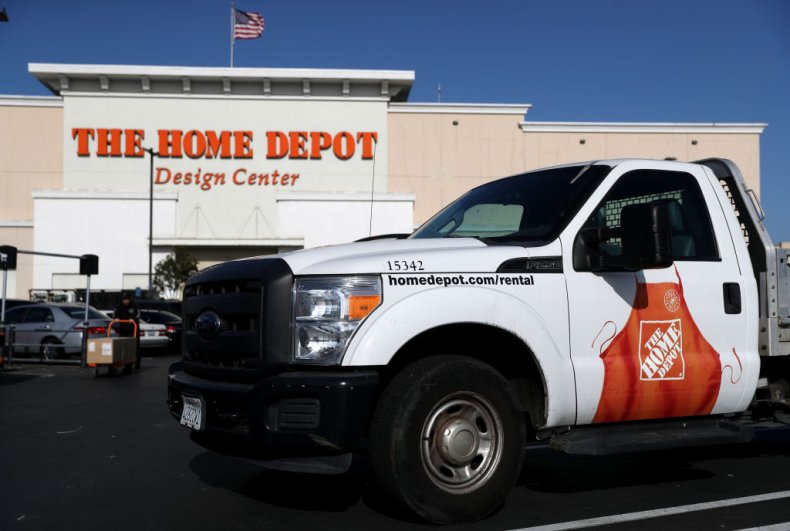 Home Depot responded to KING's request for a comment with the following statement: "We're trying to figure out how in the world such an inappropriate message would be left for a customer. We take this very seriously and we're investigating the matter."
This isn't the only time a Home Depot home delivery has gone wrong enough to make the news.
A Scarborough, Maine man reported to the Boston Globe in May that an appliance delivery intended for a neighbor resulted in two and a half months of wrangling with the company, which subsequently demanded $600 from him for the delivery mix up, even though he didn't order the appliance. Ultimately, the company offered to install the appliances for free.
Newsweek sent a request for comment to Home Depot via their corporate headquarters.
"We're disgusted that a customer experienced such incredibly inappropriate behavior from one of our third-party drivers. The person responsible for this message will no longer make deliveries for The Home Depot, and we have reached out to the customer directly to resolve this matter," replied a spokesperson for The Home Depot.
Updated: (1/2/2020 4:26 p.m.): With a comment from a Home Depot spokesperson.