Woman Refuses to Wear Mask, Compares It to Pants Not Stopping 'Fart' Smell
A woman at a Panera Bread in Chico, California refused to wear a mask, defending her decision by pointing out that people can still smell farts through their pants – suggesting that a face covering would do nothing to stop the spread of novel coronavirus infections.
In the clip, the white woman – who some on social media have dubbed Panera Patty – can be seen in the video with her back turned to customers filming and criticizing her for not wearing a mask. The woman appears to be filming those filming and criticizing her, keeping her back to them and holding her phone next to her head.
"Why don't you show your face since you're not wearing your mask?" someone off camera can be heard saying to the woman. "Wow, you're sure brave," they add.
The individual off camera can then be heard asking: "Can we get this lady out of here please?" A worker at the Panera responds saying she has called security. The woman without a mask approaches the counter while still filming.
"That's right, they're not going to serve you unless you're wearing a mask!" the person off camera can be heard saying.
"Just put on a mask, don't be such a moron!" another customer says. "You selfish piece of s***," they add.
"Stop it," the woman responds, before blowing toward the customer criticizing her off camera. She then decides to leave, but chooses to defend her opposition to masks one last time.
"You think that mask is going to protect you?" she asked. Pointing to the back of her pants, she adds: "when you fart out your ass, you can smell it! You think that mask is going to protect you?" She then heads for the exit.
A spokesperson for the Panera Bread told Newsweek that "the health and safety of our employees and guests is our top priority."
"We are committed to following the COVID guidance of the state of California who mandate wearing of masks by team members and guests. We offer masks to guests who do not have them and make an effort to offer other accommodations whenever possible," the spokesperson said.
Henry, an employee at the eatery, told Newsweek that the woman had been given a disposable mask but she refused to wear it.
"After she left, she threatened to come back with her husband. She was provided a disposable mask by us, which is shown in the video, but she refused to put it on," he said.
There have been a slew of videos of Americans across the country expressing frustration in public over mask requirements at stores and restaurants intended to curb the spread of COVID-19, the disease caused by the novel coronavirus.
Although the Centers for Disease Control and Prevention (CDC) have recommended face coverings since early April, and public health experts as well as Democratic and Republican lawmakers have been urging the public to follow the guidance, many Americans remain skeptical. The graphic below, provided by Statista, illustrates attitudes towards wearing masks.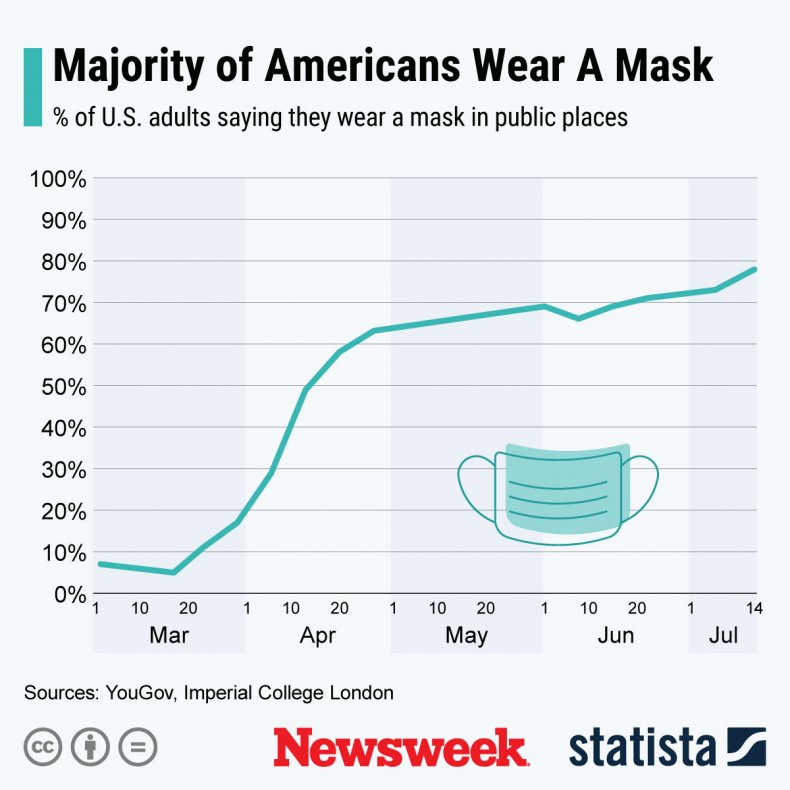 Recent polling by Gallup showed that 18 percent of Americans say they "rarely" or "never" wear a mask in public, despite the ongoing novel coronavirus pandemic. But 44 percent said they "always" wear a mask while 28 percent said they do so "often" and 11 percent said they do "sometimes." The Gallup survey noticed a significant political divide, however, with just 46 percent of Republicans saying they "always" or "very often" wear a mask, compared to 94 percent of Democrats and 68 percent of independents.
This article has been updated with a comment from an employee and spokesperson at the Panera Bread eatery. This article was updated to include an infographic.