Update as of 6/23 at 3:52 p.m. ET:
A provincial government in South Africa disputed a woman's claims in a news report that she gave birth to 10 babies on June 7, thus breaking a world record.
According to a press release, the provincial government of Gauteng said that "none of the hospitals in the province, public and private, have any records of such a delivery in their facilities," after it conducted a thorough check with the hospitals to verify an article published by Pretoria News. In that story, Gosiame Sithole, a 37-year-old woman, and her partner Teboho Tsotetsi announced the birth of their 10 children.
The Gauteng provincial government criticized the Pretoria News article in alleging that Sithole gave birth at the Steve Biko Academic Hospital, and that the government was covering up medical negligence.
"These allegations are false, unsubstantiated and only serve to tarnish the good reputation of Steve Biko Academic Hospital and the Gauteng provincial government," the statement further added.
The provincial government also said that Sithole was admitted to the Tembisa Hospital, "and various medical tests were conducted on her to determine her state of health."
"It has now been established by medical practitioners that Ms. Sithole did not give birth to any babies in recent times," it said. "It has also been established that she was not pregnant in recent times."
Sithole's attorney, Refiloe Mokoena, alleged in a statement with South African Outlet IOL that she is "now being held against her will" at the hospital.
"She declined that she should be taken to the Tembisa Hospital for a psychiatric evaluation because she felt strongly that she is of sound mind," Mokoena claimed.
The government did acknowledge in its press release that Sithole was meant to stay for observation in the Tembisa Hospital for 72 hours, and that upon the hospital's recommendation she was being kept longer.
"Upon completing [the hospital's] preliminary examination on Monday, 21 June 2021, her doctors recommended that she be kept at the hospital for a further 7 days for further observation, in accordance with the Mental Healthcare Act."
Newsweek reached out to the Gauteng Health Department for further comment on the situation, but it did not immediately respond in time for publication.
Meanwhile, the Gauteng provincial government said that it was concerned about the conduct of Pretoria News and its parent company Independent Media, and indicated it contacted the state attorney to pursue legal action.
Original story below:
A woman has reportedly given birth to 10 babies at once, supposedly breaking the Guinness World Record for number of babies delivered in a single pregnancy.
According to a report from Pretoria News, 37-year-old Gosiame Thamara Sithole of Guateng, South Africa, claimed to have birthed 10 children on Monday. She reportedly had seven boys and three girls, all of whom were delivered via Caesarean section.
Sithole, a local retail store manager, told the publication doctors initially thought she was having sextuplets, before locating two more children in utero developing "in the wrong tube." Two others reportedly went undetected through the whole pregnancy.
"I am shocked by my pregnancy. It was tough at the beginning. I was sick. It was hard for me. It's still tough but I am used to it now. I don't feel the pain anymore, but it's still a bit tough," Sithole told Pretoria News. "I just [prayed] for God to help me deliver all my children in a healthy condition, and for me and my children to come out alive."
Sithole, who is already a mom to a pair of 6-year-old twins, struggled immensely with the news of eight more children on the way.
"I didn't believe it. I doubted it," she told Pretoria News. "When the doctor told me, I took time to believe it. Even when I saw the scans I didn't believe it.
"I battled to sleep at night though...How would they fit in the womb? Would they survive? What if they came out conjoined at the head, in the stomachs or hands? Like, what would happen?" Sithole feared.
"I asked myself all these questions until the doctor assured me that my womb was starting to expand inside. God made a miracle and my children stayed in the womb without any complications."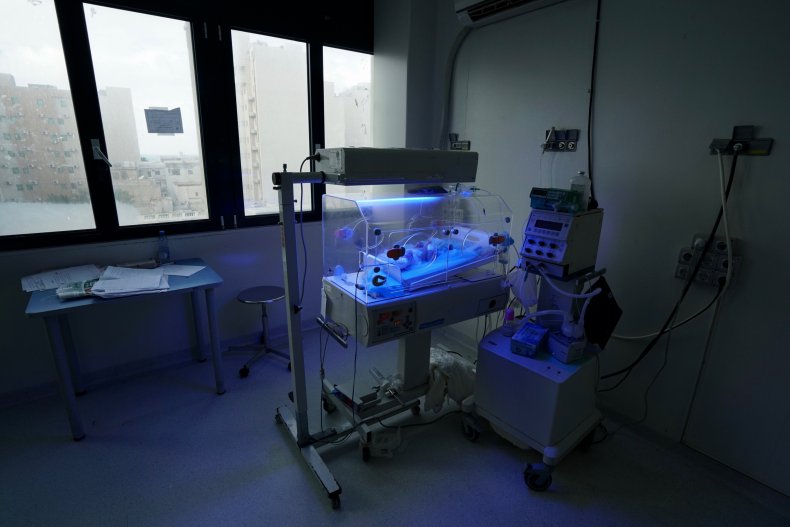 Her partner Tebohoi Tsotetsin was also shocked by the news of so many children on the way.
"I could not believe it. I felt like one of God's chosen children. I felt blessed to be given these kinds of blessings when many people out there need children," he told Pretoria News. "It's a miracle which I appreciate. I had to go do my own research on whether a person could really conceive eight children. It was a new thing. I knew about twins, triplets and even quadruplets."
Both Sithole and Tsotetsi claimed they did not use any fertility treatments in order to conceive, but acknowledged the pregnancy was physically difficult for Sithole, who dealt with intense leg pains and heartburn.
As Sithole was only 29 weeks along in her "high-risk" pregnancy, Pretoria News confirmed with the local hospital that the children will need to spend the next few months in incubators before they will be able to go home.
Newsweek reached out to Guinness World Records to confirm that Sithole had taken the record for most children birthed in a single pregnancy, and a representative confirmed they are "looking into" the matter.
"Guinness World Records is aware of the news that Gosiame Thamara Sithole has given birth to decuplets, and we send our congratulations and best wishes to the family," the spokesperson said. "At the current time, we are yet to verify this as a record as the wellbeing of both the mother and babies is of top priority.
"Our records team, alongside a specialist consultant are looking into this and will provide any information as soon as possible," she added.
The previous record of most children delivered in a single birth to survive was held by Halima Cisse, who gave birth to nine children in Malia just last month, according to a press release from the World Record Academy. Before Cisse, the record was held by Nadia "Octomom" Suleman.
Updated at 2:30 p.m. on 6/23/2021 to reflect the Gauteng Health Department's investigation into Sithole's claims and their stance that she did not give birth to decuplets.