Russian Woman Interrupts Live State News Broadcast To Send Message to Putin
A protester on Monday interrupted a news broadcast on Russia state television, yelling over the anchor while holding a sign that condemned the war against Ukraine.
The outburst occurred on the Channel One network, and the woman who stormed the stage has been identified as Marina Ovsyannikova, an employee of the station. Before she staged her public protest, Ovsyannikova recorded a video message. In it, she said that her father is Ukrainian and that she's ashamed of working for a Kremlin propaganda outlet.
Russian state media has been pushing messages that are staunchly supportive of Russian President Vladimir Putin's war in Ukraine. The outlets have supported the debunked claims of Russian officials of Ukraine producing bioweapons in laboratories, as well as baseless claim that far-right Ukrainian forces are hiding behind civilians and that the military operations have gone according to plan for the Kremlin, among other things.
The messages written on Ovsyannikova's sign read: "No war," "Stop the war," "Don't believe the propaganda," "They are lying to you here," and "Russians against war."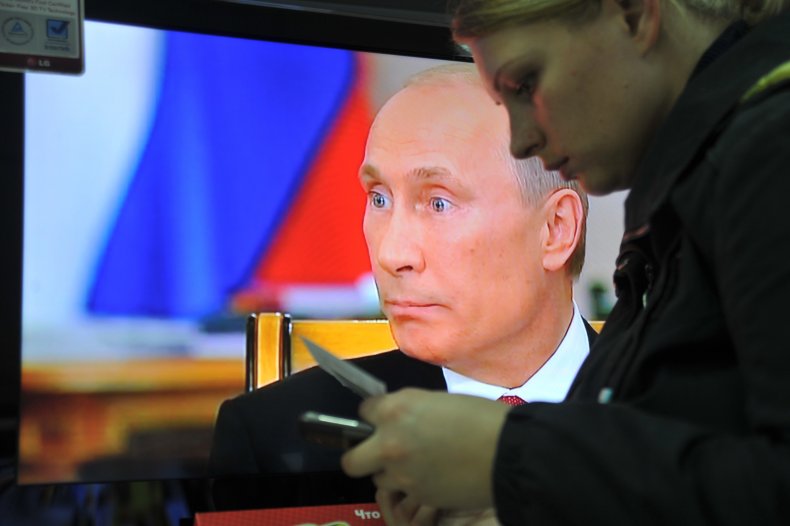 Video of the incident was quickly shared on social media on Monday.
Kevin Rothrock, the managing editor of Meduza, a Russian- and English-language independent news website, posted the video Ovsyannikova recorded before she made her protest during a segment presented by anchor Yekaterina Andreyeva.
"What is happening in Ukraine is a crime. And Russia is the aggressor here. And responsibility for this aggression rests on the conscience of a single man: Vladimir Putin. My father is Ukrainian. My mother is Russian. And they've never been enemies. And this necklace I'm wearing is a symbol of that fact that Russia must immediately end this fratricidal war. And our fraternal peoples will still be able to make peace," Ovsyannikova said, according to Meduza's translation.
She continued, "Unfortunately, I've spent many of the last few years working for Channel One, doing Kremlin propaganda, and I'm deeply ashamed of this. Ashamed that I allowed lies to come from the TV screen. Ashamed that I allowed the zombification of Russian people."
Ovsyannikova gave a message of support for Alexei Navalny, the opposition leader currently incarcerated in Russia.
She ended her message by stating, "We Russians are thinking and intelligent people. It's in our power alone to stop all this madness. Go protest. Don't be afraid of anything. They can't lock us all away."
Multiple outlets have reported that Ovsyannikova has since been detained. Russia's state news agency TASS reports that she faces administrative charges, which could be a few days in jail. However, she could also be subjected to a law Putin passed after the Ukrainian invasion in which "fake news" reporting—such as calling Russia's military operation a "war"—could be punished by up to 15 years in prison.
Follow our live blog for updates on the Russia-Ukraine conflict.