Woman in Santa Hat Sings Anti-Covid Restrictions Christmas Parody at Local Govt. Meeting
As the new Omicron variant of COVID-19 begins to pop up around the United States, government officials are making decisions about how to continue to stop the spread of the virus that has infected over 49 million people in the United States, according to the CDC.
Earlier this week, at a San Diego County Board of Supervisors meeting, one community member stepped up to share her eagerness for such protective measures to end. While disdain toward COVID-19 related restrictions has existed since the virus first appeared in the US, this woman set herself apart by singing her opinions to a familiar tune.
Just over two hours into the meeting, the woman, only identified as "Bridgette" stepped up to the podium and put a red Santa on her head before beginning to play a karaoke version of All I Want for Christmas is You by Mariah Carey from her phone.
"I don't want a lot of Christmas, just body autonomy," she begins to the tune of Carey's famous Christmas song. "I don't care about the variants because of natural immunity."
As previously reported by Newsweek, although some early data does appear to suggest that the Omicron variant causes less severe illness than other variants, scientists caution that it is still too early to know for sure.
"I just want my freedom now, the Constitution will show us how. Make my dreams come true. End the state of emergency and acknowledge early treatment too," she sang.
She then goes on to list treatments that have been wrongly associated with the virus from Ivermectin, "not just horse paste," she said, to Hydroxychloroquine. The FDA has said both drugs are not safe treatments for COVID-19.
"I won't wear a useless mask, I don't need to stay at home and my kids should go to school, we don't need to be alone..." she continued.
Michael Workman, a communications officer for San Diego County, told Newsweek in an email that aside from summer and winter break, the San Diego County Board of Supervisors meets every other week. He said typically about three dozen community members show up to speak.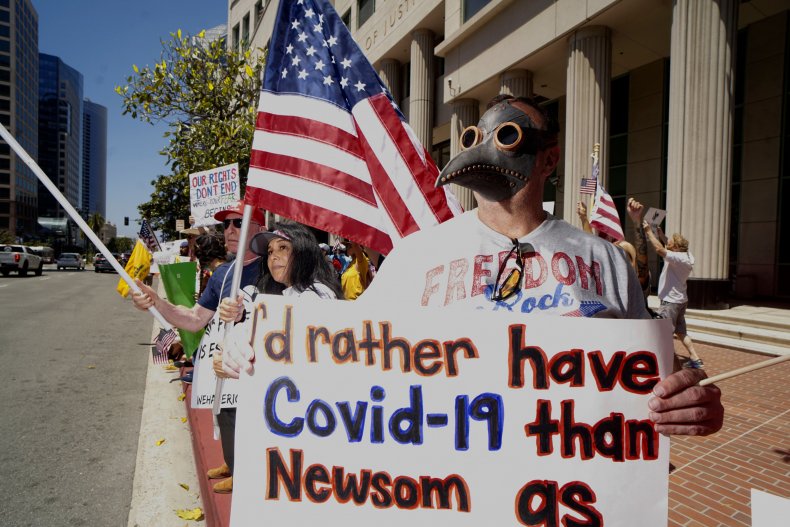 According to Fox 5, "Bridgette" was not the only one in attendance opposing the extension of the local health emergency order — which was later approved on a 3-2 vote.
The station also noted that most of the county's pandemic restrictions have been lifted since June and students have returned for in-person classes on a daily basis.
Workman told Newsweek that at this point the emergency order is "pretty much a formality" but that most California Department of Public Health guidelines are being followed in the county.
"Bridgette" ended her song with: "End the emergency, let's have a happy holiday everybody," as the crowd heard off-camera applauds.