Meet the Woman Saving Thousands of Girls From Female Genital Mutilation
Nice Nailantei Leng'ete, a 27-year-old woman from Kenya, is changing the lives of thousands of young girls by starting conversations about sex.
By talking to village elders in rural Kenya about why young girls should not be circumcised, a practice known formally as female genital mutilation (FGM), she has succeeded in saving an estimated 15,000 young women from the practice in seven years. Consequently, she has given them an opportunity to go to school and start a career.
In the region of Kenya where Nice is from, female circumcision is a rite of passage that marks the transition a girl makes from childhood to womanhood. After a girl is circumcised, which happen around the age of eight, she is considered eligible for marriage and even for motherhood. As such, Nice's fight against female circumcision in her community is a fight for the right of young girls to avoid child marriage.
"FGM and child marriage are very connected and go together in my community. It's like getting a certificate for marriage, so there is no way to talk about FGM without talking about child marriage because they always go together," Nice told Newsweek.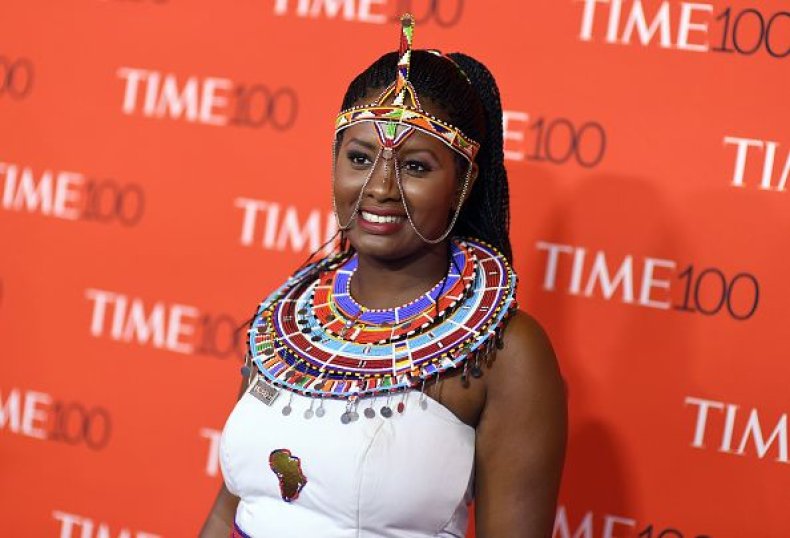 Nice began her resistance to the practice of female circumcision when she was just eight years old. When her time came to undergo the cut, she ran away from home and hid. The following year when other girls were going to get cut, she ran away again. Eventually, she had to confront her family with the fact that she did not want to get circumcised. It took some persuading, but her grandfather relented after she threatened to run away from home and allowed her to go to school instead of undergoing the cut.
Today, she runs an advocacy program that travels from village to village to convince elders and community leaders to allow other young girls to forgo the cut and go to school. In a tribal society dominated by patriarchal traditions, this is a difficult task. But over the years, Nice has honed her communication skills and found creative ways to broach the topic. And her efforts are paying off.
"Talking to elders is like talking to my own grandfather. If I start talking about sex they will feel like I don't respect them. So we definitely started talking about other issues and then we work the FGM into the topic. It's a process after you have open dialogue," Nice explained.
"The resistance is there, but it's all about community dialogue. Men who are role models, I use them to talk to other men. We now have men who are married with uncircumcised women who give testimony," she continued.
The World Health Organization estimates that over 200 million women and girls have undergone female genital mutilation in the roughly 30 countries where it is frequently practiced, most of which are in Africa. The practice has dropped substantially over recent decades, particularly as countries like Nice's native Kenya have banned the practice. But the tradition is deeply rooted in many rural and indigenous cultures, and it continues to be practiced among Nice's ethnic group, the Maasai.
The practice varies between communities, and some forms of circumcision are more harmful than others. But health experts say that women who undergo female genital mutilation are at an increased risk of health complications during sex and childbirth.
"FGM may have lasting effects on women and girls who undergo FGM. The psychological stress of the procedure may trigger behavioral disturbances in children, closely linked to loss of trust and confidence in caregivers. In the longer term, women may suffer feelings of anxiety and depression. Sexual dysfunction may also contribute to marital conflicts or divorce," according to the United Nations Population Fund.
Meanwhile, child marriage following circumcision means that girls have to give up school and forgo pursuing a career.
Nevertheless, Nice said she recognizes that coming of age rituals are an important part of her culture that many people would like to hold onto. So instead of giving up the rituals altogether, Nice decided to create alternative rites of passage. As part of her program, she works with local communities to develop a new form of celebration that marks a girl's transition to womanhood without the cut.
"With the alternative rites of passage, we are trying to maintain our culture without FGM. What we're doing is replacing the cut. The younger men have to be there to assure the girls that 'yes,' they are going to marry without being circumcised. But the men have to be willing to marry you at the right time," she explained.
As part of the alternative rites of passage, the community participates in training on sexual and reproductive healthcare. Then the celebration can begin, a celebration that brings together everyone in the community, including young men and elders.
"We have a big ceremony, which includes the same rituals and ceremonies that bless a woman when they are ready to be a woman. We also want the elders to bless them to go and work and be a doctor or a professor, instead of bless[ing] a woman just to obey her husband and have children," Nice described to Newsweek.
"They have milk and honey and traditional beer for blessing,"
she said. "Let's retain the good and beautiful parts of our culture and do away with the cut."