Woman Says Brother-In-Law Tried to Set Her Up Two Months After Husband's Death in Post
A post has gone viral on Reddit after a woman shared that her brother-in-law tried to set her up with a colleague while she was grieving the loss of her husband.
Redditor u/Catmom3__ wrote about the moment, and the events leading up to it, in a post on the subreddit "Am I The A**hole" that has been voted on over 12,000 times.
She shared that she lost her husband two months ago to cancer and in the weeks since, various members of her family have come to visit and comfort her.
"I'm trying to stay collected and welcoming to all the supportive family members who come to offer help despite my constant change in mood due to grief," she wrote.
The poster said her biggest support is her sister, though she feels that her brother-in-law has been less sensitive to the situation.
"...her husband would act inappropriately sometimes, especially after he told me after the funeral that now I'm 'burden' free and can 'live my life' given I was my husband's sole carer," she writes. "I try to let go of those comments thinking he didn't know better."
"Am I The A**Hole" often becomes a forum for people to seek the internet's advice over arguments and tense situations with family.
Earlier this month, Newsweek reported on another viral post where a Redditor explained why he kicked out his half-brother and half-brother's pregnant wife. He said after constant complaining from the couple it all came to a head when they called his wife a "heartless bi**h" for suggesting they cook for themselves.
The Redditor said he had had enough, and told the couple they had 30 days to leave.
u/Catmom3__ said after trying to put her brother-in-law's "inappropriate" comments about her husband aside, things took a turn when he asked the Redditor to speak to her during a recent visit.
"He started telling about a coworker of his who's single then went on to list everything good about him," she wrote. "I was confused as to why he was telling me all that. [H]e then reached out for his pant pocket and pulled a piece of paper with his co worker's phone number on it telling me to give him a call sometime."
The Redditor said she "lost it" telling her brother-in-law he was "out of his mind" for trying to set her up with a colleague so soon after her husband's passing.
"He tried to explaine[sic] that it wasn't like that and that he was just offering me something helpful but I didn't know what he meant,' she wrote. "I called him disrespectful then yelled at him to get out of my house."
Commenters on the post supported the Redditor's choice of telling her brother-in-law to leave.
"NTA. BIL is way out of line in all of his comments,"one commenter wrote. "The first, sure, he might not know what to say and thought he was helpful, but trying to set you up with someone this soon, entirely unasked for is just insanity."
"NTA - I can't tell if your brother in law is an actual jerk or just astoundingly lacking in empathy and social judgement, but either way, his actions were wildly insensitive and inappropriate, and your actions completely understandable," another added.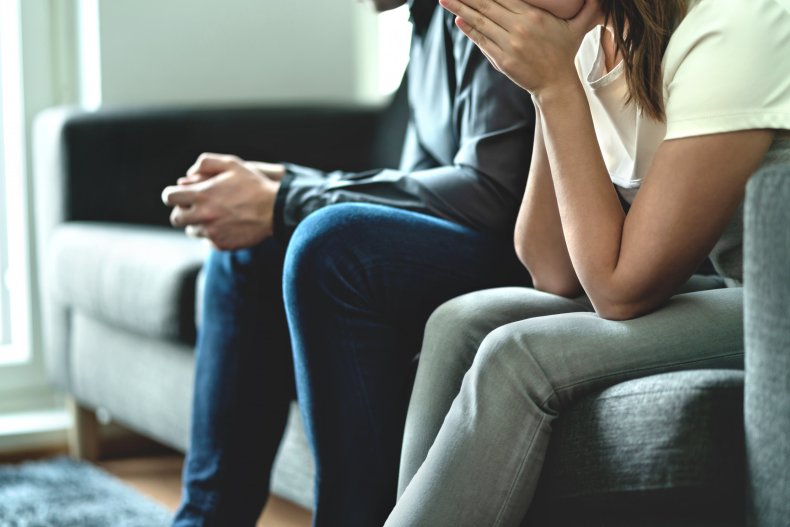 The Redditor wrote that after she calmed down she spoke to her family. She said while they agreed that his actions were uncalled for, she needed to "keep in mind" how much help her sister and brother-in-law have provided since the death of her husband.
"They said kicking him out was too much and I should call him later and talk things out so I won't ruin my relationship with him and possibly my sister," she wrote.
She ended the post by saying in the days since the incident, she has not called her sister nor has her sister come by to visit.
"...which means she is upset with me and now I'm beginning to think they're most likely hurt because I acted ungrateful after everything they've done for me," she wrote.
"Actions are not balancing eachother, it doesn't work like that," one commenter added. "[It's] not as if preparing meals for someone allows you to be inappropriate with them afterwards."
Newsweek contacted u/Catmom3__ but did not hear back in time for publication.