Woman Says JetBlue Flyers Were Stuck at Airport for 2 Days in Viral Video
A JetBlue passenger is saying that social media complaints are the only reason her flight from Las Vegas to Newark eventually took off, after a delay that she alleged lasted two days and nights.
TikTok user @wm_beautylab, who goes by Wendy Michelle on the platform, chronicled her "JetBlue horror story" in a series of viral videos that featured other distraught passengers crowded around her.
In a video posted February 28 that has reached 142,000 views, Wendy Michelle said that passengers on JetBlue flight 956 were going into their second night at the airport and turning to social media to get the airline's attention. "We have kids, we have jobs, and this is ridiculous," she said.
She added that the airline had offered flyers a $200 voucher, but said, "We don't care about the money, we're just trying to get home."
In another TikTok with 478,000 views, Wendy Michelle showed a crowd of testy passengers gathering in front of JetBlue desk staff, with at least one man shouting a question about "timed out" workers. He was likely referring to a law that aims to protect flight crews from dangerous fatigue by setting maximum work hours.
Newsweek has not confirmed if this regulation was the reason for the flight's delay.
A third video in Wendy Michelle's series showed another angry woman yelling: "We have kids that haven't been home, haven't slept, this is not okay."
In her latest installment, Wendy Michelle said that her flight finally took off from Las Vegas, Nevada at 8 a.m. on March 1 and arrived in Newark, New Jersey around 5:30 p.m. She concluded that social media complaints pressured the airline into taking action, claiming: "If we would've not put this on social media, they would've not given us a flight."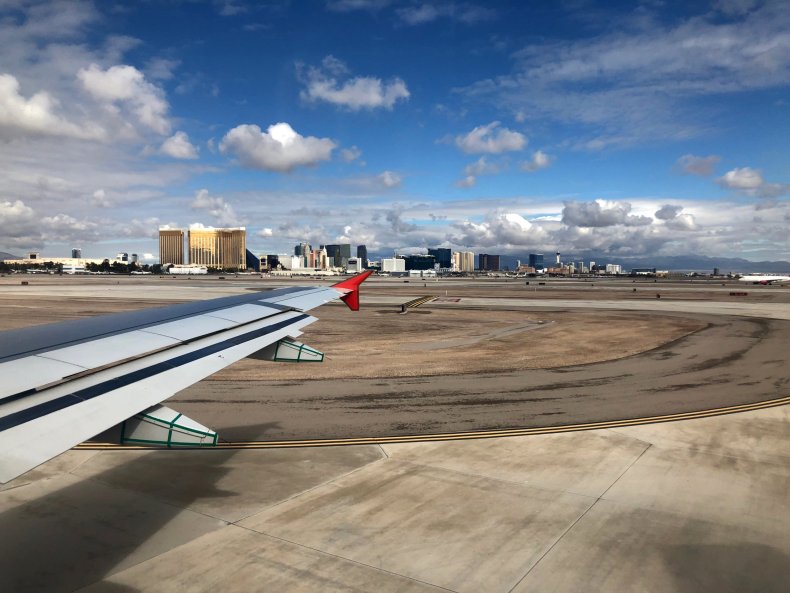 A spokesperson for JetBlue told Newsweek in a statement: "It is never our intention to delay or cancel flights, and we are dedicated to getting our customers to where they need to go safely."
Like many industries across the United States, airlines are struggling with a labor shortage. Major airlines that reduced their workforces during the pandemic have raced to hire workers as more travelers return to the skies. On top of staff sickness cases and bad weather events, the worker shortage has led to a rash of flight delays and cancellations in recent months.
The need for pilots is particularly dire, with experts anticipating a wave of mandatory retirements in the aging workforce. Oliver Wyman, a management consulting firm, has predicted a worldwide shortage of at least 34,000 commercial pilots, almost 10 percent of the workforce, by 2025.
Newsweek reached out to Wendy Michelle for comment.