Woman Says KKK Is Targeting Her Over Petition to Get Confederate Monument Removed From Courthouse
A woman in Statesville, North Carolina, believes she has become the target of the Ku Klux Klan (KKK), after she started a petition to get a Confederate monument removed from a county courthouse last year.
Genesis Houpe, who is Black, told WCCB Monday that she believes she's been targeted by the white supremacist hate group on two separate occasions.
The first incident occurred last month, when Houpe received a zip-locked bag on her doorstep containing a note with the words "KKK" written on it. The message on the note stated that the group "sees everything," WCCB reported in March.
Houpe said she was again targeted on April 11, when she found a Confederate flag zip-tied outside of the front door to her apartment. Houpe said felt frightened by the flag and immediately contacted Statesville Police, believing it to be another statement from the hate group.
"I do feel targeted. When you live in an area as densely populated as mine, it's hard to pick out one apartment if you don't know who you're looking for," Houpe said.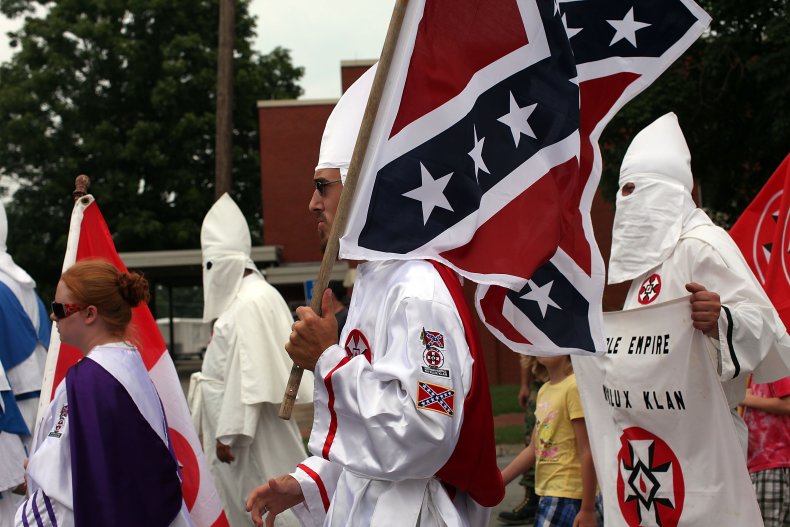 Houpe told the news outlet last month that while she was unsure of exactly what prompted the first message, she believed it was connected to a petition that she started last year to get a large Confederate monument removed from a local county courthouse.
"I'm not going to say that's a direct reflection of this, I'm not sure why I was targeted, but I do know the work I've done, and it's not gone unnoticed," she said.
Now Houpe said the targets are getting "out of hand," and she feels increasingly unsafe in Statesville.
"It's getting ridiculous. It's out of hand," she told the news outlet on Monday.
"There's no reason to target me or anyone else just because of the color of my skin. Or anything that I've tried to do to bring this town to the new millennium," Houpe added.
Houpe said she contacted the police after the first incident, but felt they did not take it seriously. On Monday, she said she feels "somewhat" better about the response to Confederate flag.
"I feel somewhat better knowing that they are taking it seriously this time. I did not feel protected at first," Houpe said. However, she told WCCB that she's now in the process of trying to relocate in order to protect her family.
"I'm literally in the process of starting a GoFundMe to see if I can get people to at least help me because I have to relocate," she added.
WCCB reported last month that they were contacted by a man claiming to be a leader of the East Coast Knights of the KKK, who said the flyer in March was not "racially motivated" or meant to specifically target Houpe.
On Monday, the man told the news outlet that the KKK was not responsible for the Confederate flag.
Newsweek contacted Houpe and the Statesville Police for additional comment, but did not hear back in time for publication.