Woman Says 'Landlord From Hell' Ghosted Her After Random Eviction Note
A renter who said she is being illegally evicted has documented her story in a video series over two weeks, rallying an army of internet supporters along the way.
U.S. landlords file 3.7 million eviction cases in a typical year, according to the Eviction Lab at Princeton University. During the COVID-19 pandemic, a federal eviction moratorium allowed people who suffered economic losses to stay in their homes and avoid settings where the virus spread. But rent payments were only postponed, not forgiven, leaving Americans with billions of dollars in debt when the moratorium expired.
At the same time, rental prices have climbed 17 percent over the past year and inflation is cutting deep into household budgets.
Justine, who lives with her wife and children in Clinton, Iowa, shared her eviction story on TikTok. The family has been renting a house owned by Valley Bluff Townhomes for six months, she said.
On May 12, Justine recorded herself calling her landlord's office in a video with 1.2 million views. "My landlord is pulling some shady s**t," she captioned the clip in text overlay. "After days of ignored texts [and] emails I decided to call them."
She added a hashtag calling the property manager a "landlord from hell."
Over the phone, Justine said, "I just wanted to touch base with you about the lease."
"What about the lease?" her landlord asked flatly.
"Yeah, I just wanted to confirm that after you got the remainder of the deposit, you weren't going to terminate our year-long lease."
After a brief pause, the landlord hung up.
Justine then filmed herself visiting the landlord's office in-person, but her knocks and doorbell rings went unanswered.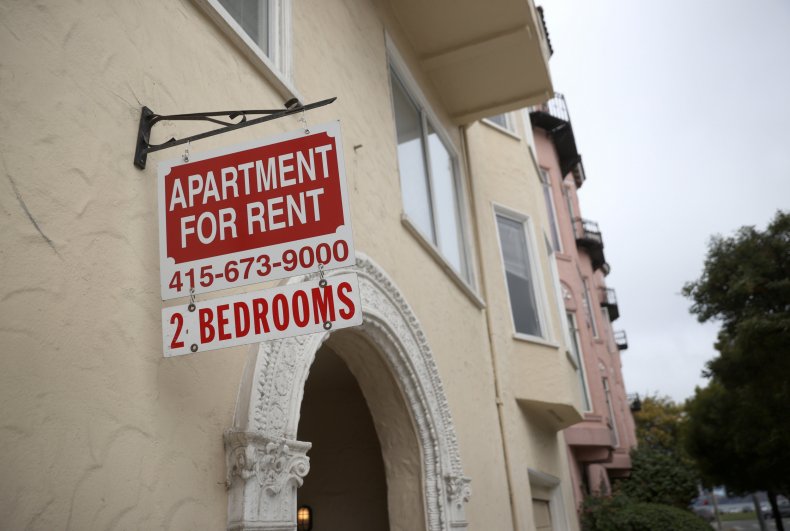 She explained to her audience that a new landlord had taken over her building four weeks prior. On April 27, she received a notice from the new management stating that it was terminating her "month-to-month lease"—despite the fact that she had signed a 12-month lease with her previous landlord, ending September 30.
Justine asked for an explanation, but did not hear back. On May 3, the family received another letter demanding that they complete a payment plan on their deposit or move out even sooner, leaving the building by May 13 instead of June 1.
"So I said, 'You know what, we did have an agreement with the other landlord that when our taxes came, we'd pay it off,'" related Justine. "'So sure, we'll pay off the remainder of the deposit, but that means you're not going to terminate our lease, right?' And she won't answer me."
Justine explained in a follow-up video that her family had paid an initial deposit in full before moving in. After they started moving in, the building asked for a second deposit. They paid half of this sum and requested to pay the remainder with their tax return, which their previous landlord agreed to. Their rent was always paid by the first of each month, Justine said.
In subsequent videos, she filmed herself making unsuccessful attempts to get in touch with her landlord through texts, emails and in-person visits. She and her wife even visited their building's corporate office to speak with an owner, but after promising to "investigate," he ghosted them as well.
Finally, on May 23, Justine said they found an eviction order taped to their door.
"This is the only communication that we've gotten from Valley Bluff Townhomes," she said. "We haven't gotten any communication from the owner after his 'investigation,' we haven't had any returned phone calls or emails from the property manager."
Justine's furious audience urged her to pursue legal action and report her story to journalists.
"Court," one viewer said. "As long as you have your initial agreement, it doesn't matter if someone new bought it, and they can't evict you without reason."
Another advised, "Don't leave, keep all records and receipts, call a lawyer/county rep to see the laws in [your] area...renters have rights!"
"Go to the news," a third comment said.
Newsweek reached out to Justine and Valley Bluff Townhomes for comment.