Woman Says She Cleaned at Waffle House When She Didn't 'Want' to Pay Tab
A woman posted a now-viral TikTok in which she said a fellow customer pitched in at a Waffle House location after she asked the manager if she could do some cleaning to avoid paying her tab.
TikTok user @victoriakleim posted the video on her account on Saturday where it amassed more than 1 million views. "When you don't want to pay your tab so you ask the manager if you can do the dishes and clean the restaurant," read the text that overlaid the video.
While @victoriakleim said that her fellow customer worked in the restaurant to pay for her tab, restaurants may have different policies for customers who do not pay for their meal.
Restaurant owner Rick Camac told Eat This, Not That! that he once offered a customer the opportunity to pay for their meal by washing dishes.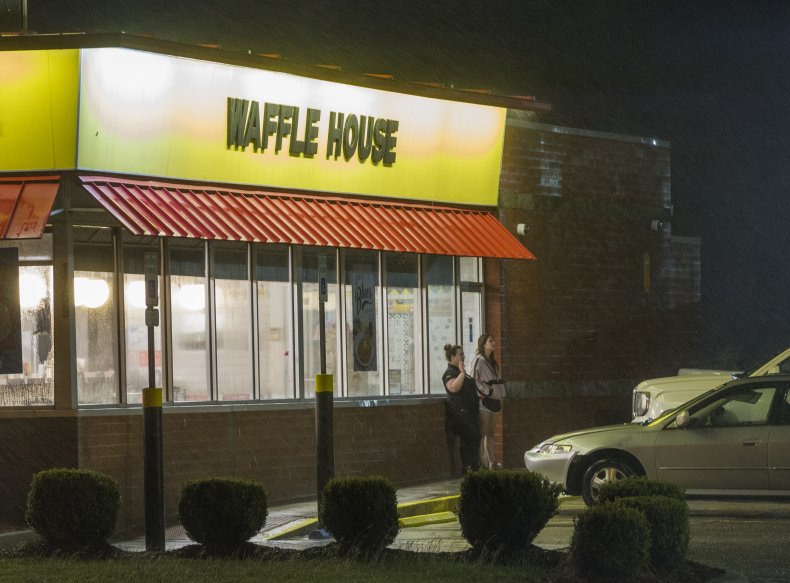 "While I was serious about it, I was hoping he wasn't going to take me up on it because the last thing I want is to put this guy in my kitchen," he said. "Somehow he figured out a way to [pay]. He found some cash in his pocket to pay his tab."
Other restaurants, however, may request to keep an item from the customer as collateral until they return with the money to pay for their food, or they choose to get law enforcement involved to obtain the customer's information.
It was not specified whether the Waffle House location needed additional help around the establishment, but it is common for many restaurants to experience understaffing.
The National Restaurant Association reported in May that while restaurants have expanded their staff, it has been done so at a slow rate.
"As of April 2022, eating and drinking places were still 794,000 jobs—or 6.4%—below their pre-pandemic employment levels," the organization said. "No other industry has a longer road to reach a full employment recovery."
In her video, @victoriakleim briefly shows her fellow diner as she works at a counter and carries a stack of dishes over to another employee.
"To clarify—she asked the manager jokingly if she cleans the kitchen if she'll pay our tab and she agreed but we felt bad and ended up paying anyway," @victoriakleim said in the comments section of her video.
TikTokers React
Viewers took to the comments section to share their thoughts.
"I [know] everyone's saying you're being too nice but imagine the good karma you'll get after this," a viewer wrote.
"But it was kindness that the manager showed," another TikTok user wrote. "Thanks for letting others see it."
"I've seen regular people start taking orders and serving drinks a few times at my waffle house in [Tennessee]," a viewer said.
One viewer, who said they previously worked for Waffle House, said this happened more often than some may imagine.
A spokesperson from Waffle House told Newsweek in an email that the chain does not have a policy in place for customers who cannot pay for their meal, and said the incident may have been a "joke initiated by the customer."
Newsweek reached out to @victoriakleim for further comment.
Other Viral Moments
This is not the first time someone said they worked at a Waffle House restaurant when they came in as a customer.
Newsweek previously reported that a woman prepared her own food at a Waffle House when two employees walked out, as seen in a viral TikTok video.
She said she offered to cook her own food and leave money on the counter when she was told they were not serving customers.
Meanwhile, a woman said last month that in addition to her serving responsibilities, she also had to cook the food for her customers due to management.
Another viral video posted by a former Chili's employee earlier this year showed the huge volume of to-go orders that were placed at her previous workplace.