A North Carolina woman who was not vaccinated and contracted COVID-19 is now urging other people to take the vaccination.
Ekaterina Wilson, a 39-year-old resident of High Point, North Carolina, told her local news station, WFMY-TV, she regrets not getting vaccinated after she was hospitalized with the virus.
"You have to have it, or you're going to get sick," she said. "You need it to stay healthy."
She said she thought the fact that she was young and healthy would prevent her from contracting COVID-19, so she did not get vaccinated, WFMY reported.
"I wasn't vaccinated because I was scared," she said.
She was hospitalized at Wake Forest Baptist Health High Point Medical Center for five days, WFMY reported. She tested positive for the virus July 17 and was hospitalized two days later. She was able to go home July 23. She was also treated for pneumonia.
Before she left the hospital, she got vaccinated.
"I can't go through this again. It hurts too much to breathe," she told the news station.
Wilson is now urging others to get vaccinated.
"I would love to be able to go back in time and tell myself to get the vaccine, that it's safe and I'm protecting myself by getting it, but I was just so nervous over how new it was," Wilson said. "It's safe though, and it's needed. What isn't safe is what I just went through after getting COVID-19," she told WFMY.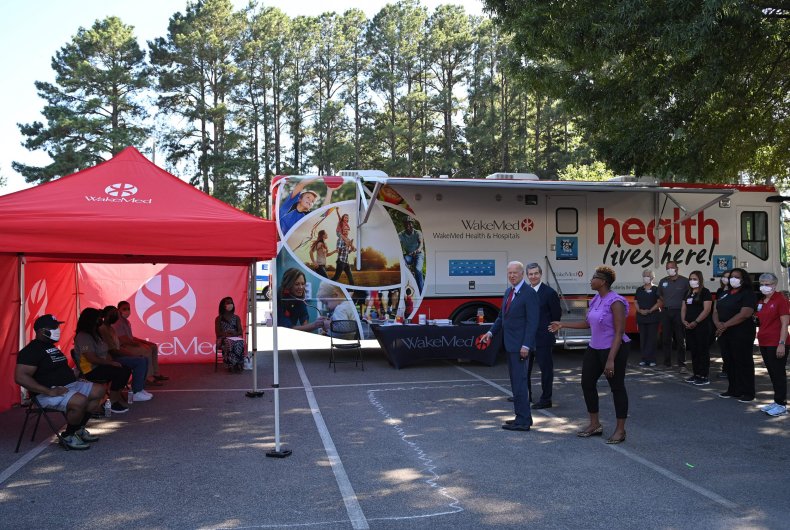 Dr. Kinchit Shah, the clinical assistant professor of hospital medicine at Wake Forest School of Medicine who helped treat Wilson, said her oxygen levels would drop when she would go to the bathroom or speak for more than a few sentences.
"We had a pretty hard time getting her from that status to where she is right now, where she is at least comfortable," he told WFMY.
He said he has seen many other cases of unvaccinated patients expressing regret for not getting vaccinated.
"Almost all of them were unvaccinated, and they told us right when we were treating them that they wish they could go back in time and change their mind and change their decision for them to get vaccinated," he said.
Newsweek reached out to Wilson for further comment but had not heard back Monday morning.
Wilson is not alone in her plea. Many people across the country who have become infected with the virus are now recommending people to get vaccinated. A Florida mother is asking people to get vaccinated after her 15-year-old daughter was placed on a ventilator with the virus just days before she planned to get the vaccine. A Missouri woman whose husband was hospitalized has said she will get the shot to not "do this again."
COVID-19 cases in the United States have surged in recent weeks due to the highly transmissible Delta Variant. On Friday, 122,674 new cases were reported, compared with 15,977 a month earlier on June 30, according to data from The New York Times. The increase in cases has prompted more people to get vaccinated. Last week, the U.S. saw four days in a row when more than 700,000 shots were administered "in a long stretch," White House chief of staff Ronald Klain said.
Just over half of all Americans have been fully vaccinated against the virus, according to data from Johns Hopkins University.