Woman Says Wedding Photographer Lost Photos, Offered 'Little Discount Code' in Viral Video
A video has gone viral after a woman revealed the email she received from her wedding photographer after her big day.
In the video, now viewed over 300,000 times @haylyjohnson_, whose first name is Hayley, shows a screenshot of the email with some sentences circled.
"When our wedding photographer lost our photos & offered me a 'little discount code,'" she wrote in words overlaid on the video.
Based on what is shown from the email, it appears that not all of the images were lost but that the "issue" was isolated to the "last bit of the day."
"Discount for....your next wedding? Maam," one commenter responded to the video receiving over 2,000 likes.
In a 2021 article from Brides, the outlet explained that a wedding photographer can wrack up a hefty bill. The price varies depending on location but photographer Emily Millay told the website that they can range from $1,000 to $10,000 or higher in the U.S.
In October Newsweek reported on a wedding photographer who went viral after revealing she had deleted all of the photos she took during a wedding after being denied a 20-minute break during the event.
The revelation was revealed on Reddit on the subreddit "Am I The A**Hole" where she explained that she asked the groom for a break only to be told she needed to "either be a photographer or leave without pay." To which, she chose to leave.
The comment section of the post was flooded with messages supporting the photographer.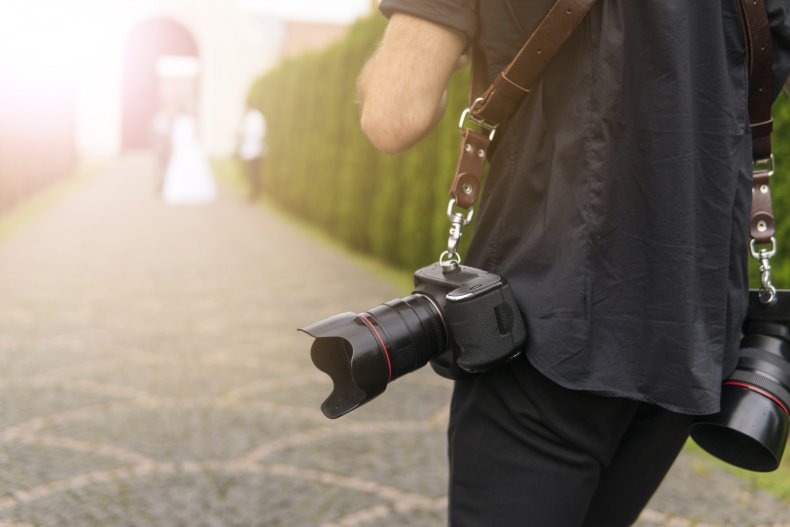 In comments on the viral video, Hayley clarified that the discount code offered was to get some of the photos printed.
"I fought him in emails for a while & eventually got 1/5 of the price we paid back," she continued.
She clarifies that one-fifth of the price was $1,000 which equaled about one hour of work.
Hayley wrote in another comment that photos of the first half of the wedding were retrievable but "the reception photos were 'corrupted.'"
"I don't have one professional photo of me & my husband at the 'party'/second dress/ first dance/ cake cutting etc.," Hayley responded to one of the comments.
One commenter commiserated with Hayley writing, "All my wedding photos were lost. Photographer refused to refund. 5 years later I can barely talk about it."
"As a photographer...get a lawyer girl he owes you a 100% refund," another commenter added.
In a follow up video, Hayley showed some of the photos and video footage that did make it with the caption, "Sooo many things went wrong before & after the wedding but the actual day was MAGIC," she wrote. "Our videographer captured everything."
Newsweek reached out to Hayley for comment.