A homeowner in Rowan County, North Carolina, woke up when a neighbor found a woman allegedly trying to set the house on fire on Friday.
CBS affiliate station WBTV reported that the Rowan County Sheriff's Office is investigating the incident as arson after the woman—identified as 49-year-old Christie Louise Jones—was trying to set an ex-boyfriend's house on fire but targeted the wrong one.
The National Coalition Against Domestic Violence says, "1 in 4 women and 1 in 9 men experience severe intimate partner physical violence, intimate partner contact sexual violence, and/or intimate partner stalking with impacts such as injury, fearfulness, post-traumatic stress disorder, use of victim services, contraction of sexually transmitted diseases, etc."
The Charges
Jones was charged with felony first-degree arson, assault with a deadly weapon and larceny of an animal, though the outlet reported that she may face additional charges.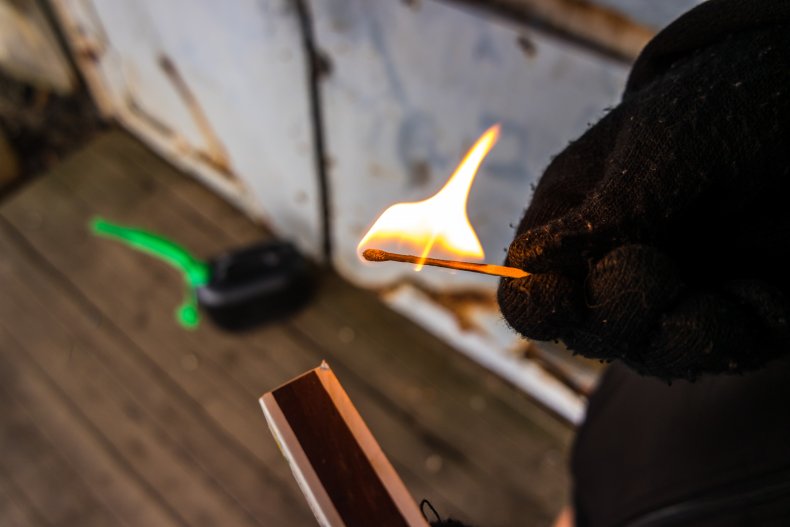 According to the law information website FindLaw, a sentence for someone who is found guilty of arson will come down to various factors, including prior criminal history.
"Because of the possible threat to human life, arson is generally a felony with severe penalties," the article published by FindLaw said.
First-degree arson is defined as intentionally burning a person's dwelling space, trailer home or mobile home while it was occupied at the time of the structure being burned
The time for incarceration may range between 38 and 160 months.
WBTV reported that there were bundles of wood and a fire burning on the front porch, which police said was started by bar and chain oil.
When the homeowner tried to get water on the fire, he found Jones near a car that was blocking the driveway. Police also said that the homeowner found pieces of wood that were on fire around a propane tank.
And, when the homeowner tried to douse the flames with water from the hose, it did not work because Jones allegedly tried to seal off the water by using Flex Seal.
She also reportedly damaged the homeowner's pool.
A spokesperson for the Rowan County Sheriff's Office told Newsweek that Jones moved the homeowner's dogs from the area they were previously being kept, which was why was charged with larceny of an animal.
Police said they found the dog and extinguished the fire before there was serious damage done to the house.
The spokesperson for the Rowan County Sheriff's Office said the damage to the homeowner's property is estimated to be about $20,000 between the damage done to the house, the pool and the propane tank.
When the homeowner tried to ask her who she was and why she damaged his property, Jones reportedly did not give much of an answer before she got in her car and drove away.
"He tried to prevent her from leaving, but there was only so much he could do," the spokesperson said.
Because of the description that was provided of Jones and the car she was driving, police tracked her down and she was charged.
If you or someone you know has been a victim of domestic violence, support is available through the National Domestic Violence Hotline at 1-800-799-SAFE(7233).
Previous Arson Incidents
A convicted arsonist said he intentionally set four different churches on fire due to their "religious character."
A man who was named "Firefighter of the Year" was arrested after he admitted to setting several fires.
And a father was charged with first-degree murder and aggravated arson when a fire killed his infant child.