This Woman Sent a Text to the Wrong Number, and Her Life Changed Forever
A woman has described how a text message accidentally sent to a wrong number changed her life forever, comparing it to the plot of a "Hallmark movie."
In 2009, Brenda Stearns, who moved to the U.S. from Mexico when she was 12, would send out daily positive text messages from her phone to people in her phone book.
She had recently visited her sister in Ohio, where she had swapped numbers with some of her sister's friends to get to know more people before heading home to Georgia.
"At the time, I didn't really know many people," she told Newsweek. "I had this habit of sending positive messages on Mondays or throughout the week to everyone in my phone book. I probably had, like, 10 phone numbers."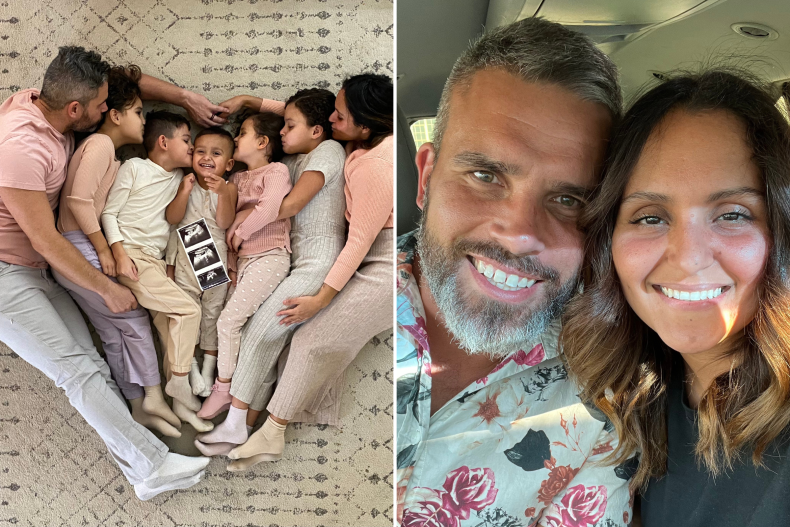 She drafted her positive text message to send out that morning, but then got distracted.
'No, We've Never Met'
When she sent the text later that day, she got an almost instant reply. "It said, 'Amen to that. Who is this?'" said Brenda, who assumed she had sent the message to her new friends from Ohio.
"I said it's Brenda, Roxy's sister. But the reply came back and he said, 'No, we've never met. My name is Isaiah Stearns,' he said, and that's how it started."
Isaiah also lived in Ohio and had purchased a new phone the day before. But when he went to use it, it was set up incorrectly and the SIM card wasn't working, meaning he had to get a new number that morning.
"So the phone company gives him a new number, and within 30 minutes he receives my text," she said. "No one knew his number, it was brand-new, and if I'd sent that text in the morning when I meant to, he would've never received it. It was all perfect timing."
When she realized she had made the mistake, she replied to apologize. "He said no worries. Then he said, 'If you don't mind, I'd like to keep your number and maybe text you sometime,' which I thought was odd because it was an accidental text and I didn't know who this person was. But I'm nice, and I said yeah, no problem."
With each U.S. phone number comprising 10 digits, there could be more than 7 billion possible phone numbers in the U.S. alone, after taking into account number formulations for government, local directory or information assistance.
In 2019, a new trend took hold online as people started intentionally contacting strangers by changing the last digit of their own phone number to speak to their "number neighbor."
Another famous example of a wrong-number mix-up gone right is that of Jamal Hinton, whose story went viral in 2016 when he received a text from a random number inviting him to Thanksgiving dinner.
Just 17 at the time, Hinton investigated who the sender was and was told it was his grandmother. But after swapping a few selfies, it was discovered that the number was wrong. In any case, he asked if he could "still get a plate," and Wanda Dench welcomed him with open arms.
In 2022, they celebrated their seventh year of Thanksgiving together, thanks to the heartwarming wrong-number moment.
Back in 2009, the day after Brenda mistakenly messaged Isaiah, she received a message and a missed call from him.
Before long, the pair had exchanged Facebook profiles and began talking more frequently. Learning that he lived in Ohio near her mom, Brenda suggested they go for coffee the next time she was nearby.
"He started calling and texting me almost every day, which I kind of loved because he was easy to talk to," she said.
'We Had So Many Things in Common'
Brenda said that she felt she was falling for Isaiah. "We had so many things in common," she said. "At this point in my life, I was ready. I was 22, and I've always dreamt of becoming a mom and having a family. I've never been a dating girl. I wanted to date someone that was worthy of marriage."
After weeks of speaking on the phone and online, Brenda was excited about where things were going but admittedly was nervous because she did not really know the person on the other end of the phone.
"Me and my mom are really close, and I remember talking to her and I said so there's this guy, he lives in Ohio, and I think I like him but I'm kind of afraid," she said. In response, her mom suggested she would go and meet Isaiah.
He agreed, and he and Brenda's mom arranged to meet in Ohio with her little sister too.
"As soon as they sat at the table, my sister's, like, I got to go to the restroom and gives me a call," said Brenda. "She's like, 'Oh my goodness, Brenda, he's so tall. He's very cute.'"
"What do you rate him from 1 to 10?" asked Brenda later during a debriefing. "My mom, without hesitation, said, '11. You're going to marry this guy.'"
Feeling more comfortable, Brenda and Isaiah continued to talk every day, texting and calling back and forth.
Brenda began to make plans to move to Ohio, knowing that her lease was up in June 2010.
"I said, 'Maybe after that, I can plan to get an apartment in Ohio and we can pursue this,'" she said. "At this point, we realized we were kind of for each other."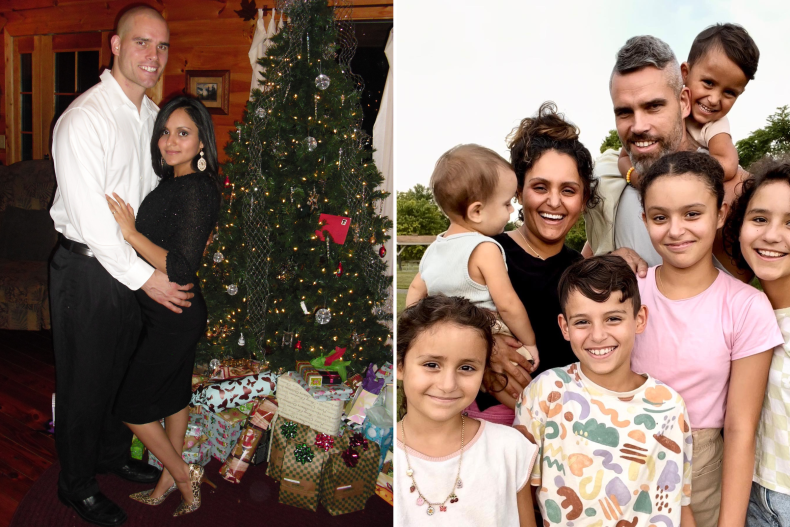 'It Felt Right'
By October 2009, the pair had been talking for months but still hadn't met in person. Brenda's mom suggested inviting Isaiah for Christmas with the family and he agreed.
But just a few days before the trip, Brenda's boss called and said that she could not have the time off to go to Ohio for Christmas.
Heartbroken, she decided to leave the job altogether. "I told my mom, 'Hey, I'm going to be moving in with you for a little bit, I quit my job,'" she said. "I just felt a confirmation, like, you need to go."
She moved to Ohio on November 29, 2009, and first met Isaiah in person on December 1.
"I do remember feeling like he was very tall," she said, laughing. "We talked about our future and our dreams and what we would be at this point. We decided to not waste time. We were, like, 'Let's just do it. Let's be boyfriend and girlfriend.'"
Just three months later, Isaiah proposed, and in June 2010 the couple were married.
"It happened fast, but it felt right," she said. "It wasn't rushed. Like, it just happened. We were just so in love with each other."
Now, 13 years later, the couple are happily married with six children—all thanks to that one accidental text message.
Recently, Brenda shared the story on her TikTok page under the handle @she_plusfive, and it has been viewed over 2.2 million times.
"People always say, like, 'You should write a book about this, it's like a Hallmark movie,'" she said. "I love my story and I do think it's special, but I never thought it would resonate with so many people.
"I love that we made that mistake," she said, thinking back on the text that started it all. "We've had our ups and downs, but we've always stuck together. I am super proud of our little family."
If you have a personal dilemma, let us know via life@newsweek.com. We can ask experts for advice on relationships, family, friends, money and work and your story could be featured in Newsweek's "What Should I Do? section.