Woman Shares Bridal Party 'Red Flags' in Series of Viral Videos
A woman started a viral TikTok series in which she outlines various red flag behaviors that may appear in a bride's wedding party.
Justina Sharp, a 24-year-old content creator based in Los Angeles, California, posted the videos on her TikTok account, @justina.sharp, where she shared what types of attitudes may cause problems leading up to a couple's wedding day.
Wedding planning can take months, sometimes longer than an entire year. Part of the job of a bridesmaid, as pointed out in an article published by The Knot, is to help the bride with what she may need for the big day.
"If someone in your bridal party is exhibiting these behaviors, you might have to kick them to the curb," Sharp said at the start of her first video in the new series, which was viewed more than 126,000 times.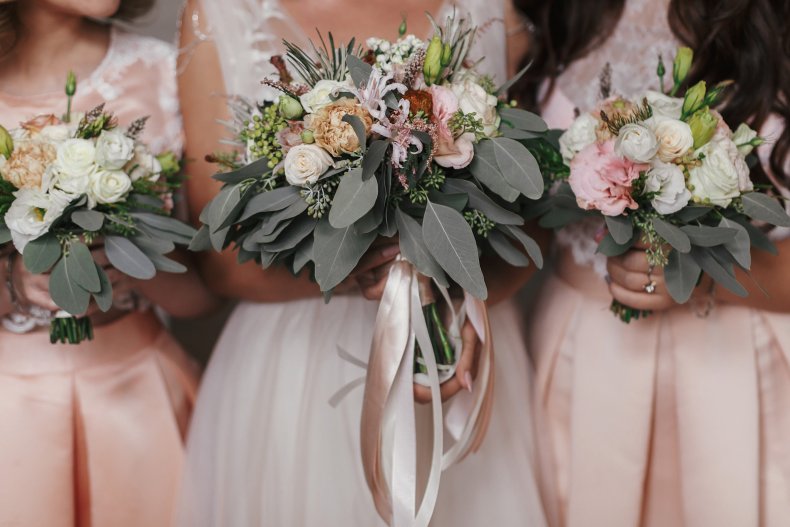 She then began to list the examples of what might be unacceptable, including a bridesmaid who compares the bride's wedding to their own, one who mocks the bride's choices and one who cannot be reached and is uninvolved with any planning.
"It's just a wedding," Sharp expressed while playing the part of the "joy thief" in the video. "Everyone has one."
In a follow-up video, viewed more than 130,000 times, Sharp lists even more examples of inappropriate bridal party behavior.
These included bridesmaids who let their jealousy show, someone who is self-involved and tries to plan wedding events around her own personal schedule and one who disparages events for the bride in order to be seen as "one of the boys."
"I'm just really not into all this girl stuff," Sharp said in her "one of the boys" character. "I'm more of a guys girl."
Sharp told Newsweek that she started making wedding content when she began planning her own wedding.
"I've had a lot of conversations with brides who are in a position where they ask someone to be in their bridal party and it's just not working out the way they always hoped and dreamed it would," she said in an email.
She chose to turn those struggles into humor.
When finding what red flags to include in her video, Sharp said they are a combination of her own observations, stories she's been told and what she watched in romantic comedy movies.
In addition to red flags in a wedding party, Sharp said she created an entire "Brides With Boundaries" series to discuss other red flags.
"I think the most common red flag that I encounter is people simply not listening when you've expressed yourself," she said. "The decision is made and that's final. Be it your mother-in-law, your bridesmaids, or your fiancé, it's important that you are heard."
Sharp said each time her videos go viral, it means an important conversation is being had.
"Right now my content is wedding-centric because I'm getting married, but really these videos are about boundaries, relationships, and how to fill your life with people who you love and who bring you joy, which is something I think everyone wants," she said.
The videos have welcomed comments from other brides who said they felt validated by the videos.
Sharp said she started making the content because it was what she needed to hear while planning her own wedding. She said the frustrations that are a part of the planning process are often not highlighted, and that's where her content seeks to fill in the gap.
According to The Knot, bridesmaids are expected to offer support to the bride leading up to the wedding day, stand by the bride's side during the ceremony and ensure she enjoys herself at the reception.
"The official job of a bridesmaid is to help the to-be-wed," the piece states. "You are there to support them through the planning process and celebrate this important relationship milestone."
Events like the bridal shower and the bachelorette party are part of a bridesmaid's responsibilities leading up to the wedding day, and the bridal party may also help the bride get ready for the big day.
Commenters on both of Sharp's videos shared personal stories about difficult wedding party members, while others offered their own insight as former bridal party members.
"I have a friend who gave me a list of dates that worked best for her when I was picking a date," @okayksham commented.
Another commenter claimed they planned their entire wedding weekend around their sister's availability, but she did not attend the wedding.
"Girl [my] maid of honor kept canceling on appointments or just coming over to help plan but the last straw was me paying for her to go to a bridal show and she canceled," @tattoobaby5 wrote. "Didn't even give a reason."
"My [maid of honor] bailed from some of my bachelorette party plans and then left my wedding without saying bye to me," @Thecatdog wrote.
One former bridesmaid said that while she is not a morning person, she woke up at 4:30 in the morning for her sister's wedding.
"You make the exceptions for the ones you love," @cornncobb commented.