Woman Shares Children's Idea of 'Making More' Money in Viral Video
A video has gone viral on TikTok after one mother shared what her little ones did to a stack of cash in attempts, she says, to "make her more" of it.
@yo_imemily, whose first name is Emily, shared the video over the weekend, and it has since been viewed over three million times.
"This is the amount of money I have in my purse today because I have children," Emily says, holding up a pile of paper bills.
She then picks up torn pieces of cash and adds them to the pile.
"... this is the amount of money I would have in my purse today if I didn't have children."
Emily holds up a small piece of a $50 bill and lets out a sigh.
"In their defense they were just 'making me more'," Emily captioned the video.
Of course, it's not the first time a child has destroyed money. In 2018, The Washington Post reported on a 2-year-old who, with the help of a paper shredder, destroyed $1,060 in cash.
Parents told local news outlets that the cash had been set aside to pay the father's parents back for University of Utah football tickets.
The Post reported that the Bureau of Engraving and Printing offers a solution for incidents like this with their "Mutilated Currency Division." The division deals with currency that has been mutilated in a way where just one-half or less of the original note remains—or "its condition is such that its value is questionable," according to its website.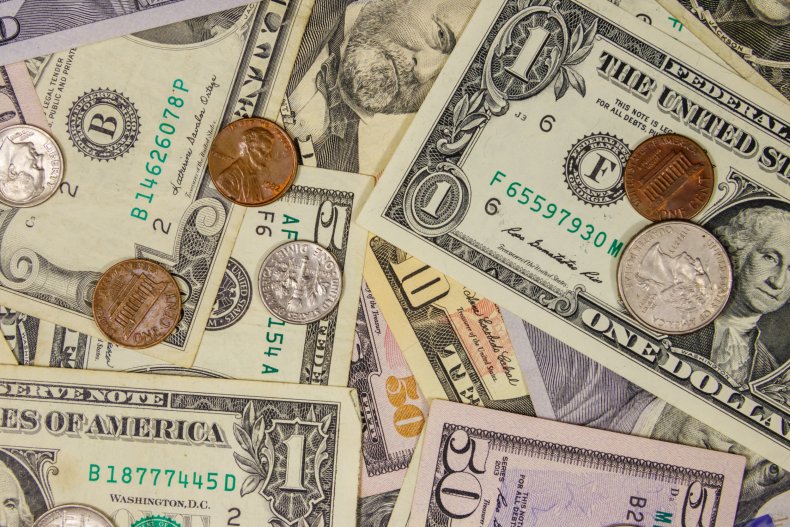 On average, the BEP receives more than 22,000 requests for examination of mutilated currency for possible redemption each year, according to their site, with an estimated value of over $35 million.
Commenters on TikTok joked that the video was the "best birth control advertisement."
In a follow-up video, at the advice of some commenters, Emily took the bills to her local bank in an attempt to get them replaced.
"Everyone roasted me in the comments and was like 'don't throw the money away, go to the bank, they can fix it, they'll give you the money back.' I would not throw the money away. I'm going to at least try," she said.
In the next clip, Emily shares that Chase was able to replace all but one bill. She said the bank teller informed her that the bills could be replaced as long as she had three-quarters of each bill.
She said they had to tape the money together before it could be replaced.
"It looked like a really expensive papier-mâché project."
Emily said in total $109 worth of bills, minus the $5 bill that was unable to be replaced.
"The kids said that they're definitely going to do this again because they liked coming to the bank...," Emily said while panning the camera to her little ones in the backseat of her car.
Newsweek contacted Emily for comment.