Woman Shares Journey Of Running Boston Marathon in Viral Videos
A woman shared her experience running the Boston Marathon in a series of now-viral videos on TikTok.
TikTok user @makontherun's videos showcased what it was like just before the start of the race, moments during her run and her reaction immediately after she crossed the finish line.
Viewers who tuned in to follow @makontherun's progress cheered her on and congratulated her on her finish.
According to its website, those who wish to qualify for the Boston Marathon are expected to meet time standards that correspond to age and gender.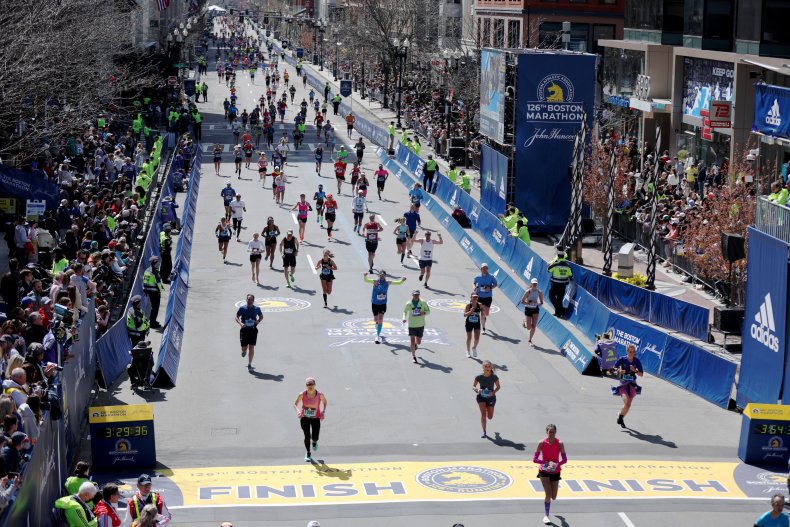 For example, men between the ages of 18 and 34 must meet a qualifying time of three hours, while women of the same age group must meet a qualifying time of three hours and 30 minutes.
"Only a certified full marathon distance will be accepted for qualifying," the website stated. "Distances shorter than a full marathon will not be accepted."
Additionally, times from indoor and virtual marathons are not accepted for qualifying purposes.
As @makontherun was getting ready at the starting line, she explained in one of her videos that the Boston Marathon was the first "big" road marathon she's run.
"The vibes are good, everyone's on their best behavior," she said. "I'm just here for the vibes. It's a fun run."
@makontherun provided updates at various checkpoints throughout the marathon.
"Things are going just fine," @makontherun said in a video viewed more than 60,000 times after saying she was 16 miles into the marathon. "10-mile fun run status now."
She checked in once again at mile 20, which marked the beginning of running up the infamous Heartbreak Hill. According to Boston.com, it is the final hill that is a half-mile incline.
Loud cheers and noisemakers can be heard in the background of her video, which was viewed nearly 700,000 times.
"This is so hype right now," @makontherun said. "I'm honestly having a great day. I feel good. The vibes are up, I've seen a million cute boys today."
@makontherun shared another video, which was viewed nearly 400,000 times, announcing that she had one mile left before completing the race.
"I'm feeling good," she said before grabbing one last cup of water. "Welcome to the city of Boston, we're almost done. Wow, what a journey."
One of the last videos in her series documenting her experience showed @makontherun just after she crossed the finish line.
"Oh my god, I just finished," she said, choked up just before she received her medal. "I'm going to cry. I had so much fun, everyone was so nice."
Commenters flooded her videos commending her, some writing that they were impressed she managed to document the experience while running.
"Mile 25 and still capable of speaking while running...you're a god," a TikTok user wrote.
"I cried watching this," a viewer wrote. I have had this exact reaction. This was me at NYC marathon last year. Literally sobbing."
"What a journey," one TikTok user wrote. "That's how I feel crossing every finish line."
Commented another, "I teared up with you!! So proud of you."
"You make this look much easier than it really is," a comment read.
Newsweek reached out to @makontherun for further comment.
Her videos are not the only viral marathon moments—one duck was caught on video waddling alongside runners at the New York City marathon in a TikTok viewed more than 12 million times.