Mom Who Weight Lifted During Pregnancy Shows Off Her Baby's 'Muscle'
A woman has gone viral on TikTok for showing off her pregnancy work out. In the video, TikToker Yoana Banda films herself at the gym while pregnant.
The video, which has been viewed 8.6 million times, then cuts to images of her newborn baby, who appears to have larger than average arm muscles.
The caption reads: "When you continue to weight lift throughout your pregnancy and your baby comes out the womb with muscle."
One user commented: "Some of these look dangerous but staying active is definitely good," while another user said that "working out during pregnancy was probably the best thing I did for myself. Gained 11lbs and labor was quick!"
Exercise is very rarely bad for you, and the American College of Obstetricians and Gynecologists report that if "you are healthy and your pregnancy is normal, it is safe to continue or start regular physical activity. Physical activity does not increase your risk of miscarriage, low birth weight, or early delivery.
"It's still important to discuss exercise with your obstetrician–gynecologist (ob-gyn) during your early prenatal visits. If your ob-gyn gives you the OK to exercise, you can discuss what activities you can do safely."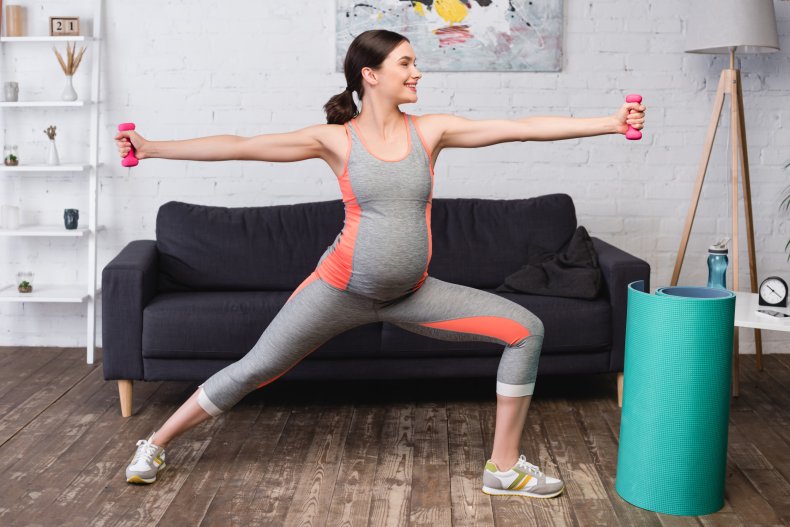 Johns Hopkins Medicine report that it is a "myth" that if you do not regularly exercise you shouldn't start when pregnant. "This myth has proliferated for many years, but pregnancy is actually an ideal time to start an exercise program—even if you've never really exercised before," it said.
"Public health guidelines for pregnant women recommend moderate exercise or activity for approximately 150 minutes per week (or 30 minutes per day, five days a week)," it added.
It suggests regular walking as an ideal exercise during pregnancy as a great way to get in enough cardio.
Gym activities, including gentle swimming or using the elliptical machine, are also ways to use the gym while pregnant, and they also suggest Pilates and yoga, which can be "mentally and physically beneficial. However, hot yoga is not recommended because you should always stay cool and hydrated while pregnant."
Johns Hopkins also argue that "the most important thing while performing these exercises is to keep it at a moderate level. Don't push yourself to the point of exhaustion."
Newsweek has reached out to @yoanabanda1 for comment.
Is there a health issue that's worrying you? Let us know via health@newsweek.com. We can ask experts for advice, and your story could be featured on Newsweek.