A series of videos is gaining traction on TikTok as a woman has decided to share the stories behind various passengers on the Titanic for each day in April—the month the ship sunk over 100 years ago.
TikToker @kjdish, whose name is Kaylee Jukich-Fish began the series on April 1 which she calls "Titanic Month" by going through a stack of "boarding passes" from passengers on the ship. The first video has now received over 1 million views in which Jukich-Fish talks about the life of passenger, and survivor, Annie "Nina" Harper.
Harper was 6 at the time of the Titanic's voyage which started on April 10, 1912. According to the card, which Jukich-Fish showed in the video, Harper was a second-class passenger traveling with her father Reverend John Harper to Chicago. The two were also accompanied by Jessie Leitch, who according to Jukich-Fish, was Nina's cousin.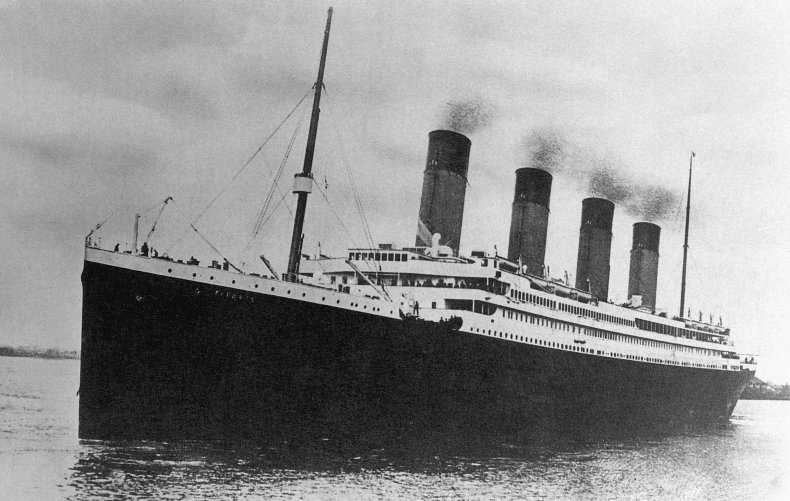 The card also said that the 6-year-old befriended another passenger, Eva Hart, while on board Titanic.
Today, there are no living survivors of the Titanic. According to Britannica, though it is unknown the exact number of people who died when the ship sank, it is believed that of the ship's approximate 2,200 passengers and crew members, some 1,500 people died.
Approximately one hour after the ship sank, the Carpathia ship arrived to rescue those who had made it onto lifeboats and survived and brought them all to New York City.
Jukich-Fish wrote to Newsweek that her interest in Titanic goes back as long as she can remember.
"When I was a little kid, I had so many questions about the Titanic and I would write them on post-it notes and stick them around the house for my dad to find," she said. "Eventually, he stopped having all of the Titanic answers so he started giving me books instead."
Jukich-Fish said that when making the videos and compiling information about the passengers beyond what's written on the cards she pulls from multiple sources.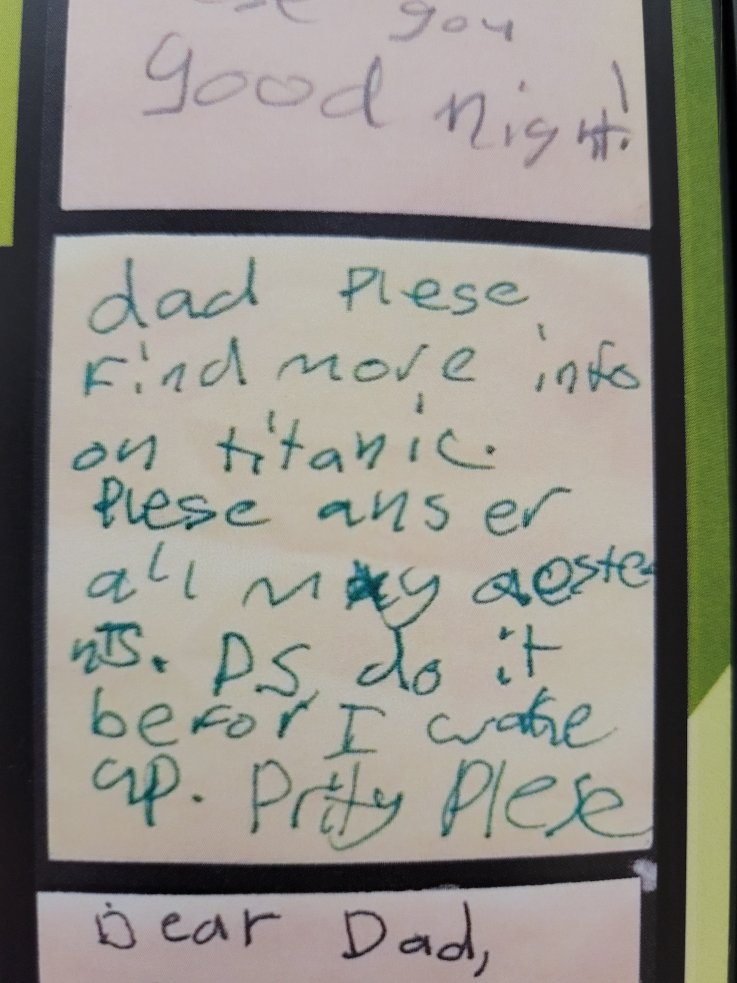 Kaylee Jukich-Fish told Newsweek that she has been interested in the Titanic for as long as she can remember. Here, Jukich-Fish shared one of the Post-It notes she left for her father as a child.
Courtesy of Kaylee Jukich-Fish
"If there is one thing that I have learned about telling Titanic stories it is that sources do not always say the same thing and can be quite contradictory," she said.
She said she starts by looking up the passenger's name on Encyclopedia-Titanica.org to get a "baseline story" which many times are linked to other external sources that she also reads. She also references a book she purchased at the museum called 1912 Facts About the Titanic written by Lee W. Meredith.
"Basically, it's a game of compiling a bunch of different stories and trying to find the commonalities," she said.
In the first video of the series, Jukich-Fish went on to explain that because of Nina's age at the time of the voyage she did not have "much recollection" of what went on.
Jukich-Fish said a fuller story of what Nina's experience on Titanic was like comes from her cousin who said they were told that after the ship was struck it would not sink. Jukich-Fish said the young girl's father did not survive the wreck but Nina and her cousin boarded lifeboat 11 and survived.
Nina was then an orphan as her mother had died during childbirth so she went on to live with her aunt and uncle, according to Jukich-Fish. It is said that she did not talk much about what happened on Titanic, in fact, it was discouraged in her family. According to Jukich-Fish, Nina did stay in close contact with Hart who also survived.
The boarding pass cards that Jukich-Fish pulled are from "Titanic: The Artifact Exhibition" in Las Vegas where Kaylee used to work. She told Newsweek that she will also be using passes she purchased at the Titanic museum in Pigeon-Forge, Tennessee that highlight the Jewish passengers that were on board.
In the following three videos Kaylee has posted so far this month she highlighted three other passengers: Masabumi Hasono, Annie Funk and Richard H. Rouse. At the start of each video, Kaylee picks one of the cards at random from the stack.
Jukich-Fish told Newsweek that she has had her Titanic TikTok account for almost two years and wanted to do something to commemorate the 110-year anniversary.
"After thinking about it, I wanted to emphasize the lives of the people that were on board as they are the ones most affected by this," she said. "I want to show them as individuals who were just like us with passions, family, achievements, and all the things that make us human."