An unusual-looking worm that happens to be an invasive species has gone viral on TikTok, and a woman shared how people can effectively kill one in the event that they come across it.
TikTok user and zoologist Lindsay Nikole, or as she's known by her username on the app @lindsaynikole, stitched her video with fellow TikTok user @cajunnanacat's video, who asked viewers what she may have stumbled upon in southern Louisiana. Viewers were stunned by the species and shared their shock in the comments section. Other invasive species in the U.S. include spotted lanternflies, deadly Asian needle ants, and one study says that invasive insects will harm 1.4 million trees in urban areas and cost communities $900 million by 2050.
"That's a hammerhead worm," Nikole said in her video, which was viewed 17 million times. "This might be the only time I ever say this. If you see one, dissolve it. Hammerhead worms are invasive, toxic, cannibalistic and potentially immortal."
She went on to explain that these worms can have a negative environmental impact because they prey on earthworms.
In addition to feeding on earthworms, Nikole said hammerhead worms will eat other hammerhead worms, as well as parts of themselves.
"If you see one, you can't just cut it in half because they can regenerate and then you'll have two hammerhead worms," she said.
Instead of cutting them in half, Nikole suggested that people trap them in a jar, add salt or vinegar and place it in the freezer for approximately 48 hours.
These instructions are similar to advice offered by the Texas Invasive Species Institute.
The worm, also known as a Bipalium kewense, poses an ecological threat, according to the organization.
"Known predator of earthworms that are necessary for the health of our forests, crops gardens and compost piles," the piece stated. "Bipalium species secrete chemicals through their skin to make themselves noxious to predators, and aid in the digestion of earthworms."
If a human were to hold one of these worms, they may experience skin irritation.
Officials with the agency said these worms can be killed with citrus oil and salt.
"They can also be sprayed with a combination of citrus oil and vinegar; or just vinegar alone and it must be applied directly on the flatworm," the piece from the organization stated.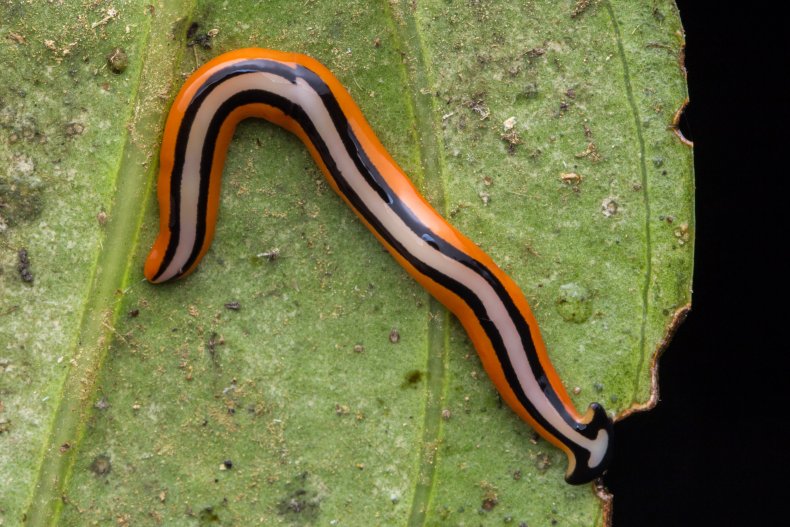 Nikole told Newsweek that she studied zoology in school with a focus on studying big cats. After graduating, she began posting TikToks to share what she learned in school.
She said she enjoys educating people with her videos and plans to become more involved in science communication.
Nikole first learned about the hammerhead worm in one of her classes.
She explained that they were studying planarians, which is the type of worm that a hammerhead worm is, and how they can regenerate. After seeing a few videos in which people showed that they came across the hammerhead worm, Nikole did some additional research and made her video where she explained what it was.
She said she was surprised to see how many views the video garnered but suggested it was because there are many people who are not aware of how many animals can regenerate parts of their bodies.
"If you're just learning about this concept for the first time, it's really shocking," Nikole said. "But there are so many animals that can do it."
Thousands of commenters did not hesitate to rush to the comments section to share their thoughts on the invasive worm.
"New fear unlocked," a viewer wrote.
"Yeah I'm never touching the ground again imma learn to levitate, bye," a different TikTok user declared.
Commented another, "So hydras are real...awesome."
One wrote that it was "unfortunate" that they have a negative effect on the ecosystem and said they look "neat."
"I've never seen one, I live in MD but now I'm tempted to carry around salt lol gonna be like the Winchesters hunting demons," a TikTok user commented.