Woman Shares Tattoo 'Red Flags' in Videos and People Are Divided
Comments were split on a woman's two viral videos on TikTok where she explained what she saw as tattoo "red flags."
TikTok user @flowstateink, who goes by Omi Michelle online, first uploaded a video, which has been viewed more than 2 million times, about the tattoos men received that she considered "red flags."
"Time pieces," the text over the video read, followed by an emoji rolling its eyes. "Bonus if there's a rose."
Several other tattoos were mentioned, including tribal tattoos and blackout sleeves.
"Wolf tattoos," the text over the final tattoo read. "Ur not alpha chill."
Michelle later posted a follow-up video, which was viewed more than 470,000 times, sharing the tattoo "red flags" among women. The video included tattoos on the collar bones, cheetah print and butterflies.
"THE HOLY GRAIL," the text read over the last featured tattoo. "Infinity symbols OR anchors."
Michelle was surprised to find her videos went viral.
She said she hoped they would receive a few hundred thousand views, but they surpassed that expectation.
Some honorable mentions that Michelle included were men who have tattoos of lions with crowns, a hand tattoo that says, "throat here" or last names. She said other "red flag" tattoos for women include tattoos of lips and snakes wrapped around an arm.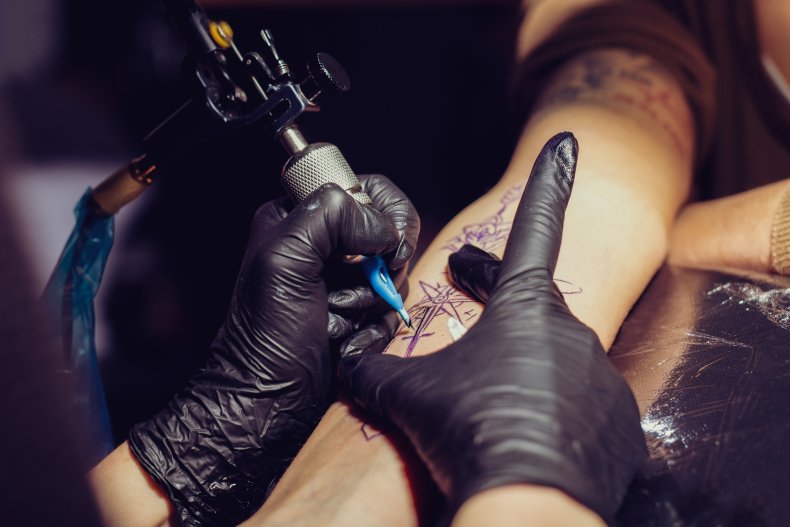 Similar to fashion, tattoo trends come and go, but these statements are often permanent unless the wearer gets a coverup or has the tattoo removed.
Inked Magazine compiled a list of some of the most common tattoos that are requested for artists to design.
"Regardless, we deem them rad because, at the end of the day, none pose any reason to regret the permanent decision and some ink is usually cooler than no ink [we can think of a few regrettable exceptions]," the article stated.
The trendy pieces were pictured in a gallery, which included tattoos of infinity signs, arrows and dream catchers.
Comments under the videos were divided.
"If the tribal tattoos are actually valid to their culture then I don't think it's a red flag I think it's a beautiful way to show your culture off," TikTok viewer Jade-lee Rexter wrote, a point that Michelle agreed with.
Several other commenters echoed that thought and pointed out that tribal tattoos may be a red flag if they are on a person that has no cultural connection to the tattoo.
Some viewers defended the tattoos featured in both videos.
"I got barbed wire tattooed on my collar bones and it's my most complicated tattoos," @annabellew_01 commented. "As long as you like it who cares."
One said that it was a "red flag" for someone to judge another person's tattoos because they have a different taste.
"[I don't know] this seems judgemental," Savannah wrote. "Like I know plenty of men with some of these tats and they are the nicest people ever."
However, others took the videos as a joke and were unbothered by Michelle's videos.
"I literally have a clavicle tattoo, anchor tattoo planned and considering a butterfly and this is FUNNY af," @thetiatiktok commented. "Good sense of humor."
One wrote that people should not be deterred from getting one of the tattoos Michelle mentioned.
"I'll take my red flag then," @lunaierenix wrote. "Why do people take these videos so [seriously]?"
One commenter even shared what they viewed as "red flag" tattoos.
"The worst one for me...is a lion with a crown and roses," @xgigixmariex offered.
Although people had differing views on the video, Michelle told Newsweek she compiled her list based on anecdotal evidence, meaning they were her own personal list of red flags. She said that list can vary from person to person.
Updated 02/04/2022, 5:26 p.m. ET: This story has been updated with comments from Omi Michelle and the verified TikTok video.