Woman Shares Why She Was Allegedly Ticketed by Cops For Wearing Crop Top
A Louisiana woman went viral after accusing police of writing her an indecent exposure ticket for wearing a crop top and denim shorts.
Casey, or @kazzi112, posted about the incident on TikTok where it received more than 2.6 million views and 13,500 comments since Sunday. The video can be found here.
In some states such as New York, individuals found guilty of indecent exposure can face a possible sentence of up to 15 days in jail.
In Louisiana, fines range from $25 for first offenders and up to $300 per offense. Some individuals can also face up to 40 hours of community service.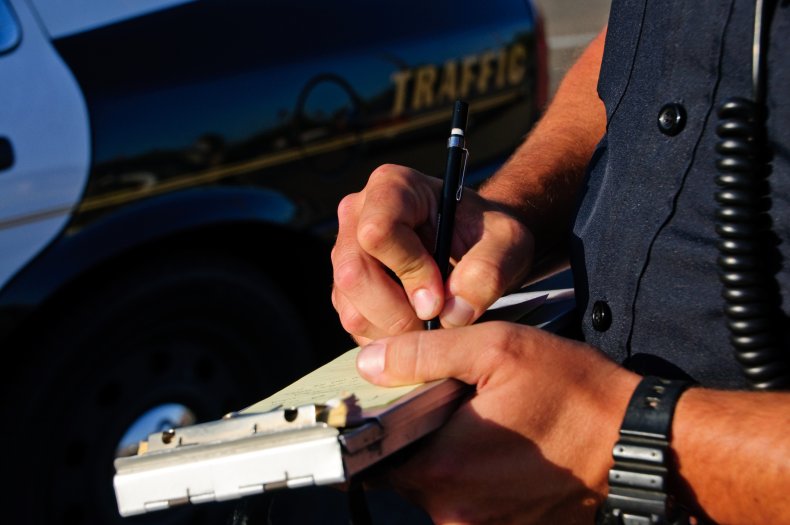 In the video captioned "make it make sense," Casey said she got ticketed for indecent exposure in Winnfield, Louisiana.
"All of my bits are covered," Casey said as she turned to show the entire outfit, which she said she was wearing at the time of the incident. Her black t-shirt covered her shoulders and stopped above the beltline of her pants and tied in the back, revealing a couple of inches of midriff. Her jean shorts were coupled with a jeweled, chunky belt. "The f**k? Are you kidding me?" she asked.
Casey said three female cops approached her and handed her the ticket. She added in another video that humidity was about 80 percent and it was about 90 degrees.
"I live a mile down the road," Casey said in the video. "They literally could have just been like 'hey ma'am can you put some clothes on' and I'd have been like 'yeah cool I'll be right back.'"
In a Facebook post, Winnfield Police said the incident occurred at Winnfield's Sixth Annual Dugdemona Festival over the weekend.
"An unnamed citizen was cited for a city ordinance and has since taken to a popular social media site, blasting police officers," police wrote. "However, 3 female officers responded to various complaints about the person's attire and the person of interest was issued a citation under the city ordinance."
The police then cited the ordinance, which was passed by city council members in June 2011.
The ordinance states that it is unlawful for any person to wear garments that intentionally expose undergarments or "any portion of the pubic hair, cleft of buttocks, or genitals."
Police said Casey was given a court date in Winnfield City Court where she can dispute the allegations.
"We, as public servants, will not engage in a social media war with any one or any organization, as it is improper and brings discredit upon this department," a department spokesperson said. "We also cannot comment on details of any case under investigation or pending court action."
'What in the 1835 is going on in Winnfield?'
More than 13,400 users commented on Casey's video, many criticizing the police department for ticketing her.
"What in the 1835 is going on in Winnfield?" one user commented, receiving nearly 33,000 likes.
"It's Louisiana it gets hot and muggy what else are you supposed to wear," another user commented.
"Wear it to court," another wrote.
Newsweek reached out to Casey and Winnfield Police Department for comment.
Last summer, a Florida woman was arrested after allegedly exposing herself to passengers on an airplane.
One Florida man was arrested for indecent exposure after he allegedly drove naked through seven toll booths, and another Florida woman was arrested after allegedly dancing naked in a Waffle House parking lot.