Many people share their pregnancy and birth announcements. But a registered dental hygienist took her wisdom tooth removal as an opportunity to poke fun at the popular trend through her TikTok video.
Posted by Kali Gonzalez, RDH, to her account @kali_like_the_state, the clip on the popular platform received more than 800,000 views and over 112,000 likes as it generated delight among TikTok viewers.
As the footage showed, Gonzalez examines a toothbrush that served as the "pregnancy test" and covers her mouth with a surprised, yet happy expression. An X-ray of her teeth is featured in the video's next shot as the noise from an ultrasound plays in the background.
A photo in the next frame of the video contains the X-ray, the toothbrush with the word "impacted" taped to it, and a card that read "Wisdom Tooth Removal Scheduled Jan 2022."
Gonzalez concludes her video with a photo of the removed wisdom tooth surrounded by a toothpaste tube and dental floss.
"Welcome to the world #32," read the card that the tooth laid on.
Gonzalez told Newsweek she has always been "fascinated" with teeth. She explained she frequently sees families share baby reveal videos and wanted to share one herself, even though she does not have children of her own just yet.
Gonzalez said the wisdom tooth was the only one that developed, and she saw it grow and shift each time she had X-rays taken.
"I knew as soon as I started to feel any pain with the tooth I'd have to get it removed," she said. "Wisdom tooth removal is kind of like a 'rite of passage' for a lot of people and I was super excited for it to be my turn."
Over the course of 2021, Gonzalez said it became clear she needed to have her tooth removed. As a result, she took the opportunity to create her own "announcement" video.
"I love personifying inanimate objects and so I started thinking of my wisdom tooth as a baby," she said. "I just thought it would be funny to use the audio on TikTok to capture these moments and the rest is history."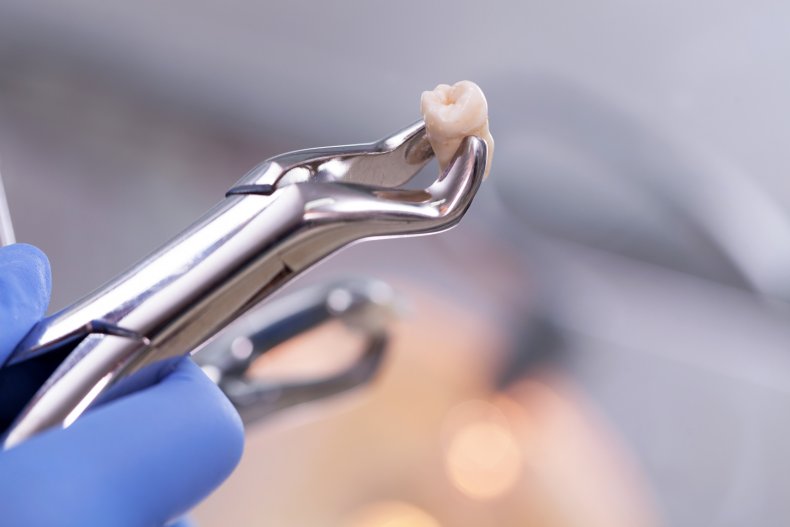 A birth announcement is a traditional way to broadcast the arrival of a new member of the family. According to The Bump, announcements should be sent out as soon as possible, but "etiquette says you have up to six months to get them out."
These announcements may be sent out by mail or through social media, and an introduction to the baby can range from straightforward to "sentimental."
"An announcement usually has an introduction that includes baby's name, the birth details and the parents' names, followed by the names of baby's siblings," The Bump's article read.
In addition to birth announcements, gender reveals have also been proven to be a popular way to share more details about a new baby.
However, not all gender reveals go as planned. Some mishaps are harmless and amusing, though some have resulted in serious consequences. Newsweek previously reported that a gender reveal party allegedly ignited a wildfire in Canada.
In that incident, the sex of a baby was to be revealed using an exploding target that was filled with blue or pink powder. But the target ignited a fire, which grew to about half the size of a football field. It took 10 wildland firefighters to help local firefighters to put it out.
Though Gonzalez's "announcement" did not include a baby, many viewers were delighted by the spoof.
"This is hysterical, as someone who is [trying to conceive] and is having the hardest time right now, this made me laugh for the first time in forever, thank you," TikTok user Calliope wrote.
Another commenter jokingly asked if Gonzalez got an epidural before congratulating her.
"Congratulations," TikTok user Roxsan wrote. "This made me so emotional! After all that pain you got through it!"
"Dang...I have had 4 of those deliveries," Nataly Carbajal remarked.
One commenter asked why Gonzalez only had one tooth removed and said they understood that two or four wisdom teeth are typically removed at once.
"I actually only developed just one lil guy," Gonzalez explained. "He is my miracle baby."
Responding to another commenter, Gonzalez said the removal did not hurt, though the healing that followed it could be painful.
The dental hygienist told Newsweek that she was numbed during the procedure and it lasted about an hour and a half.
"Everything healed up great and my mouth feels better than ever," Gonzalez said.
For those who are about to have their own wisdom teeth removed, Gonzalez encourages them to closely follow the post-operation instructions. This includes not using a straw, not smoking, and avoiding intense physical activities. And if something feels wrong, patients should not hesitate to reach out to their surgeon.
"It never hurts to ask and make sure everything is healing as it should," she said.
Gonzalez also said she was shocked when she saw that her video went viral. For her, it was a way for her to tell her friends and family that she had her wisdom tooth removed.
"I'm still in disbelief and I cannot even fathom that many people finding and loving my video about my little wisdom tooth," she said.
Update 2/3/22, 5:32 PM ET: This story has been updated with commentary by Kali Gonzalez, RDH, to Newsweek.