Woman Attacked By Shark While Swimming in Australia Left With Deep Lacerations
A woman was sent to hospital after an encounter with a wobbegong shark in New South Wales, Australia, left her with deep foot injuries.
According to The Macleay Argus, the woman was swimming in Killick Creek near the seaside village of Crescent Head—an area around 250 miles north of Sydney renowned for surfing—when she was approached by the shark.
The incident is reported to have taken place at around 8 a.m. local time on Tuesday.
According to reports, locals came to the woman's aid and covered her injuries before she was taken to hospital by a friend.
Members of Local Surf Lifesaving Club who attended the scene, Phoebe Williams and Jye Palise, say they were told the woman had received "four deep lacerations" to the foot.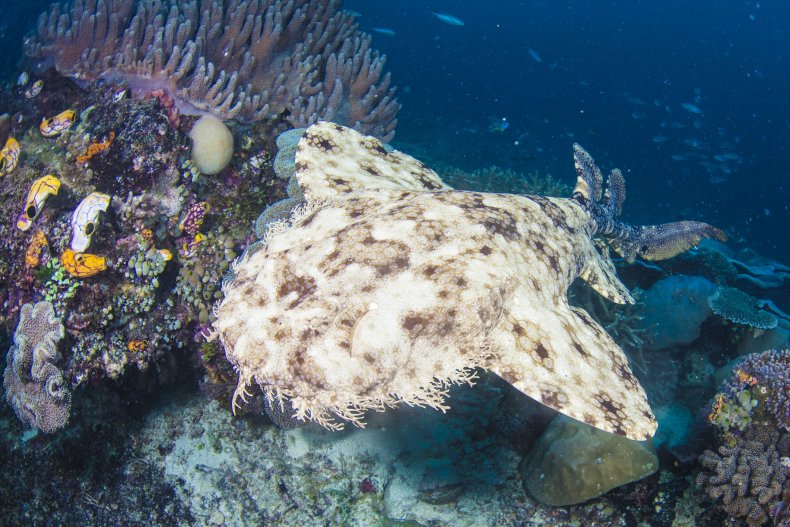 The attack follows a number of shark sightings in the area. Jye told The Macleay Argus the club's unmanned aerial vehicle (UAV) pilot had spotted a number of sharks recently, including a school of 13 or so last week.
"This is because of the higher numbers of mullet in the area at this time of year," Jye said.
The beach was temporarily closed after the incident. According to Shark Smart, an initiative from the New South Wales government, it has since reopened.
Shark Smart tweeted: "DPI advise that SLS NSW has reopened CRESCENT HEAD BEACH after an earlier minor shark bite by a Wobbegong Shark near Killick Ck boat ramp, 21 Apr 2020. Please be #SharkSmart."
According to the Australian Shark Attack File from the Taronga Conservation Society Australia, the country is home to approximately 180 species of shark, including the hammerhead and mako.
The most infamous is the white shark—commonly referred to as the great white—which combined with the tiger shark and bull shark is responsible for around 96 percent of fatal unprovoked shark attacks in Australia.
The wobbegong—a carpet shark—is less frequently implicated and is rarely dangerous but can become aggressive if disturbed, according to the New South Wales Department of Primary Industries.
The usually docile wobbegong, which refers not to one but multiple species of shark, can be found off the coast of Australia, where they typically inhabit inshore waters that are less than 330 feet deep.
Sharks that fall into the wobbegong family have been implicated in 21 unprovoked attacks, according to Florida Museum's Shark Attack File - International. None of which have been fatal.
According to the Australian Shark Attack File, there have been eight shark attacks reported in the country in 2020—two have been fatal, two caused non-fatal injuries and in the remaining cases, the victim was left uninjured.
Three non-fatal attacks took place in New South Wales (NSW), where this recent incident occurred. In 2019, NSW reported seven unprovoked attacks. In five cases, the victim was non-fatally injured. In two, the victim was uninjured.