Woman 'Shattered' After 13 Puppies Die at Vet: 'I Have No Answers'
A U.K. mom is demanding answers after her beloved dog's entire litter of 13 puppies died at the vet.
Alina O'Malley, a hospitality manager in Derby, England, intended to breed puppies from her American XI Bully dog named Arizona. O'Malley told Derbyshire Live that Arizona did not have health complications and her pregnancy developed normally.
Although Arizona was doing well, O'Malley worried about the potentially taxing effects of delivering a large litter. In April, she decided to take her dog to Easipeticare's practice in Derby for a C-section—the procedure she blames for what came next.
"My whole world has been shattered when I took my beautiful Arizona for a C-section," the owner told Derbyshire Live. "This disaster C-section resulted in 13 healthy puppies dying within two hours of the C-section."
C-sections are generally considered safe for dogs and may even be recommended for certain breeds.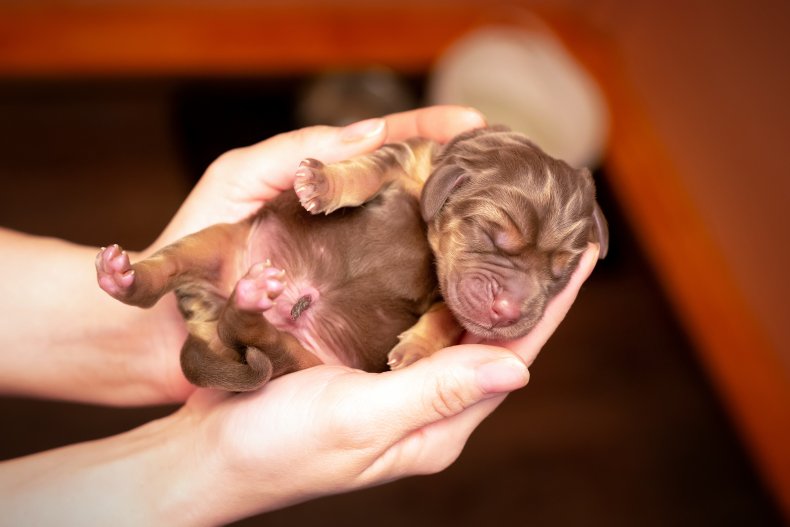 Arizona was in the first stage of labor when O'Malley handed her to the vet, she claimed. She emphasized that nothing abnormal was reported about her dog's labor.
O'Malley left while the surgery was being carried out. In a phone call, the office told her that the births had gone smoothly—Arizona and her litter of 13 puppies were all healthy. The excited owner began preparing to hand feed her puppies, researching special milk online.
Two hours later, she received another call.
"The vet, to my absolute astonishment, said all 13 puppies had died," O'Malley said.
At first, the staff member told O'Malley that there was liquid in the puppies and none of them took their first breath. But once she got to the office, she claimed the account changed, with staff telling her that two puppies took breaths and they focused on those two but ultimately failed to save them.
O'Malley said there had to be more to the story.
"I would have understood losing a couple of puppies, but a whole litter tells me something went drastically wrong, especially after that initial phone call that stated all puppies and mum were healthy and well," she told the local outlet.
The owner is furious over the surgery that she believes led to the loss of the litter, demanding more information from the vet.
She said to Derbyshire Live, "I have no answers, no reasons as to why 13 beautiful souls were taken away."
In a statement to Newsweek, a spokesperson for Easipetcare said, "It is not our policy to comment on individual patients. The welfare of the animals we treat is our top priority at Easipetcare, and we take any allegations of substandard delivery of care extremely seriously. This case has been thoroughly reviewed and we are confident that our team gave appropriate guidance and good quality clinical care at all times. We offer our condolences for the client's loss."
Puppies are very vulnerable to illness and environmental stress during their first two weeks of life, when they cannot regulate their own body temperatures, according to VCA Animal Hospitals. In this early period, they also struggle to regulate their fluid and energy levels and lack fully functioning immune systems, leaving them susceptible to infection.
The term "fading puppy syndrome" describes puppies who are apparently born normal, but gradually die within two weeks after birth. Pre-weaning puppies, including stillborns, normally die at a rate of up to 30 percent, without about half of those losses happening in the first week of life, VCA has reported.
Some dogs who lost their puppies have adopted litters.
Last month, a French bulldog whose singleton died at full term was captured caring for three Frenchie puppies who had been abandoned by their owner. In 2021, a Minnesota dog who lost her entire litter adopted 10 puppies whose mother had recently died.