Woman Shocked by Results From 100 Squats a Day Challenge: 'So Much Change'
A woman has shown off her impressive body transformation in a viral social-media post.
In the Instagram video clip, Nan Yin tells her followers that she challenged herself to doing 100 squats a day for 30 days.
"It was very challenging, and I tried to give up during the challenge because of that, but I didn't," Yin told Newsweek.
The video clip is a time-lapse of Yin's journey, where she achieved a stronger and more toned physique by the end of the month-long challenge. "This is what happened," a caption reads.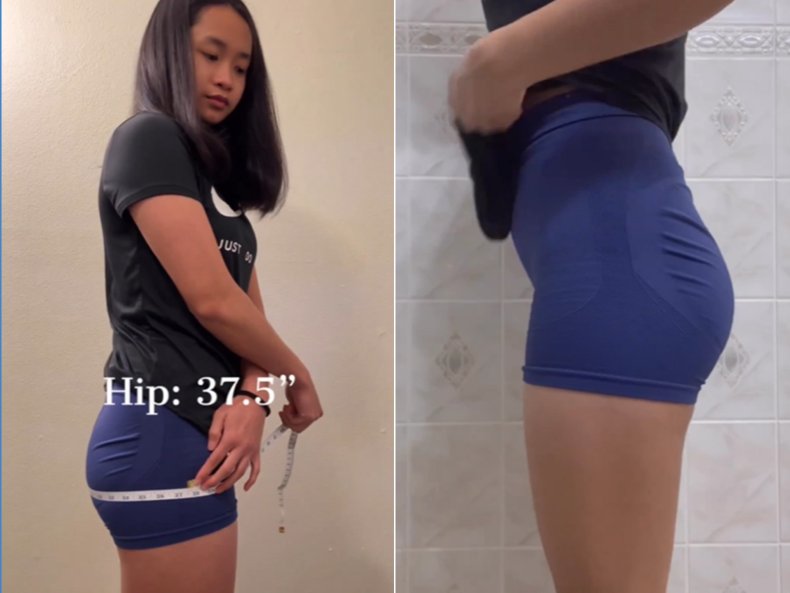 Yin told Newsweek: "I saw people doing that challenge on YouTube, which is to do 100 squats a day for 30 days. I wanted to try it, too. At first, it was very hard as my legs became very sore for a few days, but after this period, the challenge became easier for me and I felt stronger within my legs."
"I tried to eat a lot of protein and gave myself rest days once or twice a week," Yin added.
After completing the 30-day challenge, Yin said that she had been able to add 0.5 inches to her hip width to get the coveted 'perky behind' look.
"I didn't expect the result to be that much of a difference because the challenge only lasted 30 days. I never thought that there would be such a big change within 30 days," Yin added.
The social-media post had been shared to Instagram on December 5 under Yin's username @NanYin_W. The video has received more than 66,000 likes to date.
According to Healthline, squatting can be a failsafe way to achieving a strong, taut butt.
"The key is to perfect your form and then incorporate additional challenges like weights or higher reps," Healthline writes.
What Do the Comments Say?
The post has garnered plenty of comments from Instagram users impressed by Yin's quick transformation. Some were keen to share their fitness advice with the video's creator.
One user commented: "If she added weights, and then went up in weight like each week she'd see better results. She has also gotta get that protein in."
"Add weights and go slower," seconded another user.
A third user wrote: "Oh wow! That seems like a pretty big difference for just 30 days."
Is there a health issue that's worrying you? Let us know via health@newsweek.com. We can ask experts for advice, and your story could be featured on Newsweek.