Woman Shot in Eye While Looking Through Apartment Peephole
On Monday, a 37-year-old woman was shot while looking through the peephole of her Manhattan apartment. Miraculously, officials said she is expected to recover. While certainly a rare instance, the disturbing case is not the only time that New York City has seen this particular crime.
According to NBC New York, the victim told police that she heard a knock at her door around 8 p.m. When the woman looked in the peephole to check who was there, she reportedly heard a gunshot. Then, she felt a painful sensation around her eye.
Medical personnel transported the woman to a nearby hospital, while police located a single-shell casing at the scene of the crime.
NBC New York identified the victim as Rena Gatewood. However, other news outlets and police have yet to verify this claim.
Authorities believe the victim was not the shooter's intended target, revealed an NYPD spokesperson per WPIX. The police also noted that some of the woman's family members had previously been in her home, but none were present at the time of the shooting.
Now, police are searching for a suspect. At the time of writing, no arrests have been made in relation to the case.
The woman lives on the 14th floor of the Frederick Douglass Houses, a public housing complex run by the New York City Housing Authority (NYCHA) and located on the Upper West Side. The victim's neighbor, Hector Martinez, told the New York Daily News that he lives in the apartment directly below hers—meaning he heard the entire altercation.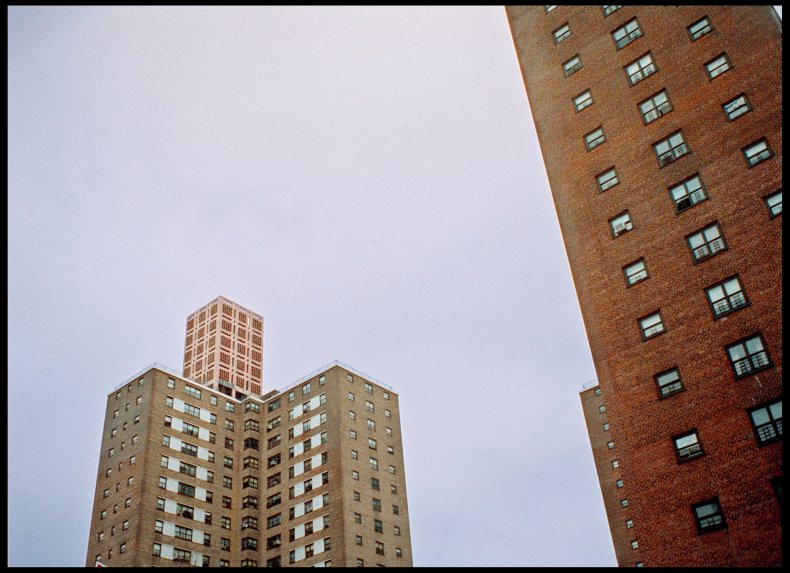 "There was a shot, and then the woman was screaming. It was a single shot," explained the 55-year-old witness to the news outlet. "She screamed, 'Call 911! Call 911!'"
He added: "It's crazy. Nothing like this has happened in this building."
Another neighbor, who remained anonymous, echoed that sentiment—they told the publication that the victim "had been living [there] 18 years, and nothing like this has ever happened."
Newsweek reached out to the New York Police Department for comment.
The incident is reminiscent of a 2018 shooting in another New York City neighborhood. Wendy Martinez, 45, was fatally shot while looking through the peephole of her Bronx apartment, reported news outlets at the time. A mother of two, the homicide took place in front of her 15-year-old son. As is the case in the more recent shooting, police believed Martinez was not the intended target.
The New York Times archive also recounts a similar crime—all the way back in 1972. According to their report, a 22-year-old woman was shot in her right eye while looking through her apartment's peephole. She sustained critical injuries and was left paralyzed on her left side.