Illinois Woman Dies After 4-Year-Old Accidentally Shot Her As She Drove
A woman was accidentally shot and killed by a 4-year-old child who was in the back seat of her car, authorities said.
Marita Hile, 64, had been driving along Georgetown Road in Tilton, Illinois on Sunday afternoon, when her vehicle crashed into a sign at a gas station, The News-Gazette reported.
Capt. Mike Hartshorn, of the Vermilion County Sheriff's Office, told the newspaper that people who witnessed the crash at around 12:30 p.m. ran to Hile's aid and found her critically injured. The child was in the back seat of the vehicle with a handgun, he said.
Hile, of Westville, Illinois, was taken to Carle Foundation Hospital in Urbana, where she was pronounced dead at 1:22 p.m., according to the Champaign County Coroner's Office.
"Preliminary investigation indicates Ms. Hile was sitting in the driver seat of her vehicle when a handgun accidentally discharged through her car seat striking her in the back," a news release from the coroner's office said. "The handgun was reportedly being handled by a young child in the back seat who had found the handgun in the vehicle."
Hartshorn told the News-Gazette that Hile and the child were the only ones in the vehicle. He didn't didn't elaborate on the child's relationship to Hile, but according to WCIA, the pair are related.
Harsthorn also didn't specify on how the child might have gotten hold of the gun.
The incident is being investigating by the Vermilion County Sheriff's Office, the Illinois State Police Crime Scene Services and the coroner's office.
The Vermilion County Sheriff's Office has been contacted for additional comment.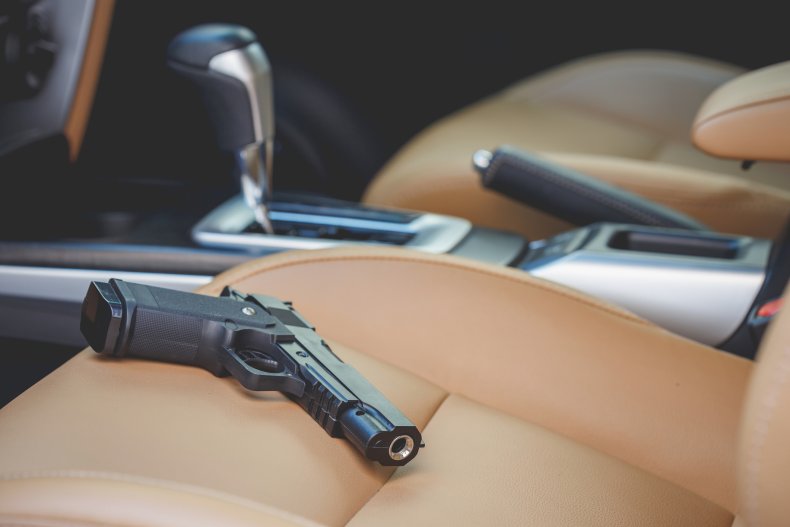 According to Everytown for Gun Safety, hundreds of American children gain access to firearms and unintentionally shoot themselves or someone else.
There have been at least 140 unintentional shootings by children aged 17 and under so far in 2020, which have caused 50 deaths and 95 injuries, according to the group's #NotAnAccident index tracking such shootings.
A number of charities and nonprofit organizations urge gun owners to take extra precautions when children are in the presence of firearms.
Everytown and Moms Demand Action for Gun Sense in America launched a campaign called Be SMART to raise awareness about how storing guns responsibly can help save lives.
A guide on how to store guns safely on the campaign's website says: "Gun owners can make our homes and communities safer by storing their firearms unloaded and locked, with ammunition kept in a separate place, to prevent access by children and other people who are at risk of harming themselves or others.
"Research shows that these storage practices can play a vital role in reducing the risk of gun violence, particularly among children, due to unintentional shootings and gun suicides."
It advises gun owners to store their guns safely by removing all ammunition from firearms, locking the firearm with a device such as a jacket lock and storing in a locked location like a safe or lock box. Ammunition should be stored separately from the gun in a secure location.
This article has been updated with comments from Champaign County Coroner's Office.