Woman Shows How Easy it Is to Spike a Drink in Chilling Video
A resurfaced video that shows how chillingly easy it is for a predator to spike a drink has gone viral again.
Life Coach Mel Hall originally posted the demonstration in 2020 on TikTok, where its audio has been removed. The clip was recently reposted with audio restored and has reached millions of views across multiple social media platforms, including the Instagram account of Invisawear, a company that produces women's safety devices disguised as jewelry.
In the clip, Hall exhibited five scenarios in which someone could covertly slip drugs into the drink of an unknowing victim, even if the drink's owner were nearby. She started with a handshake, dropping a kernel into the glass as she extended her hand above it.
Next, she mimicked ordering from a bartender, spiking the drink as she held up her cash.
Then she positioned her own glass nearby, grabbing it and saying, "Excuse me, sorry, that one's mine," as she maneuvered over the victim's drink and slipped another kernel in.
In yet another scenario, she imitated an expressive conversation and wagged her finger above the glass as a cover for her mock crime.
Finally, she pretended to bump into the table and dropped a kernel into the drink as she fell backward.
"I've never done that before," Hall said at the conclusion of the video. "And it took me two minutes of practice, and I now have five kernels in the bottom of this glass."
A 2016 study in the journal Psychology of Violence surveyed more than 6,000 students at three U.S. universities and found that 462 respondents, or 7.8 percent, reported having been drugged. Among them, 12.1 percent said they experienced "unwanted sexual touching" and 5.4 percent said they were raped. The study also found that approximately twice as many women reported having been drugged as men.
Being drugged while consuming alcohol is particularly dangerous, since it may be hard to distinguish the physical and psychological effects of drinking from the added substance. Potential victims should watch out for extreme drowsiness, confusion, slurring and loss of consciousness, according to medical experts.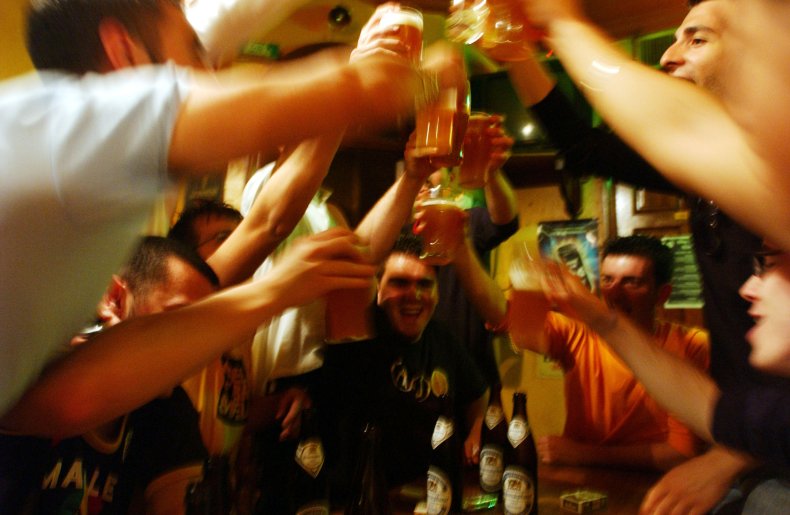 One woman gave her personal account in the comments section of Hall's viral video. "Years ago, I went to a bar I was familiar with, full of friends," the viewer said. "I never set my drink (beer) down. Ever. Somehow I was slipped something and after only 1 beer lost all senses. I've never regained memories from that night and I am SO thankful I was with my best friend, who literally had to drag me into her car and home because I was limp."
Newsweek has reached out to Hall for comment.