A Florida man recently found a woman taking advantage of his pool—in the nude. The ordeal, while bizarre, is hardly an isolated incident: around the country, strange and oddball break-ins have been reported in recent months.
As the Charlotte County Sheriff's Office explained via blog post, an unnamed Port Charlotte resident arrived home after a doctor's appointment and noticed "clothing scattered across his lanai." Upon closer inspection of the scene, he discovered the "nude trespasser" skinny-dipping in the pool.
Authorities were soon called to the scene and asked the suspect, later identified as 42-year-old Heather A. Kennedy, to exit the water. In response, she was reportedly "hostile" and told the deputies to "leave her alone."
Officers had to ask Kennedy several times to leave the pool and get dressed; eventually, it appears that she complied. Once she was dressed, reported the blog post, officers tried to detain Kennedy, who resisted, telling them "she would not be going anywhere."
The suspect was taken to the Charlotte County Jail, where she refused to give her identity to officers. She was later identified with the help of past jail booking photos.
While Kennedy's motive for the suspected break-in remains unknown, it stands to reason that she may have been trying to stay cool amidst Florida's summer heat. In nearby Punta Gorda, temperatures reached a high of 91 degrees on Tuesday, according to Weather Underground.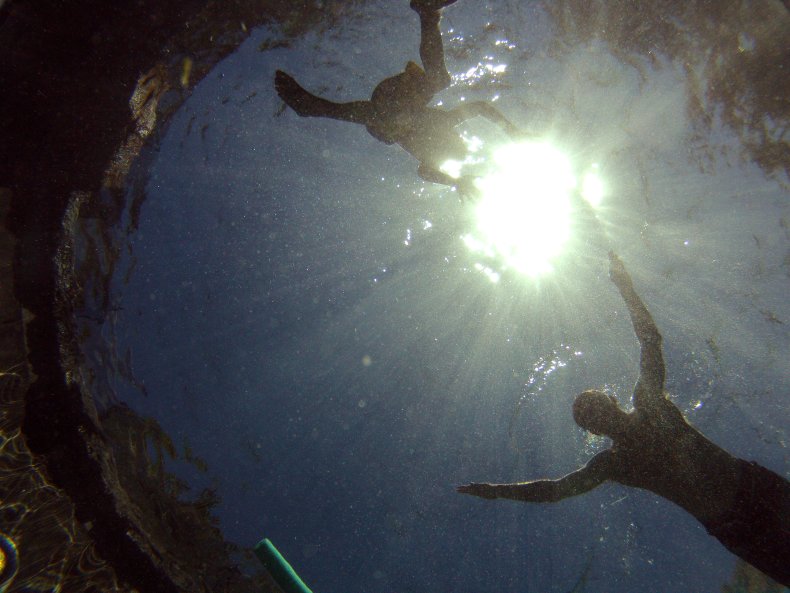 Newsweek attempted to contact the Charlotte County Sheriff's Office for further comment on the incident but did not receive a response in time for publication.
A number of other unusual break-ins have been reported over the past few months. Earlier in July, a New Jersey man known as "the cleaning fairy" accidentally broke into a home, thinking it was his client's. He had cleaned the entire apartment before realizing his mistake, but the residents were—luckily—understanding of the situation.
About a month earlier, in June, homeowners in Meadow Vista, California were shocked to find a stranger in their home: notably, he was wearing nothing but a towel and had just showered in their bathroom. The suspect didn't take anything from the home and was merely looking for a place to shower and sleep.
Another incident, in April, saw a woman breaking into a Michigan home—and climbing into bed with the couple who lived there. According to the couple, the young woman got into their bed at around 2:00 AM and refused to leave. She reportedly seemed intoxicated and was later arrested by Michigan State Police.