Woman Skipping Family Thanksgiving to Avoid Babysitting Backed Online
Members of a popular internet forum rallied behind one 22-year-old woman who wants to skip her family's Thanksgiving celebration.
In a viral Reddit post published on r/AmITheA******, Redditior u/tgbs22 (otherwise referred to as the original poster, or OP) said she has long been viewed as free childcare at family gatherings and detailed her plan to stop that trend in its tracks.
Titled, "[Am I the a******] for not going to Thanksgiving because I know I'll be stuck being the babysitter?" the post has received nearly 12,500 upvotes and 2,000 comments since November 17.
"I'm the youngest cousin in [my] family," OP began. "By a lot."
Continuing to explain that her family historically celebrates Thanksgiving at her aunt's house, the original poster said her cousins immediately dump their children on her upon arrival, and that she is expected to cater to their needs throughout the gathering.
The original poster also said she has expressed her displeasure with this arrangement on numerous occasions—but her complaints have gone largely unheard.
"My cousins put their kids in the playroom and start drinking and I get stuck watching the kids all day," OP wrote. "Anytime one cries or has to go [to] the bathroom or any of them fight I get stuck dealing with it. They also sit [me] at the kids table.
"I complain to my mom every year and she just tells me it's not like that, and it is a big deal to give the parents the day off," OP continued. "I don't look forward to Thanksgiving anymore because it happens every year.
"My boyfriend [invited] me to his family Thanksgiving this year and I decided to go," OP added. "I told my mom and she is flipping out, telling me it will break her heart to not have me there...and everyone will miss me."
Some consider the holiday season the most wonderful time of the year.
For others, however, the last six weeks of the year are draining, contentious and full of stress.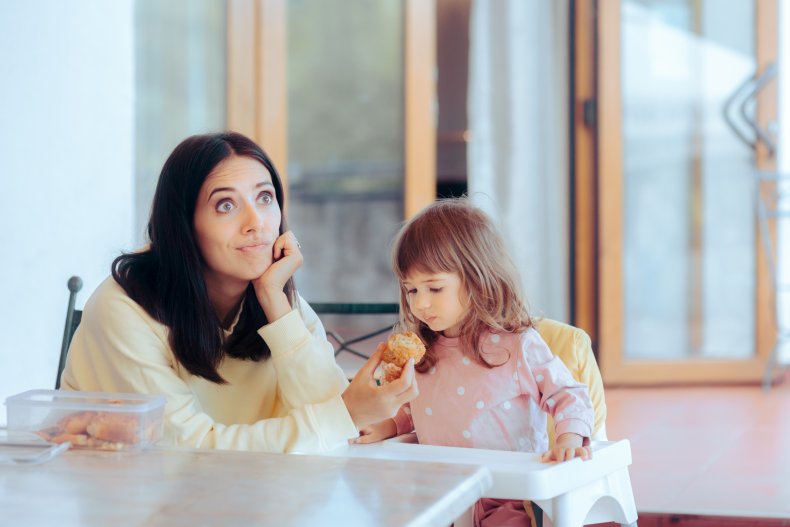 With an added emphasis on time spent with loved ones, and rekindled connections with relatives not seen on a regular basis, there is increased potential for familial conflict, often as a result of unmet expectations for holiday splendor.
"Holidays bring a lot of heightened expectations for everybody involved," Dr. Lise Deguire, psychologist and award-winning author of Flashback Girl, told Newsweek. "We arrive at these events with this hope that everything's going to be wonderful. And a lot of times...it kind of isn't"
"There can be a lot of anxiety and stress around these days, and a lot of expectation and hope," Deguire added.
Holidays can also be especially difficult for young adults.
Despite operating as independent, fully grown adults, perception by older relatives can leave those in their early and mid-20s in an awkward limbo between the kids' table and the vaunted, upper echelon of adulthood.
And sometimes, in scenarios like the one described by the original poster, young adults at family gatherings double as free childcare, only there to relieve parents during holiday celebrations.
Throughout the comment section of the viral Reddit post, many Redditors railed against this kind of treatment and applauded the original poster for taking matters into her own hands, no matter the fallout.
"[Your mother] had years to listen to you, and now she's reaping what she sowed," Redditor u/JesterYorrick wrote in the post's top comment, which has received more than 15,500 upvotes.
"She's being kind of dim if she doesn't give you any options and then is surprised when you take one when somebody else offers," they added.
Redditor u/whitewer, whose comment has received more than 5,000 upvotes, echoed that sentiment.
"She isn't upset that their precious little girl [isn't] going to be there," they wrote. "It's that their free babysitter isn't going to be available and the parents are going to have to be parents."
"And [she] won't look like the hero providing free babysitting for everyone," another Redditor added, receiving more than 3,000 upvotes.
"Are they gonna miss you, or miss having an unpaid nanny?" Redditor u/Background-Aioli4709 chimed in.
Newsweek has reached out to u/tgbs22 for comment. We could not verify the details of the case.
If you have a similar family dilemma, let us know via life@newsweek.com. We can ask experts for advice, and your story could be featured on Newsweek.