Woman Slammed for Lying About Profession: 'Incredibly Misleading'
Commenters slammed a woman after she claimed to be a dermatologist when in reality she is a Dermatology Nurse Practitioner.
The Original Poster (OP), known as u/Lazy-Taste1882, posted about the situation in Reddit's popular "Am I The A**hole" forum where it received nearly 7,500 upvotes and 1,600 comments. The post can be found here.
Nurse Practitioners and Doctors
The demand for Nurse Practitioners is rapidly growing in the U.S., with the profession ranking number two out of the top 100 professions in 2022 by the U.S. News & World Report.
Nurse Practitioners are able to deliver primary care and can prescribe medications to patients, similar to attending physicians. The main difference between the professions is that Nurse Practitioners require less direct training and schooling than doctors.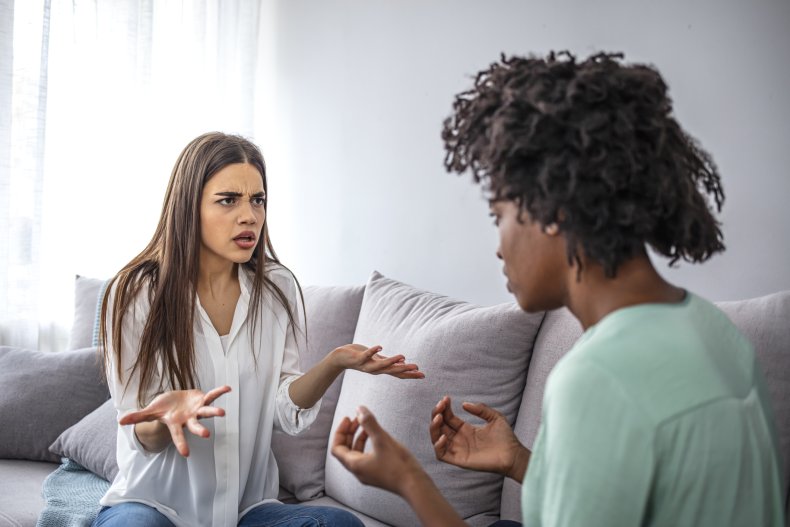 In all states across the country, individuals who claim to be a doctor or practice as one without a medical license can face fines or criminal charges.
Within the medical field, doctors are divided based on years of experience, with interns in their first year of residency after graduation, followed by residents who've finished their first year of postgraduate training.
Fellows are doctors who pursue optional specialty training before becoming an attending, which is a doctor who has finished all of their postgraduate training.
While the amount of time it takes to become an attending varies, some specialties can take up to 14 years or more of training before all credentials are obtained.
Attending physicians are board certified and licensed and responsible for the overall health and well-being of patients within their chosen specialty. Attendings are also responsible for the residents they oversee.
'AITA?'
In the post titled "AITA for telling a friend's gf that she's not a doctor and that presenting herself as one is misleading?" the 28-year-old woman said she recently hung out with a group of friends, including her friend Jason's girlfriend Alice.
While together, Jason asked the woman—a radiology resident—to share a story from work that she had told him earlier.
During the story, Alice interrupted and said that since they are "colleagues" she could relate to the story so much, "being a doctor herself."
"I thought great, it's cool to meet new people who can relate to the hardships of medicine so I asked her if she's a resident or an attending (she's a little older)," the post read. "She then said she is a dermatologist, so I assumed she meant a dermatology attending."
'Incredibly Misleading'
As the conversation continued, the OP said she learned Alice is a nurse practitioner (NP) who works at a dermatologist's office.
"For those of you who don't know, NPs have the right to practice independently in some states, meaning without the direct supervision of a physician," the post read. "If you don't work in healthcare you probably don't know the situation but let's say that's not a good idea."
She added that in some cases, limited knowledge and education could lead to lower quality of care and more mistakes.
"Obviously that's not a universal statement, I love the NPs I work with but if you know you know," the post read. "So I tell her 'then you're a dermatology NP, not an attending dermatologist' and she got offended."
Alice then replied that she can do anything a doctor can and the OP said although she doesn't doubt her abilities, it is "misleading" to call herself a physician, especially to a patient who wouldn't "know any better."
The OP said Alice called her an "elitist" before leaving the bar. Alice's boyfriend Jason called the OP the next day asking her to apologize to Alice for "offending her profession."
"As I said I have nothing against NPs but calling yourself a physician and claiming you have the exact same knowledge, if not more, is incredibly misleading. So AITA?"
Redditor Reactions
More than 1,600 users commented on the post, many criticizing Alice for lying about being a doctor.
"NPs are wildly underappreciated and undervalued, and we deserve our recognition," one user commented. "But any NP claiming to be a doctor is straight up lying and deceiving patients, who deserve to know who is treating them."
"NTA. It's a serious thing to present as a doctor (or a cop or a judge or a Purple Heart winner) without being one," another commented. "She is in the medical profession and I have no doubt she knows this."
"Title conventions are weird and touchy for NPs," another commented. "I am very proud of my work & my achievements but I also want to respect my physician colleagues. The NP in question was rude and misrepresented herself."
"I work in medical and I know that I cannot call myself a nurse or doctor or radiologist or surgeon or any other title I have not earned," another commented. "I have a very specific set of skills for my niche. She has a set of specific skills for her niche but she is, technically and legally speaking not a doctor."
"NTA—she's not a dermatologist. Presenting herself as a doctor is illegal. She sounds like a real treat," another user commented.
In an update, the OP said that she agreed she sounded "condescending and bitter" but explained that she's had many negative experiences with "patient mismanagement from midlevel providers" and that she is "just tired."
"No hate to NPs, y'all are a valuable part of healthcare," the update read.
Newsweek reached out to u/Lazy-Taste1882 for comment.
Other Viral Posts
In other viral Reddit posts from the "Am I The A**hole" forum, a man was praised for "publicly humiliating" his wife on social media and another man was slammed for wanting to be involved in his granddaughter's life.
In another viral Reddit post, a 21-year-old was praised for defending his sister against their "bully" grandfather.