Woman Slammed for Posting About Son's Circumcision Online: 'WTF'
A woman and her husband are being bashed online after they posted on social media about a boy's circumcision, garnering a lot of disapproval for their actions.
The now-viral Reddit post shared to the subreddit "Am I the A**hole" is titled, "AITA for blindsiding my son's mom with custody papers after a social media post." The short post was shared by Redditor @Spiritual_Author3406, and it has garnered 11,200 upvotes and 900 comments since it was posted on May 11.
According to Talking Parents, a child custody case in court can cost from about $3,000 to $40,000 or more. The variation is attributed to numerous elements surrounding the court case and custody requirements, including the attorney one hires and if the case is being contested or not.
The original poster (OP), who shares children with their ex-wife, admitted to having a "fragile" relationship with her. "I focus more on the kids than her," the Redditor said. "She remarried, and I don't care for her new husband, but I accept it because they had a baby. Currently, my ex and I share [custody] 50/50."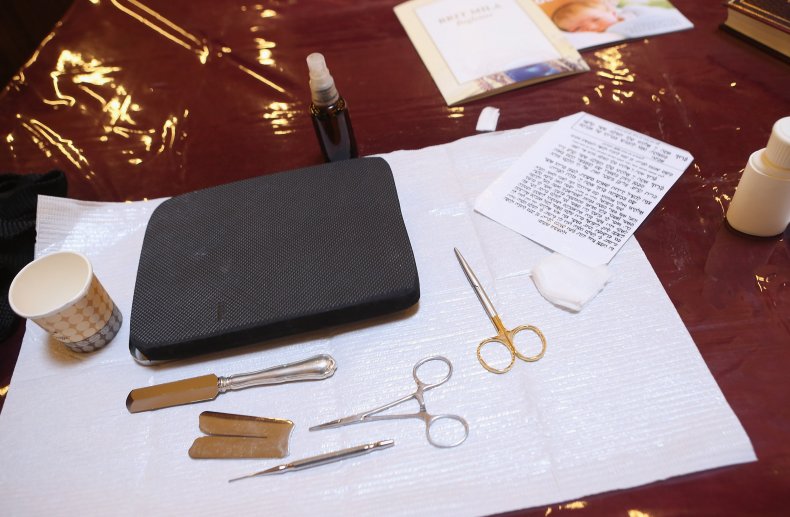 Their eldest child, the poster said, an 8-year-old boy, "needed to have a circumcision," and the Redditor wanted to keep the situation "under wraps" as it's a private situation. However, the ex-wife's husband shared pictures of the OP's son in the hospital on social media, adding that the boy had a circumcision. He wasn't the only one though, and the OP's ex did the exact same thing on Facebook.
"I was outraged and asked them to take it down," the OP said. "Their profiles are not private. They're friends with our kids' teachers and my son's friends' parents. If this was a broken arm, then I wouldn't have cared."
The Redditor relayed that both their ex and her husband "refused" to take the information down, so the OP talked to a lawyer, who advised seeking to "reduce" his ex's custody of their kids.
"She was served on her birthday and was pretty upset," the OP added. "I assumed she spoke with a lawyer because they not only took down the posts but made it private. I'm sure we'll end up going to mediation."
Redditor Reactions
Based on the evidence, the majority believe the OP isn't the one at fault here, and numerous people are slamming the boy's mother and her husband for posting about the situation on social media.
"NTA [not the a**hole]," a Redditor said. "Sorry, but putting that sort of thing on social media at your son's age is, I'm sorry to say, a gateway to bullying. You're protecting your son."
Another Redditor agreed that the OP wasn't in the wrong, and they think the situation isn't something the OP's son would want "broadcast," adding, "And you asked nicely to have it removed. WTF is wrong with people who can't respect the feelings/privacy of their children?"
One Reddit user pointed out that the child's "privacy is important," and no one has the right to share about someone else's "private life" like that on social media.
"Especially not a child's!" they pointed out. "Keep supporting your child, and don't let anyone get in the way of you doing what is best for them."
Some people didn't mince words with their harsh criticism of the woman and her husband's actions. "NTA," a Redditor said. "People overshare for the likes and attention. People love to use their kids for that too. Completely absurd to be using your children like that."
While one Reddit user called the situation a "total WTF moment." They wondered why people think everything needs to be shared on Facebook or even in the first place.
"I'm 34, and I understand that not everything should be shared," they said. "Good on you for protecting your son."
Another Redditor called the child's mother "out of line," adding, "NTA, she decided it was fine sharing medical details about a child and what procedure was done, then gets upset when you want to reduce her custody?"
One user wondered who would post something about that on Facebook without the child's or his other parent's consent.
"It's either some weird kind of attention-seeking, or extreme stupidity," they expressed. "Good on you for taking action because they don't seem like good parents. You're NTA at all."
Newsweek reached out to Redditor @Spiritual_Author3406 for comment.
This isn't the only viral moment involving parents and their kids. The Internet supported a woman for telling her kids that their sick dad wets the bed and also needs diapers.
A teenager was backed for demanding to use her brothers' things, and a teen girl got revenge after being left out of a family photo.