Woman Slammed for Refusing Jury Duty Over Roe v. Wade Reversal: 'Backwards'
A woman's refusal to serve jury duty due to her "emotional distress" after the reversal of Roe v. Wade has sparked controversy online.
Alyssa Wolfe shared her reasoning on Saturday in a TikTok video with 2.6 million views. "I was summoned for jury duty," she explained to her audience. "As a woman in my 20s, this is what I had to say...am I wrong though?"
The next clip showed a screenshot of Wolfe's email to a jury coordinator.
"I will NOT be attending jury duty," the message said. "In light of ROE V WADE and other basic human rights continuing to be taken, I no longer live in a country that serves me. Therefore, I do NOT feel comfortable serving it."
She added, "Being part of the jury service at this time would put me in extreme emotional distress. Not to mention my opinions would be completely biased. I hope you understand and are able to find another United States citizen that is actually proud to be such."
Wolfe's video triggered a heated response on TikTok, with many viewers pointing out that jury duty represents an opportunity for citizens to defend their vulnerable peers—including women in states with restrictive abortion laws.
The Supreme Court's decision to overturn Roe. v. Wade set off existing or anticipated abortion bans in about half of U.S. states. In the new legal landscape, experts have predicted that more women will be jailed not only for abortions but also for miscarrying.
Even before the ruling, between 2006 and 2020, 1,331 women were arrested or prosecuted for their pregnancy outcomes, according to National Advocates for Pregnant Women.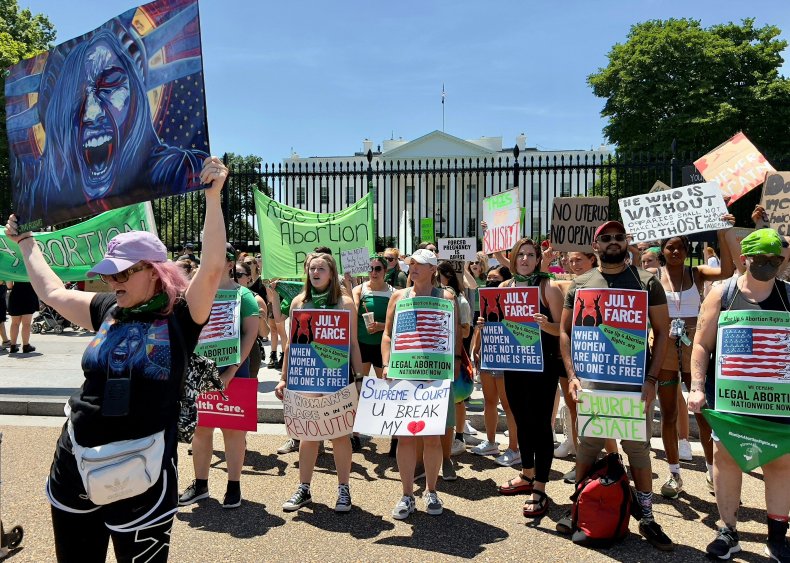 Under Texas's six-week abortion ban, passed while Roe was still the law of the land, 26-year-old Lizelle Herrera was arrested and charged with murder for a self-induced abortion.
In Oklahoma, 21-year-old Brittney Poolaw was sentenced to four years for manslaughter after miscarrying her baby at about 17 weeks. Prosecutors alleged that she caused her child to be stillborn through methamphetamine use.
While Wolfe's TikTok viewers were sympathetic to her intentions, many called her email "backwards" and "misdirected." Comments suggested that she might be called to serve on a case in which women such as Poolaw or Herrera were being prosecuted.
"Good in theory but imagine if this was a case in which a woman was being tried for an abortion," said one viewer.
Another added, "I completely understand, I am protesting in my own ways, but I needed someone like you in the jury when I had my [sexual assault] trial. Your voice matters here."
"If I was put in a position to be judged by a jury of my peers, I would hope they were truly my peers," said a third viewer, summing up the argument of many others.
"I would want someone like you in the jury to consider the case from their viewpoint. Juries are the non-legal additives to a case relied upon to decide questions of fact. Lack of representation leads to biased and undeserved convictions."
Newsweek reached out to Alyssa Wolfe for comment.