Woman Slaps Store Employee During Mask Dispute Caught on Surveillance Video
Police in Parker, Colorado, have released surveillance footage that shows a customer slapping a supermarket employee over a dispute about masks.
The incident occurred at King Soopers in the 17700 block of Cottonwood Drive on February 3, the Parker Police Department said in a post on Facebook.
The department shared the clip on its social media pages this week in a bid to track down the woman they described as a "potential assault suspect."
Police said the woman had refused to wear a mask in the store, despite the employee repeatedly asking her to.
The 23-second clip shows the woman adding items to her cart, before turning to speak to someone. Seconds later, the employee is seen following the woman down the aisle.
The woman turns toward the employee again, approaching them and swinging her hand towards their face.
"The King Soopers employee said they were slapped in the face by the suspect, who fled the store," the police department wrote.
"The suspect refused to wear a mask, despite being asked several times to follow store policy."
According to a police incident report obtained by KDVR, the employee told police that the woman is a "regular" at the store.
During the incident, the suspect said she had a medical exemption for not wearing a mask, according to the report. The employee said she had offered the woman other options to buy her groceries.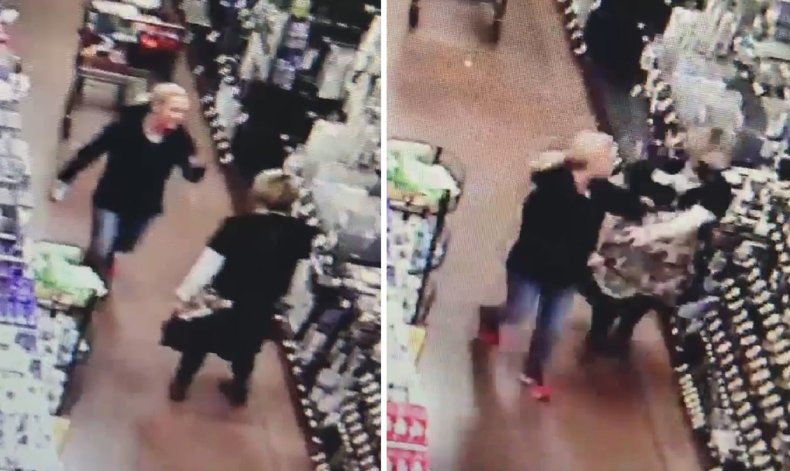 The employee said she was called a vulgar name as well as being slapped.
Although the employee said the slap had not hurt, she is pressing for the woman to be charged with harassment, the station reported. The woman has reportedly not been seen at the store since the incident last week.
The police department and King Soopers, a subsidiary of Kroger, have been contacted for comment.
Kroger's website says customers in all store locations are required to wear masks during the COVID-19 pandemic.
"We respect and acknowledge that some customers, due to medical reasons, may not be able to wear a mask (small children are exempt)," the policy states.
"We encourage those customers to consider an alternative option like a face shield or facial covering. If they're unable to wear a mask or an alternative design, we request that they use our ecommerce services like pickup or delivery. To support all households during the COVID-19 pandemic, our grocery pickup service remains free (generally a $4.95 fee)."
Anyone who recognizes the suspect in the surveillance footage or has information about the incident is urged to contact Officer Berry at btberry@parkeronline.org.