A TikTok video captured the moment when a woman spit on a restaurant employee in San Jose after she was reportedly told to wear a face mask.
The incident occurred at a Umai Savory Hot Dogs in San Jose, California. It's unclear when the video was recorded, but it was posted on TikTok during the early hours of Wednesday by a person with the user name of "alilseuli."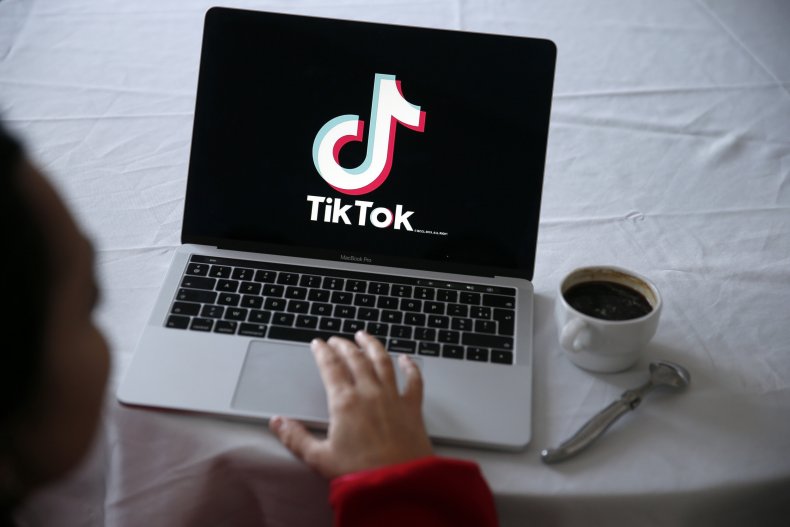 The TikTok user captioned the video "just because the staff politely asked her to put on her mask" and included the hashtags #foryoupage, #karen, #karengonewild, and #viral. The clip has been viewed more than 21,900 times as of press time.
In the video, the woman is seen standing in front of a cash register. She leans in and visibly spits on a plastic barrier separating her and the employee behind it. The woman then turns and walks out of the door but looks over in the direction of the person taping the encounter before exiting the restaurant.
KRON-4, a San Francisco Bay Area local news station, reported that the employee said she was attempting to help the customer and that three or four other employees witnessed the incident.
On May 13, the Centers for the Centers for Disease Control and Prevention (CDC) released new guidance in regards to face masks. The national public health agency stated that people could stop wearing masks outdoors in crowds and in most indoor settings if they are fully vaccinated.
The CDC still recommends that people who are not fully vaccinated should continue to wear masks indoors.
Many large retailers such as Kroger, Costco, Trader Joe's, Walmart, Target and Starbucks have announced customers are no longer required to wear masks inside their stores. Since the decision is up to the discretion of the business, many have yet to lift their mask mandates.
On the TikTok video posted by alilseuli, other users left comments such as, "That's assault technically and she could be arrested." Another wrote: "Name her and shame her. All her friends, family, nights, and co-workers need to know the type of person she is. She needs to be fined and arrested."
Umai Savory Hot Dogs is a chain restaurant based in California, except for a lone location in Vancouver, British Columbia. It mixes typical American fair like hot dogs, hamburgers, and fries, with Asian fusion ingredients and side dishes.
"We love the community we are in and for the most part have gotten a lot of support from them throughout the whole pandemic," Dat Thieu, owner of this location, wrote to Newsweek. "It's just unfortunate we still have people that react like this when our staff request they put on a mask for our safety and our guests safety. What's worst is, this isn't an isolated incident.
"Maybe it's just pandemic fatigue or people feeling like things are back to normal now with the state opening things back up, but they don't see it from a business owner's perspective. For us, the pandemic is far from over, and we are just hanging on by a thread and trying to survive. So sanitation and safety are our top priorities.
"Although incidents like this are out of our control," Dat Thieu concluded, "it still affects us greatly. It makes our staff feel unsafe and our business unsanitary for other guest to enjoy. We will continue to do our part to keep our guest and community safe and just hope everyone can understand and support that."
Newsweek contacted the TikTok user for comment but did not hear back in time for publication.
Newsweek, in partnership with NewsGuard, is dedicated to providing accurate and verifiable vaccine and health information. With NewsGuard's HealthGuard browser extension, users can verify if a website is a trustworthy source of health information. Visit the Newsweek VaxFacts website to learn more and to download the HealthGuard browser extension.