Woman Spits in Man's Face in Costco, Yells 'I Am a Schoolteacher and Have COVID-19,' Say Police
After becoming angered at a man for taking his mask off in Costco, an Illinois woman shouted "I am a schoolteacher and I have COVID-19" before spitting in the man's face, police say.
Along with being accused of spitting, Elizabeth H. Mach allegedly rammed her shopping cart into the man's cart. Mach was later arrested on two counts of battery and one count of disorderly conduct.
"The victim, a 50-year-old man, checked out at the checkout counter and was in the process of exiting the store when he removed his face mask," read the police statement. Mach is accused of spitting at the man, before leaving the scene in her car.
Mach "rammed her shopping cart into the victim's cart. Mach began yelling
at the victim that he needed to put his mask back on, as he was not yet outside of the building. The victim ignored Mach, but Mach continued yelling stating, 'I am a schoolteacher and I have COVID-19.' March then removed her face covering and spit in the face of the victim. She then fled from the scene in her vehicle."
The incident, which took place on Riverwoods Road, Mettawa, on June 16, is being investigated by the Lake County Sheriff's office.
Detectives arrested Mach at her Highland Park home on July 8, and she posted 10 percent of a $40,000 bail the same day. Mach is due in court on July 29.
Newsweek has contacted Lake County Sheriff's office for comment.
As per Illinois regulations, shoppers are required to wear masks when they are unable to maintain a safe distance of more than six feet.
"Everyone over the age of 2 who can medically tolerate a face covering over their nose and mouth must wear one in a public place when unable to maintain a safe distance (6 feet) from others," reads the official guidelines set out by the Illinois Department of Public Health.
"Examples include: Shopping at essential businesses, like grocery stores or pharmacies," continued the official advice.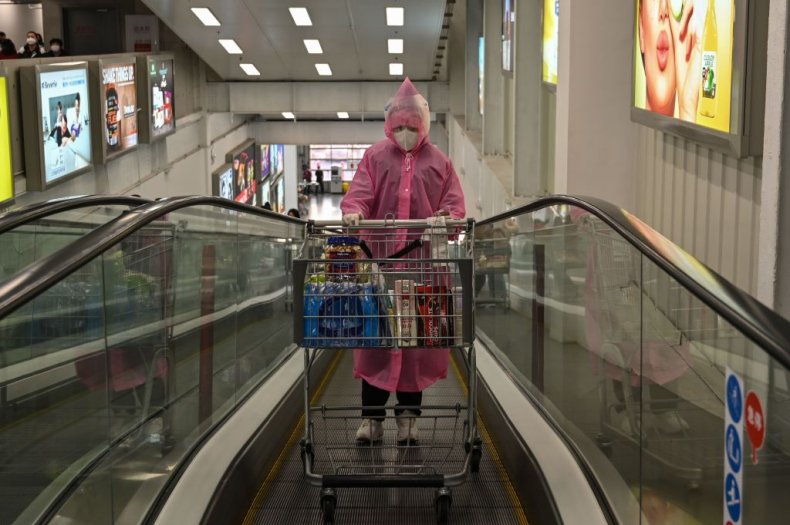 There has been an increase in mask-related assaults in the U.S. in recent weeks. This year, individuals have been charged with assault, obstruction, harassment and even terrorism for coughing with the purpose of spreading COVID-19.
A man who allegedly coughed on shoppers in a Tennessee Walmart was arrested and charged with violating the terrorism hoax act in April this year.
District Attorney General Matthew Stowe said the man's behavior in Tennessee was an act of terrorism.
"What might have been a joke to one person, became a frightening threat to several others," he said. "A violation of this sort where the agent is indeed an active agent is an act of terrorism and a Class A felony; violation for the hoax of spreading is a Class C felony," Stowe said.