Video Shows Woman Spit at Gas Station Worker After Being Told to Wear Mask
A video has emerged showing what appears to be a woman spitting at a gas station worker after he tried to get her to wear a mask.
The clip, which was posted on social media, shows the end of an argument between the woman and a man working behind a counter.
During the confrontation, the woman appears to learn forward and spit in front of the worker.
"This is ridiculous. There's no law that says I have to wear a face mask," the woman says as she starts to leave the store.
"Actually there is" the cashier responds.
It is unclear where the incident took place. There are several counties in the U.S. which require people to wear face masks when entering places of businesses in order to help stop the spread of the coronavirus.
Twitter user @Jillcatt posted the footage to Twitter, where it has been viewed more than 1,600 times.
She describes the woman as a "Karen"—a term used to describe white women who are found to act in a number of ways including calling the police on black people for no reason, yelling at store workers or not accepting that the rules apply to them.
"I've been hearing about 'Karen' but hadn't been around one. I encountered one in the wild tonight and it blew my mind," she wrote. "She spit on an essential worker [because] he enforced the rule of wear a mask. In response, she spit on him. I wanted to cry."
The woman in the clip has not been identified and it is unclear if the police were involved. Newsweek has contacted the Twitter user who posted the clip for further comment.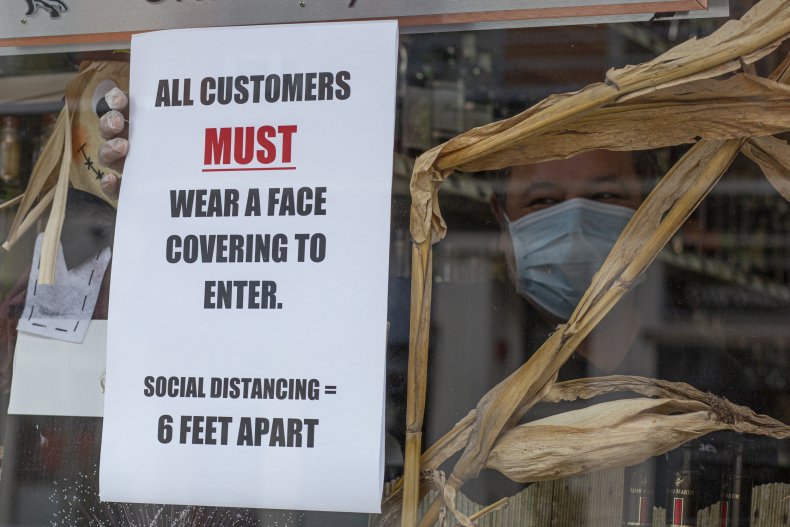 Earlier this month, a woman in California was captured on video hurling a string of insults at a gas station worker after he refused to serve her for not wearing a mask.
"You know what freedom is? Are you from America? Are you an American? Or are you an illegal immigrant? You look like one. You also look like a Nazi Jew," the woman yells at the worker.
"What you're trying to do, you're trying to enforce supreme order over people and their natural right to be free, Hitler," she added.
The woman continues the tirade at the worker after he starts to laugh at her.
"You're nervous because you have no brains and don't know what to say. Your defense mechanism is to laugh. You're a fool. You're fat and ugly. And you have a lame ass job!"
A similar video also emerged of a white woman dubbed the "Karen of the San Fernando Valley" after she went on a rant against "Democratic pigs" while refusing to wear a mask at a Trader Joe's in California.