Woman Stabs Date, Claims Revenge for 2020 Iranian General Killing: Police
A woman facing charges for stabbing a man she was on a date with has claimed a bizarre motivation: political revenge.
Nika Nikoubin, 21, was arrested on March 5 for stabbing a man at the Sunset Station hotel in Henderson, Nevada, part of the Las Vegas metropolitan area. She and the man, whose name has not been released to the public, agreed to meet at the location for a date, according to 8 News Now.
Once in their rented room, the two began engaging in sexual activities that culminated in Nikoubin blindfolding the man and turning off the lights. After a few minutes, the man said that he "felt a pain on the side of his neck" as Nikoubin proceeded to stab him in the neck twice. After the initial attack, he was reportedly able to push the woman off of him and call 911.
When confronted by law enforcement, Nikoubin claimed to have attacked her date "for revenge against U.S. troops for the killing of Qassem Soleimani in 2020."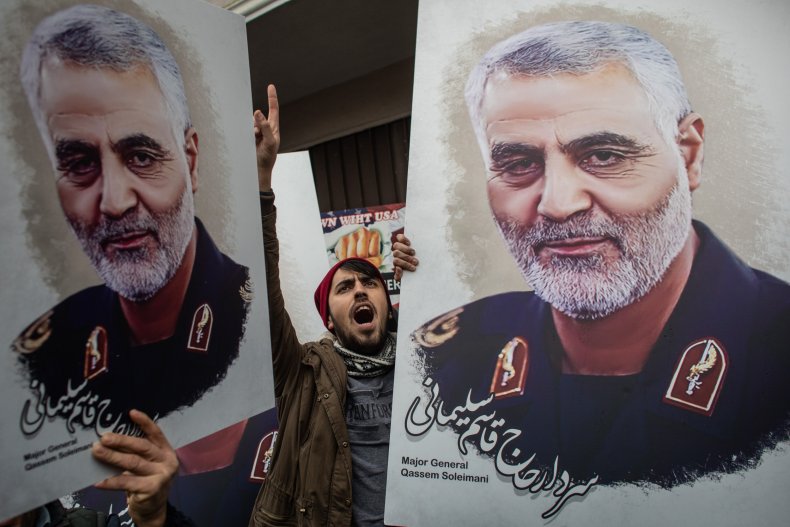 A high-ranking military leader in Iran's Islamic Revolutionary Guard Corps, Soleimani led the Corps' Quds Force, a division focused on clandestine and extraterritorial operations. In January 2020, he was assassinated in a targeted drone strike ordered by former U.S. President Donald Trump, sparking a major international outcry and heightening tensions between the U.S. and Iran.
As her victim rushed to call 911, Nikoubin also ran out of the room. She fled to the hotel's lobby and an employee that she had just stabbed someone.
The police report filed in Nikoubin's case notes that she told officers "she wanted revenge" for the 2020 incident. She also explained how she had been listening to a song called "Grave Digger," which motivated her to plan and carry out the attack. She claimed that her plan was only to harm the victim, not kill him. Officials have determined that she is not from Las Vegas and has no connection to the local community.
"She advised that there are injustices, in particular the killing of Qasem Soleimani in Iran," homeland security detectives helping with the case added to the arrest report, according to the Las Vegas Review-Journal. "Nikoubin stated she wanted revenge."
Nikoubin now faces charges of attempted murder, battery with a deadly weapon, and burglary. Her bail was set at $60,000. The condition of her victim is unknown at this time.
Newsweek reached out to the Henderson Police Department for a comment on this story.