Woman Steals Truck, Hits Officer, Apprehended While Ordering Chicken Nuggets at Drive-Thru
Police apprehended a woman ordering Chicken McNuggets at a Shrewsbury Street McDonald's drive-thru in Worcester, Massachusetts, after she allegedly stole a truck from a business owner and hit a cruiser and dragged an officer, the Telegram and Gazette reported.
The vehicle was a 2013 Chevrolet Silverado business truck that had Raymond James Restoration on the side. It was reported stolen by Raymond James Simoncini, the business owner.
Simoncini said the vehicle had been stolen from a work site in Worcester around 9 a.m. when a worker had put the keys in the cup holder while he moved tools. The truck was monitored by Simoncini via GPS and its position was relayed to the police.
"I couldn't believe she went so many places," Simoncini told the Telegram.
Around 9:30 a.m. officers began pursuing the woman in the stolen truck when she struck a police cruiser and briefly dragged an officer 20 feet, officials reported.
A video obtained by WBZ-TV showed the Raymond James work truck driving through a construction site, where a construction worker attempts to stop the driver by moving equipment. The truck takes off as soon as the path is cleared.
The video was posted by WBZ executive producer Jim Harrington on Twitter, who said it had been obtained by reporter Bill Shields.
"[Shields] got this video from the Worcester chase, showing the suspect driving through a construction site—and what one worker did to try to stop her," Harrington wrote with the video.
Officers were told not to pursue the suspect as the truck could be monitored through GPS. The vehicle was then spotted in line at the McDonald's drive-thru on Shrewsbury Street, the Telegram reported.
According to scanner reports, police attempted to call the workers at the McDonald's to ask them to slow down service at the window to give police a chance to respond.
Simoncini went to the McDonald's to see the damage done to his truck, which he told the Telegram he believed to be a total loss, as the truck had suffered heavy damage to the front, side and rear.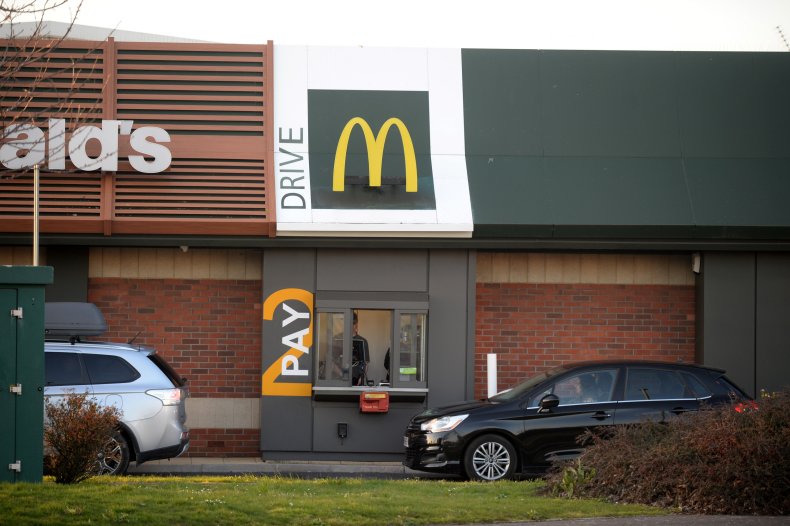 Simoncini said he was surprised by the woman's decision to order food from the drive-thru.
"She ordered chicken nuggets," he told the Telegram. "Can you believe that?"
The suspect was taken away in an ambulance after the car chase. The officer struck during the incident is said to be doing fine. Tow trucks were called to the scene.
Police are still investigating the situation and said more information will be released once the suspect has been booked. Her name and any charges she is facing have yet to be released.