Woman Stole Over $300K Worth of Items, Including Gucci, Prada, to Sell Online, Police Say
A California woman is accused of stealing more than $300,000 of merchandise from stores, as the state sees a spike in retail theft in recent months.
Ekatarina Zharkova, 38, was arrested in Contra Mesa, California, and was booked into a local jail on suspicion of grand theft, San Diego news station KSWB reported.
Detailing Zharkova's arrest, California Highway Patrol said officers searched a home that was "packed wall to wall in every room" with bags of clothing from such companies as Prada, Gucci and Jimmy Choo, according to KSWB.
While California has seen a rise in organized retail thefts, and smash and grab lootings in recent weeks, police said Zharkova allegedly stole the items on her own. The highway patrol said she was spotted conducting a theft at a Nordstrom store.
"Investigators watched her enter a Nordstrom Rack store, where she was observed filling a shopping cart with high-end items," the highway patrol said, according to KSWB.
"She placed a coat over the shopping cart to cover the merchandise and then used a sensor-defeating device to remove security sensors before exiting the store with over $3,500 of stolen merchandise. Zharkova returned to her car, where she was immediately arrested," highway patrol officials added.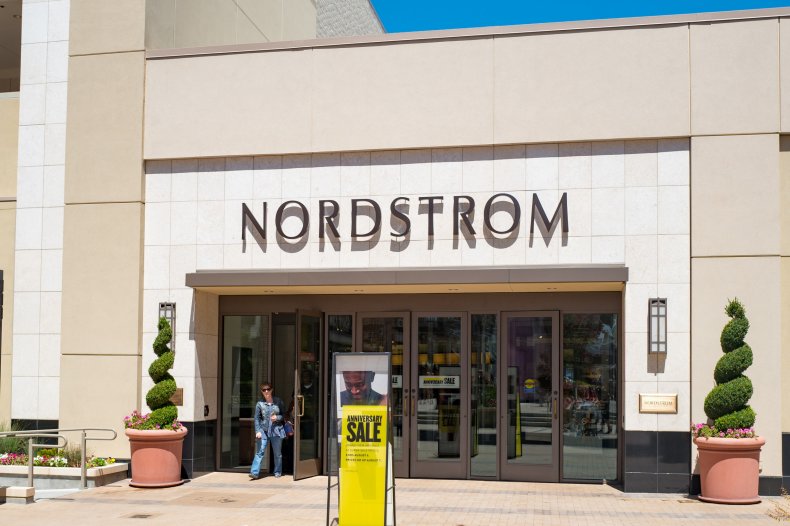 After searching Zharkova's home, highway patrol officers discovered 2,333 stolen items totaling around $330,000, authorities said. Zharkova was selling the items online.
Newsweek reached out to the highway patrol for more details about the case but did not hear back before publication.
In November, 80 people entered a Nordstrom store and stole merchandise, police in Walnut Creek, California, said. A video of the incident showing people running from the Bay Area store went viral.
Last week, a Nordstrom store in a Los Angeles County mall was robbed, with the thieves using bear spray on a security guard to get inside the building, according to law enforcement officials.
Law enforcement officials have said they believe organized crime networks have been recruiting young people to conduct some of the recent retail thefts.
"We're not talking about someone who needs money or needs food. These are people who go out and do this for high profit and for the thrill," said Ben Dugan, president of the Coalition of Law Enforcement and Retail, a national organization.
In July, California Governor Gavin Newsom signed a bill expanding the highway patrol's ability to operate task forces to combat the rising crime.