Woman Stuns People by Surfing in High Heels While Applying Make-up
A woman has stunned onlookers after casually surfing while wearing high heels—and applying her make-up.
Navigating the waves is tricky enough in any footwear, but Cassandra Hildebrand makes it look like a breeze as she drinks a morning coffee, reads the paper and even plays golf off her board.
The 28-year-old shares numerous clips of her impressive sporting prowess to her TikTok page, filmed on Stave Lake, in British Columbia, Canada.
"When you have places to go and people to see," she captioned one clip, shared last month, showing her effortlessly riding the waves in a pair of black strappy heels and a blue dress.
The clip amassed more than 750,000 views, and proved so popular Hildebrand shared behind-the-scenes footage.
It shows her on the board in shoes and a bikini, as someone on the boat passes her the frock, which she puts on while riding the board.
"I got up with my heels on and my dress never gets wet," she confirmed. But in the comments she sadly confirmed the shoes did not survive the experience.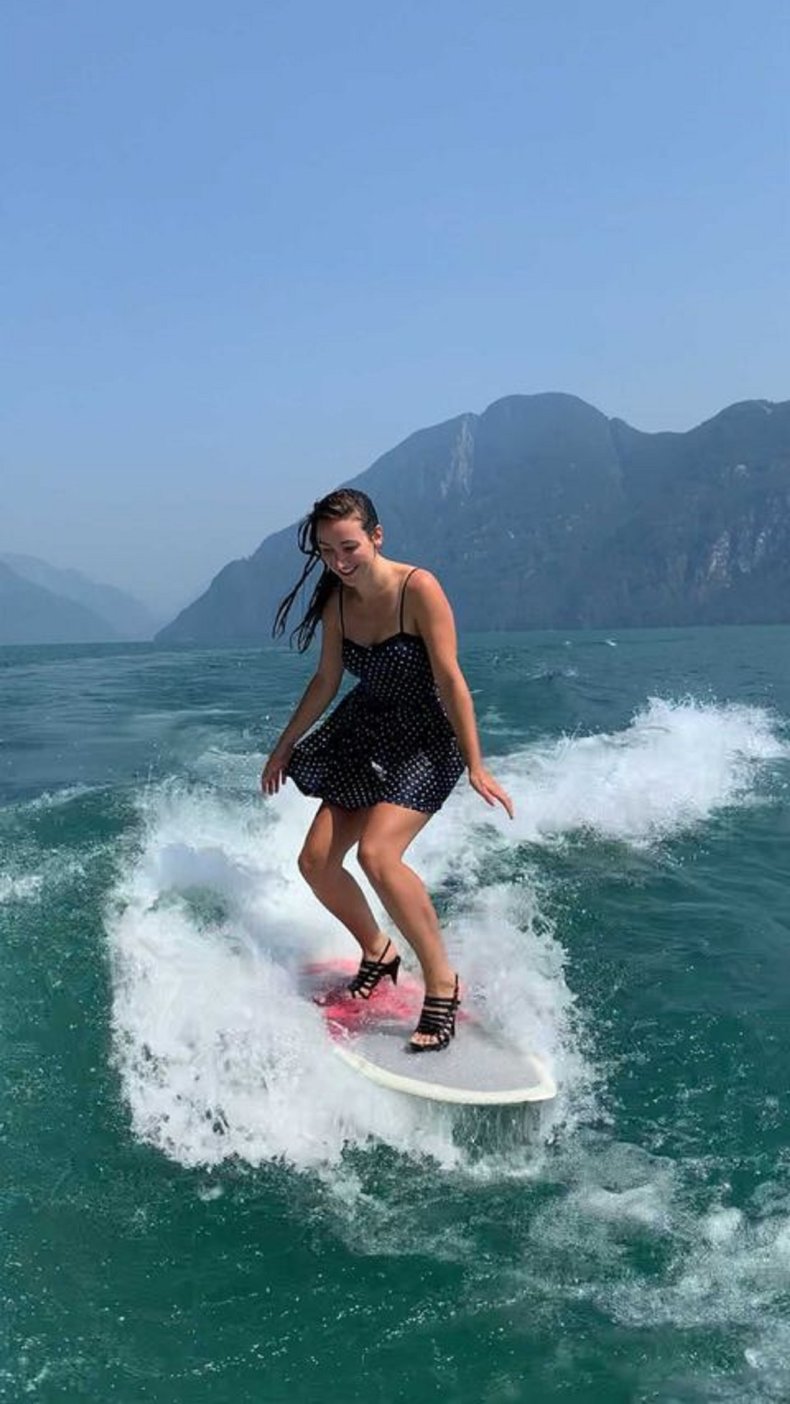 "They got a little warped," she admitted, adding: "It was harder than I thought it would be... It was so much fun... My legs and core were sore after. Good little burn."
She claimed she managed to capture the footage in the first take, as Hildebrand posted another video revealing exactly how she navigates climbing onto the board while it's moving.
"It's called wake surfing. You get up with the rope and once you find the "sweet spot" you can just chill behind the boat," she explained, adding: "I had the heels on and popped up with them."
"For everyone wondering how I got up," she captioned the clip, showing her starting static in the water, wearing a lifejacket. She places her feet on the board, and as the boat sets off, she uses the motion to stand up.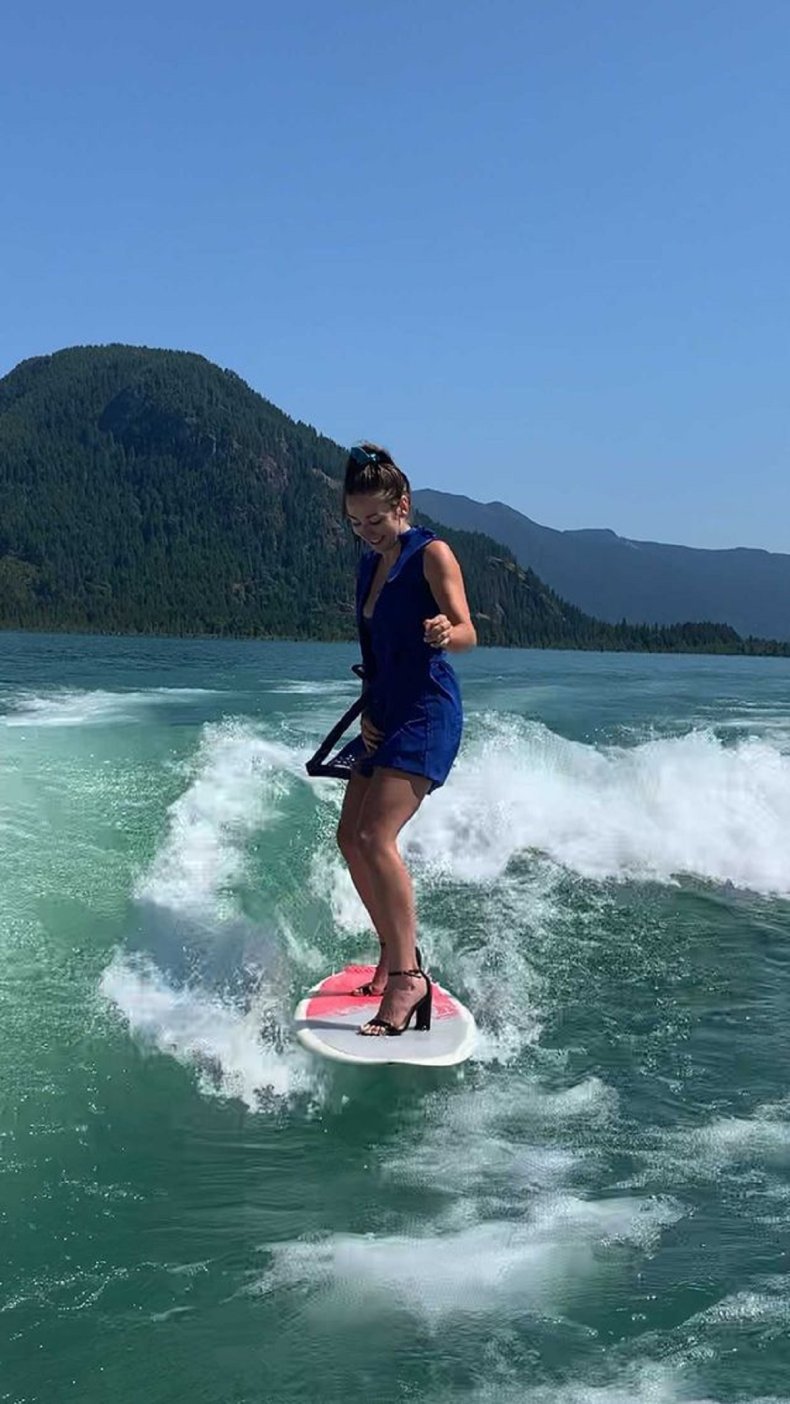 In various clips, the most recent uploaded on Tuesday, she modeled various dresses and a new pair of heels, as she also played catch and teed a golf ball off the tip of the board.
In another video, Hildebrand dons a fresh frock with matching high heels and a spaghetti-strap purse. She pulls a handheld mirror out of it, and proceeds to grab a powder compact and brush and apply make-up—all while balancing on the moving surfboard.
More casual scenes show her in a dressing gown, sipping from a mug while reading. "How do you drink your morning coffee?" she jokingly captioned the footage.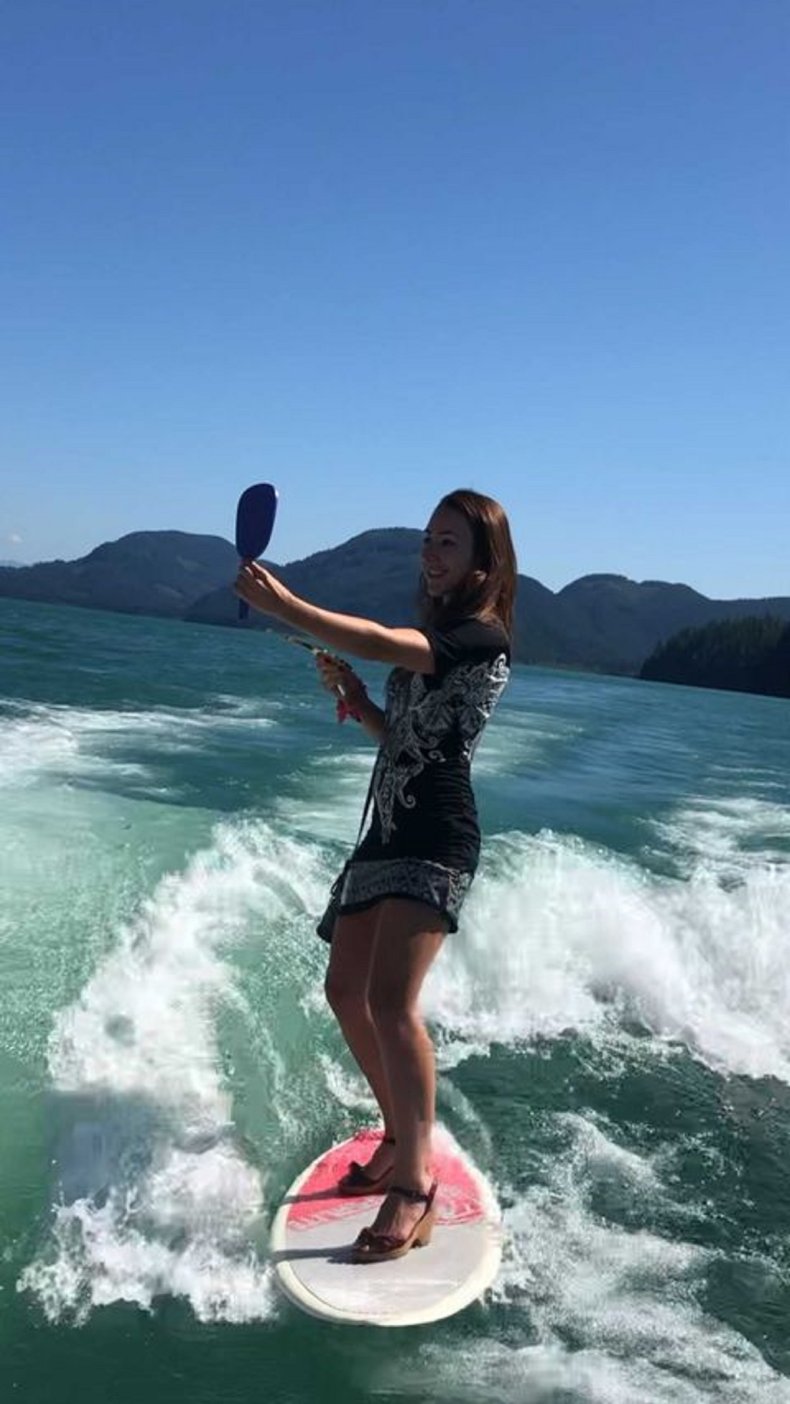 Hildebrand confirmed to Newsweek surfing was only a hobby, and she worked as a counselor.
She said: "I have been wake surfing for a few years now. Last year I saw a picture on Instagram of someone surfing in a robe and drinking coffee so I recreated it. It ended up being a lot of fun! My cousin came up with the idea that I should surf while flying a kite.
"I posted a picture/video of it and got a lot of positive feedback. I then decided to try and surf in heels and a dress because I thought it would be funny. It was easy to get up in heels but once I dropped the rope and tried surfing it was much more difficult! I can't surf for very long in the heels."
Her incredible skills on the water have seen her videos amass more than a million views in total, as people were most impressed with her skills in high heels.
Pier C Mora raved: "This is insane, I can barely do it barefoot and she's there on freaking high heels."
Alyssa Dawn asked: "Okay but I can barely walk on a flat surface in heels, girl how?!"
"When you got lake time at 12 and job interview at 1," Courtney Ann joked.
While Mayadelilah simply said: "This is the coolest thing I've ever seen."
Update 8/18/21, 10.30 a.m. ET: This article was updated with comment, pictures and video from Hildebrand.