Woman Sues New Owner For Not Letting Adopted Cat Sleep in Her Bed
The former owner of a cat has sued its adoptive parent because she won't let the animal sleep in her bed and is demanding that the Norwegian Forest Cat named Lacie be returned to her.
The Syracuse Post-Standard reported on the case, which has made it all the way to the state Supreme Court.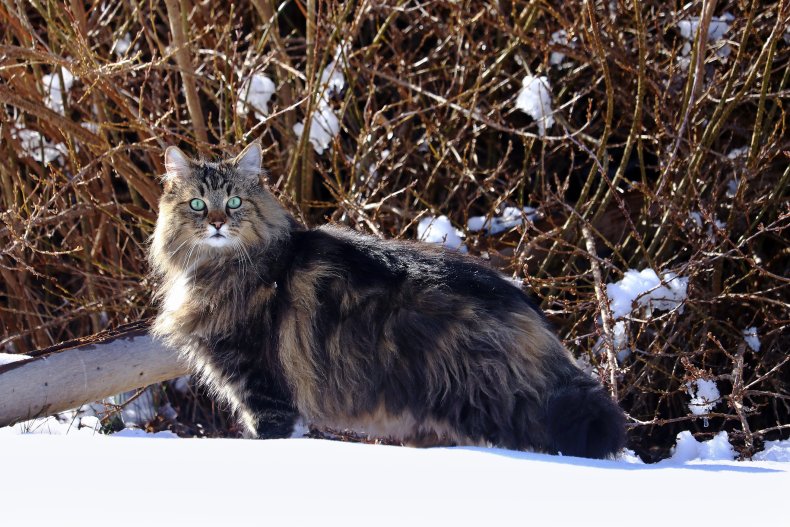 Lacie's first owner, Carol Money, rescued the animal as a kitten in 2009 and raised her, forming a deep bond. One of the ways that bond manifested itself was at bedtime, with Lacie expecting to sleep in Money's bed and yowling loudly until she was allowed to do so, according to reports.
However, several years ago, Money underwent a medical procedure that left her unable to lift more than five pounds safely. Norwegian forest cats are a large breed, and Lacie weighed in over the elderly woman's safety threshold. Unable to bring the cat up to bed, Money said she was forced to watch helplessly as the despondent animal would stand in her doorway and cry.
Lacking other options, Money decided to re-home Lacie with a new owner. She was introduced to Danette Romano by a friend, and after getting to know her, decided that her house would be a good fit, according to the Syracuse Post-Standard.
Lacie went to live with Romano in April of 2018, but things quickly soured. When Money came to visit her former cat, she said she found Lacie skittish and strange. She asked Romano if the cat was sleeping in bed with her, only to be told that Lacie wouldn't go up the stairs to the bedroom, reports showed.
Further visits went the same way, and the complaint alleges that at one point, Romano's husband told Money that the cat was not allowed in the bed. By December 2018, the relationship between Money and Romano had grown so acrimonious that Romano called the police, claiming that Lacie's former owner was harassing her family, the Syracuse Post-Standard reported.
Romano then hired an attorney to send a warning letter to Money demanding she cease contact with her.
The next step was taking the issue to the courts. Money has retained Ryan Suser from the Syracuse firm of Bousquet Holstein to file a complaint, which alleges that Romano was dishonest about her commitment to Lacie's care and violated the adoption contract the pair signed.
Money is not requesting damages, but rather that the contract be rescinded and Lacie be returned to her care.
Bousquet Holstein did not respond to a request for comment.
Pet adoption can be a contentious topic that occasionally makes its way to the courts. In November, a pair of Portland women sued the adoption agency they entrusted their Pomeranian to for $50,000 after they claimed that the group caused them "emotional distress" by not allowing them to visit the dog, The Oregonian reported. The case went to trial, with a jury finding their complaint without merit.