Atheist Woman Sues To Remove "So Help Me God" From Oath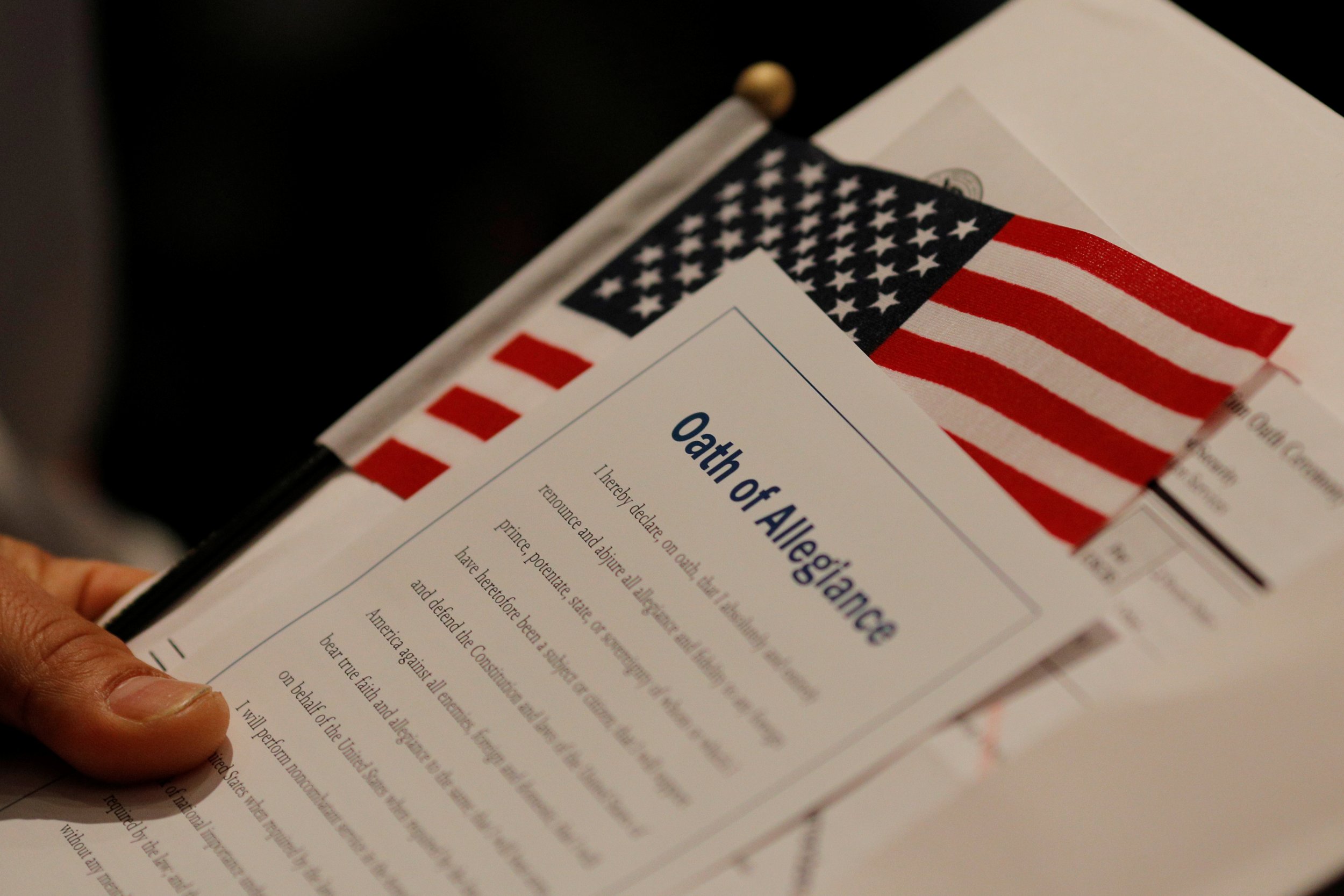 An atheist woman seeking citizenship in Massachusetts is suing to remove the phrase "so help me God" from the United States citizenship oath.
Olga Paule Perrier-Bilbo, a French national who has lived in the U.S. since 2000 with a green card, says that the inclusion of the phrase is an unconstitutional violation of her religious freedom. Her lawyer, Michael Newdow, drew attention for a similar Supreme Court case in 2004, when he argued that the Pledge of Allegiance should be rewritten to omit "under God."
This is Perrier-Bilbo's second application for citizenship, according to The Sacramento Bee.The first time around was in 2009, when she was offered the chance to participate in a private citizenship ceremony that would allow her to omit those four words. But the fact that the oath includes them at all is what she's objecting to now. The lawsuit was filed in federal court on Thursday.
"By its very nature, an oath that concludes 'so help me God' is asserting that God exists," reads the lawsuit. "Accordingly, the current oath violates the first ten words of the Bill of Rights, and to participate in a ceremony which violates that key portion of the United States Constitution is not supporting or defending the Constitution as the oath demands."
Those 'first ten words' refer to the First Amendment, which states that "Congress shall make no law respecting an establishment of religion, or prohibiting the free exercise thereof."
Secularists have long advocated for fewer mentions of the word "God" in government documents policies. But none of Newdow's efforts to remove religion from federal materials have seen much success. MassLive reports that Newdow's case against the Pledge of Allegiance, Elk Grove United School District v. Newdow, was thrown out. His lawsuit to remove "In God We Trust" from American currency was also unsuccessful.
The roadblocks Newdow hit in previous cases may pose a problem this time around, but the controversy over religious language will be hashed out yet again. Perrier-Bilbo says that the use of "God" in the oath makes her "feel less than a full new citizen."
The suit was filed against Congress, the United States of America and U.S. Citizenship and Immigration Services Director L. Francis Cissna.
"The phrase 'so help me God,'" claims the suit, "Sends the ancillary message to members of the audience that disbelieve in God that they are outsiders, not full members of the political community, and an accompanying message to those that believe in God that they are insiders, favored members of the political community."