Woman Survives After Car Crash Left Her Stranded off Highway for 3 Days
Last week, a Mississippi woman was found three days after she lost control of her vehicle and crashed into a drainage ditch. She was stranded for 72 hours until she was found by a passerby.
Car crashes remain a top U.S. public safety concern: in 2019, for example, the Bureau of Transportation Statistics recorded about 6.7 million car accidents, resulting in 36,096 fatalities.
These numbers have only increased since the start of the pandemic, as COVID-19 brought major shifts to the way people drive. According to a report by Vox, 2020 saw a significant spike in car-related fatalities, and the trend is expected to continue through 2021.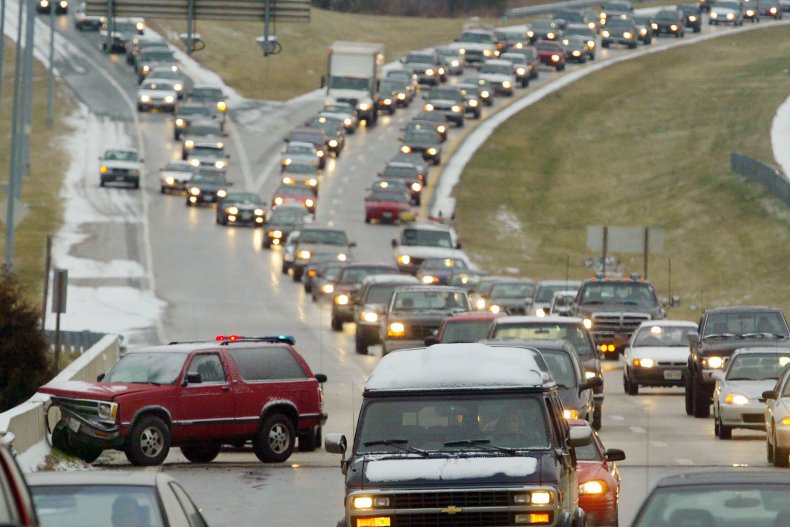 Shanna Culpepper, 31, was driving on an interstate highway in Petal, Mississippi on November 19 when she crashed her vehicle, reported WDAM. After hitting a concrete culvert, she and her car landed in a spot hidden from view.
"Then I don't know what happened," she told the news outlet, adding that when she came to, she "was in a creek pretty much." Culpepper couldn't find her phone amid the wreckage, and she sustained injuries that left her unable to move.
She told WDAM: "I just lied in the water because that's all I can think about [doing] to ease the pain, and I kept drifting in and out of sleep for, I guess, a day and a half probably."
As time continued to pass, Culpepper said that she also prayed, "asking Him to help [her] because....[she] wasn't going to get out of there any other way."
According to the Laurel Leader-Call, Culpepper was eventually found by a pedestrian on November 22—three days after the crash. After hearing her scream, the unidentified man discovered Culpepper and her vehicle off the highway.
The newspaper reported that at that point, Culpepper was able to crawl out of the car and up the embankment. The man then waved down another car to call an ambulance.
WDAM noted that the man who helped her was unhoused—and in return for his kindness, Culpepper gave him $100, enough for him to buy a bus ticket back home.
"Now I'm going to be okay...That's why I stayed down there for 72 hours, you know. Because I had to be somebody else's blessing for them to be my blessing," she told the outlet.
Culpepper was admitted to a hospital following the accident and discharged two days later.
Newsweek reached out to the Mississippi Highway Patrol for comment.